- READ TIME: 2 min, 34 sec
What's Happening With Drupal In January, 2017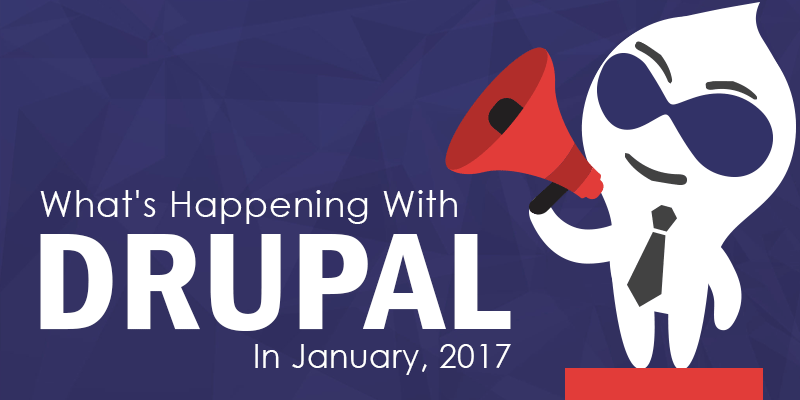 With 2017 kicking in, the Drupal community is getting ready to face the new year with optimism and the community spirit it possesses. Find what's interesting and how you can contribute to make a difference with Drupal.
Vulnerability in PHPmailer 3rd party library:
PHPMailer is one of the most popular email sending libraries. A critical remote code vulnerability has put millions of websites at risk. This PHPMailer library is used by most open source platform and even though the Drupal core is not affected directly, plenty of Drupal sites run it as a separate module and it could put your site security at risk. If your site is running this module then you need to install this patch to secure your website immediately.
Google Summer Of Code 2017 Kick-starts:
This is a global program initiated by Google to inculcate the love for open source amongst university students. During the 3 month summer break, students can take up projects from their favorite platforms and learn to code better. The Drupal community has started putting together their Google Summer of Code project list and if you have some project ideas, then add them to the list.
2017 Drupal Association Board Nominations:
Drupal is all set to elect one of the two at-large board members this 2017. They start accepting nominations from 1st Feb, 2017. Think you can make a difference and have what it takes? Then this post will help you get on board the 2017 Drupal Association Board Nominations. Candidates can only self-nominate and the community will vote to decide who becomes the next board member.
Drupal Global Sprint Weekend :
Small local sprints are all set to be conducted all across the world on January 28th and 29th, 2017. If you have ever built a website in Drupal, you have something the community needs. So time to get your laptop ready and start fixing some core Drupal issues. For more details visit here, you can also host a Drupal sprint event in your area to bring Drupal fanatics under the same roof and sprint together.
Get Excited For DrupalCon Baltimore
DrupalCon is the perfect place to network with like minded people who loved everything about Drupal. The next DrupalCon is all set to happen in Baltimore between April 24th to April 28th, 2017. Grab your ticket before they are gone as the particular DrupalCon has lined up some amazing talks lined up along with fun activities and sprints to keep attendees on their toes at all times.
It has been an exciting new year for the Drupal community. It's time to buck up and start getting productive. Subscribe to keep track on what's new in the Drupal and open source community.