Drupal Theme Designs
Our DrupalPartners Drupal Developers are more like, "theme developers," taking existing themes from the thousands available through Drupal and tweaking and changing them to best fit our clients needs. The end result is beautifully designed sites functioning at peak performance with high user interaction and engagement.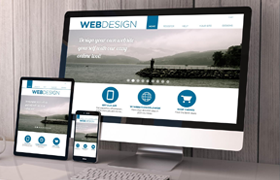 Drupal UI/UX Design
How a website looks – professional, brand-forward, aesthetically pleasing – is important, we can all agree to that. However, what separates basic web designers from design developers is our understanding and implementation of solid UI/UX principles. How a user interfaces (UI) with and experiences (UX) your Drupal website is critical to its success. All too often, websites are built without a conscience understanding of how important color, font, button placement, link usage, and navigation are to website performance, which translates to business growth and success. DrupalPartners team of design developers are active contributors to the online, open-source Drupal community, which means we build sites that are blazing the trail of design, form and function.
---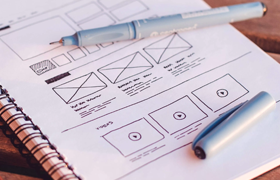 Custom Wireframing
As mentioned in our, "Process for Success," after openly collaborating with you and your team and a solid strategy, complete with plans for cutting-edge UI/UX designs and functionality, is in place, our team gets busy building the wireframes.
Wireframes, also known as the project blueprint, helps to visually illustrate exactly how the site architecture will support the user experience. Void of most design elements, wireframes depicts a hierarchy of the information as it will appear and function for the end user. This important and extremely collaborative step between our developers and designers and your team is key to getting right before one line of code is ever written. You can expect our wireframes to include, a function and flow schematic, brand consistent style guides, UI/UX design practices, a responsive design plan, and other customized Drupal solutions to address your project.
---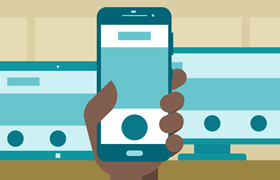 Responsive Design For Mobile
Nowadays it's not enough to simply have a website viewable only from desktop and laptop computers and expecting your viewers to squint through the information on their small cell phone screen. With more and more people accessing information from their cell phones, tablets, and other mobile devices, it's important that your website function well on various screen sizes. As importantly, your website should be easily maintained from one CMS platform that pushes the information to both your traditional website as well as your mobile version. DrupalPartners includes a comprehensive responsive design plan into every Drupal website project, because our team of experts knows without it, you'll quickly fall behind the competition. We may even recommend that a customized mobile app be folded into the mix, as this is the growing trend of how mobile users are accessing information.