Our Guarantees

99% Hassle-Free Migration Process

-0- Downtime

99% Bug-free

3-months Performance Monitoring

92% Improved Speed & Performance

3X Times Cheaper Migration Cost
Converting Your Drupal Site to WordPress Doesn't Have To Be A Difficult Process!!
DrupalPartners is the leading provider of Drupal to WordPress conversion services. We have helped thousands of organizations convert Drupal to WordPress, including some of the US's largest companies. Our team of experts can help you migrate your content, design, and functionality with zero downtime.

13+
Years of Migration Experience

150+
Drupal Migration Projects

100+
Drupal Designers, Architects, Developers with Expertise

700+
Drupal Website Developments, Upgrades, and Migrations
Why Choose Us For Your
Drupal To WordPress Migration?
Whether you are struggling with your existing CMS or want to experiment with different online platforms to grow your online presence, our experts have the right expertise to help you migrate Drupal to WordPress. Our priority is to ensure a seamless transition with zero downtime, so you can focus on your business goals. We offer a wide range of services to help you export Drupal to WordPress, including:
Drupal 7 to WordPress migration
Drupal 6 to WordPress migration
Drupal 8 to WordPress migration
Drupal 9 to WordPress migration
Content & Theme Migration
Plugin Migration
Data Migration
URL Redirects
Search Engine Optimization (SEO)
Security Hardening and much more...
Drupal Vs. WordPress - Why Migrate?
There are a lot of reasons to switch from Drupal to WordPress:
The most common reason is that WordPress is simply more user-friendly.
The interface is much more intuitive, and you can easily add or remove content without having to touch a single line of code.
It's much easier to find support and resources if you run into problems. Drupal community is much smaller and less active compared to WordPress, so it can be difficult to get help when you need it.
Finally, WordPress is simply more popular than Drupal. This means that there are more plugins and themes available for WordPress, so you're more likely to find something that meets your needs.
Steps For Drupal to WordPress Migration
The Drupal to WordPress conversion might be complicated for technical reasons, especially if your website is big and attracts a lot of traffic. The last thing you want to think about is losing information or impacting your SEO.
You may concentrate on what your firm does best and leave the technical stuff to our Drupal migration services professionals. We've been using Drupal websites for a long time, and we're active members of the community.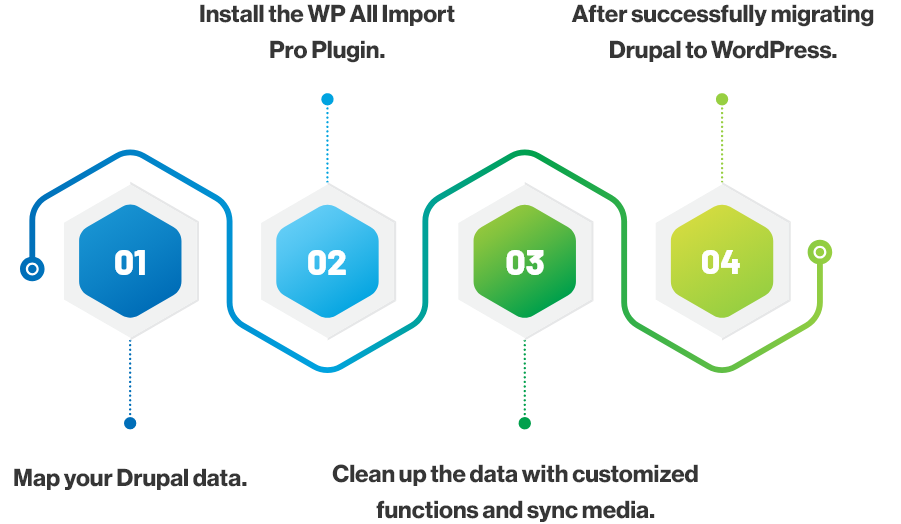 Check What Our Clients Have To Say

The websites have improved drastically upon the implementation of enhancements. Drupal Partners are responsive and consistent in delivering the requirements within time and budget without defects. The team was uniquely capable of strategizing with the client on feature and process improvements.

Drupal Partners successfully completed the project with the features needed by the business in the operation. The increase in the online sales indicates the quality of their technical services. The team are responsive and always ready when needed.

The website received positive feedback after the repairs, customizations, and improvement were implemented. Drupal Partners was a proactive, committed and flexible team during the planning and development. The team continues to provide support services on an ad hoc basis.