- READ TIME: 4 min, 39 sec
Top 10 Drupal Modules For eCommerce SEO and CRO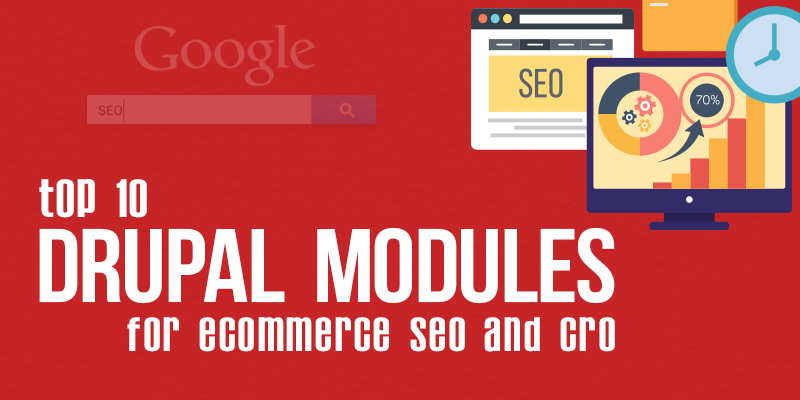 You have your eCommerce site up and running successfully in Drupal with all the necessary eCommerce modules for placing orders and tracking shipments efficiently. But with increasing online competition, your eCommerce store's success solely lies on proper SEO and CRO. To incorporate a proper CRO and SEO strategy, we have listed the top 10 modules your eCommerce website should have:
Let's start with doing SEO right for your eCommerce store:
SEO is key in not only helping with your website search ranking, but also essential in creating a proper structure for your eCommerce site homepage and product pages. For proper SEO, it's not only essential that you place the right keywords in the right place, a certain level of automation is necessary to keep all the web pages indexed and ready to go.
1. Meta tags quick
Meta tags are a crucial part of your eCommerce SEO success, but when you have an eCommerce website, it's extremely difficult to create custom meta tags for all your product pages and that's where the meta tag module come into play. It automatically pulls out a structured meta tags for each web page.
2. XML Sitemap
This simple module helps generate the eCommerce sitemap which can be used to upload to various search engines for easy and efficient indexing of all page URLs. One of the biggest advantages of this module is that it adheres to the latest Google standards regarding multilingual content and creates hreflang sitemaps.
Confused if your eCommerce website is SEO friendly? Download SEO Checklist
It's designed to make eCommerce store owners understand how SEO friendly their website is and how to fix it for better search engine ranking.
Now, to improve the conversion rate of your eCommerce website
The average conversion rate of any eCommerce website ranges between 1-3% and with CRO initiatives you can further improve these numbers for better eCommerce ROI.
3. Commerce Discount
The holiday season and other promotional periods are some of the top performing times for most eCommerce websites. This module lets you give desired discount and offers to users. With the Commerce Discount module, you can also apply the promotion to either a single product or the entire order.
4. Upsell/Cross Sell
Your eCommerce success not only relies on the number of transactions that happens, but increasing the amount of transaction matters as well. Upselling module lets you cross promote each product and provide tools to add related products to the cart directly. Start improving product visibility and increasing your eCommerce sales.
5. Currency Exchange
Planning to take your eCommerce site global? Then Currency Exchange module is mandatory as it provides information related to currency conversions, information and metadata along with the price amount that needs to be displayed.
6. Affiliate Marketing
Often promoting an eCommerce store might seem to be an expensive ordeal. Affiliate marketing is the perfect way to let established influencers and others who use your products to market your site. The Affiliate marketing module lets affiliate marketers generate a unique code which they can use to promote your eCommerce site and products. When someone buys a product using the unique link, a small part of the purchase goes as a commission to the marketer and this works as an incentive for them to market you.
7. Internationalization
This unique module helps expand the core multilingual capabilities and create a real multilingual website. It has some great features like taxonomy translation, multilingual variables, multilingual blocks and language selection letting you switch between various languages. Start providing content that matters most to your eCommerce customers.
8. MailChimp eCommerce
You can integrate your eCommerce store with this module to understand more about your sales data and also automate personalized email campaigns. Mailchimp is easy to configure and lets you send customized emails to customers. It's time youstarted bringing in more customers to your website by sending the right messages through your email campaigns.
9. Share Buttons by AddToAny
Encourage social sharing of your products and eCommerce purchases with Share Buttons. This module comes with the vector image for all social media to reduce your workload. Social sharing is a great way to spread awareness about the various products your eCommerce site hoards. You can also let customers share each purchase on social media which increases the traffic onto your website.
10. Commerce Price Savings Formatter
This module lets your customers visually understand how much they are saving during your promotional period. This works great for CRO as cost conscious customers are always on a bargain hunt and when you visually display the amount of money they save with you, they are no longer hesitant to make the transaction. This module has more than one way to display savings which makes it feasible for site owners to use the one that best fits their eCommerce website.
Your eCommerce success solely depends on how social and vigorous you are with your marketing activities. These eCommerce Drupal modules are free to use and helps provide the right platform needed to help your SEO and CRO initiatives.