- READ TIME: 2 min, 38 sec
What's Happening With Drupal In February, 2017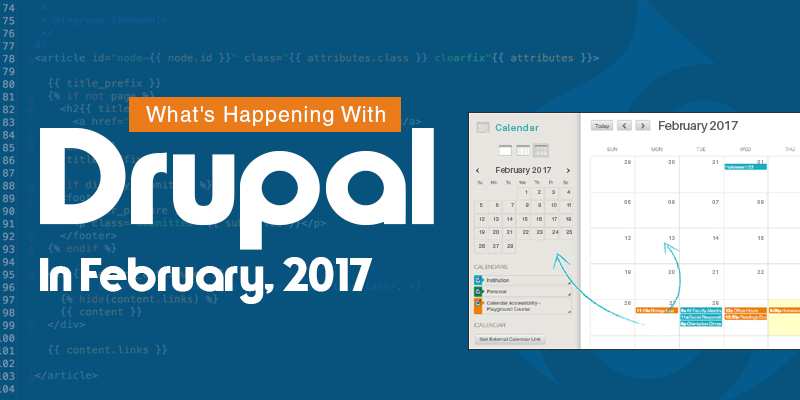 The Drupal community is busy with plenty of new initiatives, preparing for DrupalCon, and the Drupal.org community board election. Catch up on what you have missed this February.
Drupal Goes Live With Industry Pages
Drupal takes the first step to organize their content by creating dedicated industry pages. These industry pages are designed to promote Drupal solutions in the Higher Ed, Publishing and Government sector. These pages throw light on the numbers and facts of how Drupal has helped these industries grow and evolve by providing the right tools needed to improve enhancement and product reach.
DrupalCon Vienna - Last Minute Program Changes
After a thorough financial analysis, the association decided to cut costs for DrupalCon Vienna. The fact remains that most DrupalCons are sustainable by themself with a few exceptions like DrupalCon Europe. This has pushed the community to drop some activities planned for Monday which includes a Drupal sprint along with the community and business summits. Events like CEO meet ups will be clubbed along with other events. This became mandatory to loosen up cash flow and ensure the Drupal community in Europe has a platform to adopt and market the Drupal CMS better.
Nomination Closes For The Drupal Community Board Election
As the Drupal CMS turns 8 years old, it's the best time to be associated with the Drupal Association Board to build and promote the Drupal community. The elected board members will only be expected to contribute to the strategic development of Drupal and not worry about the day-to-day operation of the Drupal Association. The nomination has closed as of 19th February and the voting is to take place from 6 March, 2017 to 18 March, 2017.
The Nomination For The 2017 Aaron Winborn Award Is Open
This is an annual award that's used to recognize active Drupal community members and also contributors who promote the use of Drupal in their local communities. This award is in the honor of Aaron Winborn, whose battle with with Amyotrophic lateral sclerosis (ALS) came to an end on March 24, 2015. If you know any Drupal contributors who have demonstrated a great deal of integrity, kindness and commitment towards the Drupal community, then nominate them here!
Drupal Camp London Is Here
Looking to learn about Drupal and you live around London? Then you need to be in Drupal Camp London. It's the only place where Drupal developers, themers, users and enthusiasts gather and share their knowledge. Some great keynote speakers will also be contributing in Drupal Camp London. Get involved as volunteers or attendees, sign up here.
The month of February has surely been eventful, stay tuned to this space to know more about Drupal news and announcements!