- READ TIME: 4 min, 30 sec
7 eCommerce Trends That Change The Way You Sell Online In 2017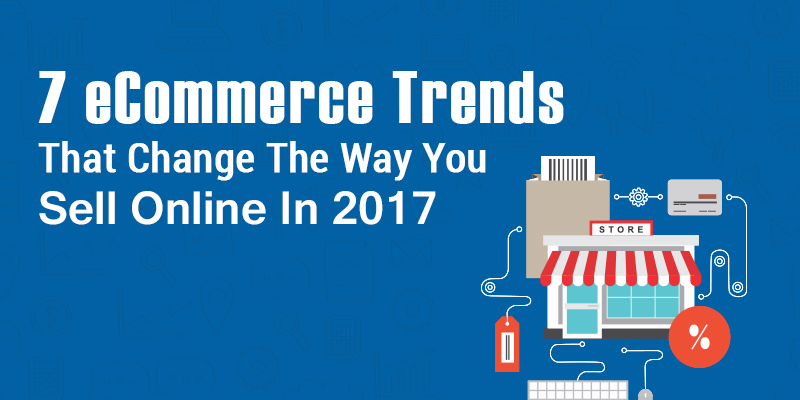 eCommerce is an ever-evolving industry where technology and consumer shopping behavior patterns determine its course. To make your Drupal eCommerce website relevant and maintain a constant user experience, site owners need to understand recent trends and learn to incorporate it in their eCommerce process. The future of eCommerce solely lies on the following Drupal friendly trends:
Chatbots For Instant Support
One of the biggest drawbacks to selling online is the lack of a 'salesperson' who can interact with customers to understand their needs. Chatbots are the perfect tools to eliminate this major drawback. A Chatbot can be used to act as the perfect shopping assistant to aid product discovery as well as provide the right support. The data collected by these chatbots is extremely crucial to understand your audience better and provide better service.
Personalized Shopping Experience
The eCommerce industry is evolving at an increasing rate and to have a successful eCommerce business, it's best to start providing service according to industry standards. According to our eCommerce 2016 trends, we had briefed about the importance of personalization, but 2016 had seen a tremendous growth in terms of various eCommerce tools that makes personalization affordable and reliable. It's time to get to know your customers better to provide tailor-made service needed for improved customer engagement and retention.
Personalization helps you give a personalized product recommendation to users, improve product visibility and greatly helps help improve campaign ROI through behavioral segmentation and marketing. Make use of intelligent data analytics to understand your audience better to showcase the right product to improve your eCommerce conversions.
Understanding Your Target Audience
Well, when the whole world is stumped with the victory of Donald Trump, new findings have come to shore about data that led to his Presidency. The agency that helped Trump win the presidential election has a data model that could analyze all of his voters and their persona which helped him to frame the right message. eCommerce shop owners need to start collecting analyzing information related to customer navigation, preferred product, customer drop point, etc. to understand how to sell better to their audience.
Mobile Wallets
Even though the mobile wallet adoption is slow, a recent report states that the total transactions through mobile wallets will reach $8 million by 2018. Also, with Apple Pay, Samsung Pay and plenty of other companies developing a secured way for digital transactions, it's easier to pay through mobile wallets than rely on credit cards.
Recent trends show that 94.4% of customers will be more than willing to adapt to digital wallets if they have some kind of loyalty program. Customers are loyal towards their credit cards due to the various additional benefits that they offer. Mobile wallets are slowly adapting to a similar strategy and will soon offer a wide array of reward points and bonus to retain their customers.
By becoming an early adopter to mobile wallet payment on your eCommerce website, you can easily piggyback on the mobile wallet loyalty program and in turn gain the customer's loyalty.
Let Customers Shop On Demand
Customers are impatient and this has led to the boom of one day express deliveries. Almost 30% of US online shoppers have an Amazon prime membership and 78% of them have signed up just to access the free 2-day shipping option.
Not all eCommerce websites can afford to have a one or two day delivery option, but one can promote local eCommerce marketing to reach out to customers who live nearby and provide prompt service. Similarly, you can also give customers the option to buy products online and to pick them up in-store. This greatly helps you provide on demand service to your customers in an affordable manner.
Mobile Friendly eCommerce
This importance of a mobile friendly website has been skyrocketing since 2015, but with mobile web traffic overtaking desktop web traffic in 2016, there is an urgent need to go mobile (if not already) as soon as possible.
Drupal is the perfect CMS that is mobile ready. Its core has been designed keeping mobile customers in mind to build beautiful responsive websites. Ubercart or Drupal Commerce, both modules are coded keeping mobile eCommerce customers in mind. It's time you start building an end-user friendly website for improved eCommerce engagement and ROI.
Improve Customer Loyalty And Reduce Cart Abandonment
eCommerce site owners will understand the importance of retaining customers. They will start putting more effort on regaining abandoned carts to get customers back on their site. The focus will be on improving the customer retention rate by investing in a robust loyalty program.
Intelligent eCommerce is the only way to stand apart from your competition. The future of eCommerce relies on how well you understand your customers and personalize their shopping experience to improve conversions.