Wednesday, June 30th, 2021, between 11.00 AM TO 12.00 PM PST / 2 PM EST.
Migrating from
Drupal 6/7 to Drupal 8/9
Keep up with the times by taking the leap!
Drupal 7 is reaching end-of-life in November 2023, Drupal 8 is reaching end-of-life in November 2021, and for the Drupal 6 version, it is way past its deadline. Therefore, the need of the hour for Drupal 6/7 websites is to start thinking about moving to Drupal 8/9 without any further ado.
Migrating from Drupal 6/7 to Drupal 8/9 can be overwhelming, but not to worry, we got you covered. Our Drupal experts will uncover the myths surrounding migration from the lower version to the latest in this webinar.
Join our free webinar to learn:
What the migration path looks like to go from Drupal 6/7 to Drupal 8/9?
What does the significant leap look like - ahead of 2/3 Drupal versions?
How is this migration different than if you had upgraded to Drupal 8 sometime in the last few years?
How to prepare for your significant Drupal 9 migration?
How Drupal Partners accelerate your migration and simplify the process?
How soon should you migrate?
Affordability, Resources, Technicality, and other vital factors that you should be aware of?
Attend the webinar if you are a:
Drupal Website owner/business leader/marketer
eCommerce business powered by Drupal commerce
Drupal-based educational institution
E-learning portals that run on Drupal
And, if you want to enhance the knowledge of Drupal's latest version from a business perspective
Hear it from the experts
Our Drupal development and migration experts will share proven upgrade and migration techniques that'll help you drive down costs, data loss risks, and downtime.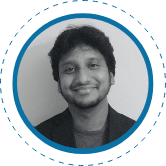 Karthik Kalimuthu
The Tech-Wiz
Karthik Kalimuthu is the vice-president of Drupal Partners. With extensive experience in the Drupal platform, he has built custom modules and themes for all versions of Drupal. His accomplishments also include migrating Drupal 6/7 to Drupal 8/9 besides migrating different frameworks to Drupal. With 11+ years of experience, his skills are unparalleled.
---