---
Move to Drupal 9 with Ease!
| Upgrade Drupal 7 to Drupal 9 | Upgrade Drupal 8 to Drupal 9 | Drupal 9 Features |
| --- | --- | --- |
| End-of-life November 2023 | Support ended in November 2021 | Improved website performance and optimization |
| Effortless integration capabilities | Backward Compatibility | Improved website performance and optimization |
| A content authoring experience that is superior and will lead to a quicker time to market. | Extended multi-language support | More intuitive content authoring, editing, and management tools |
| Easy to set up and use mobile responsive design | Deprecated Codes are no longer supported. | Enhanced integration with social media platforms and third-party services |
| Multi-site management option | Hassle-free upgrade | Better collaboration and communication features for teams and organizations |
| Seamless social media integration | More effective global governance and an easier process to unify platforms. | Improved accessibility options to ensure that all users can easily access your website content and functionality. |
| Decoupled architecture | New and improved contributed modules, as well as a stronger foundation. | Easily upgradable to the next version |
Thinking about upgrading to Drupal 9?
Whether you're a developer, web designer, or owner, Drupal 9 offers an array of powerful features that make it the ideal platform for building robust websites and applications.
With its intuitive content authoring tools and streamlined development processes, Drupal 9 a great user experience for all types of users, from first-time site editors to developers. And with enhanced security and stability features, as well as improved integration with other platforms and services, it's the perfect choice for organizations looking to grow and evolve over time.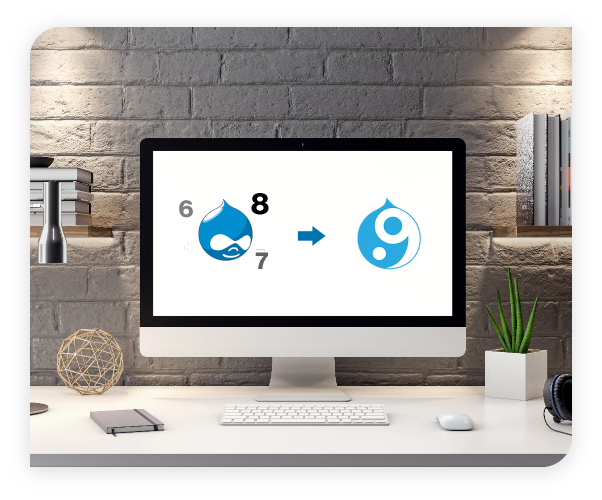 Our Drupal 9 Upgrade / Migrate Approach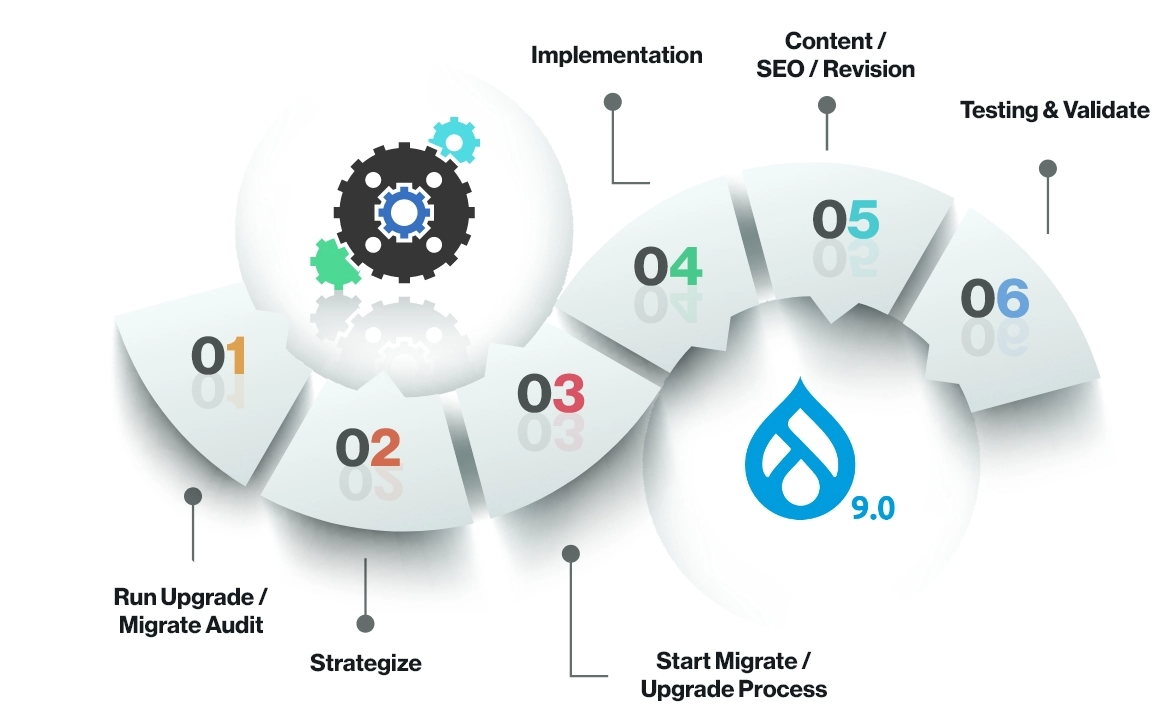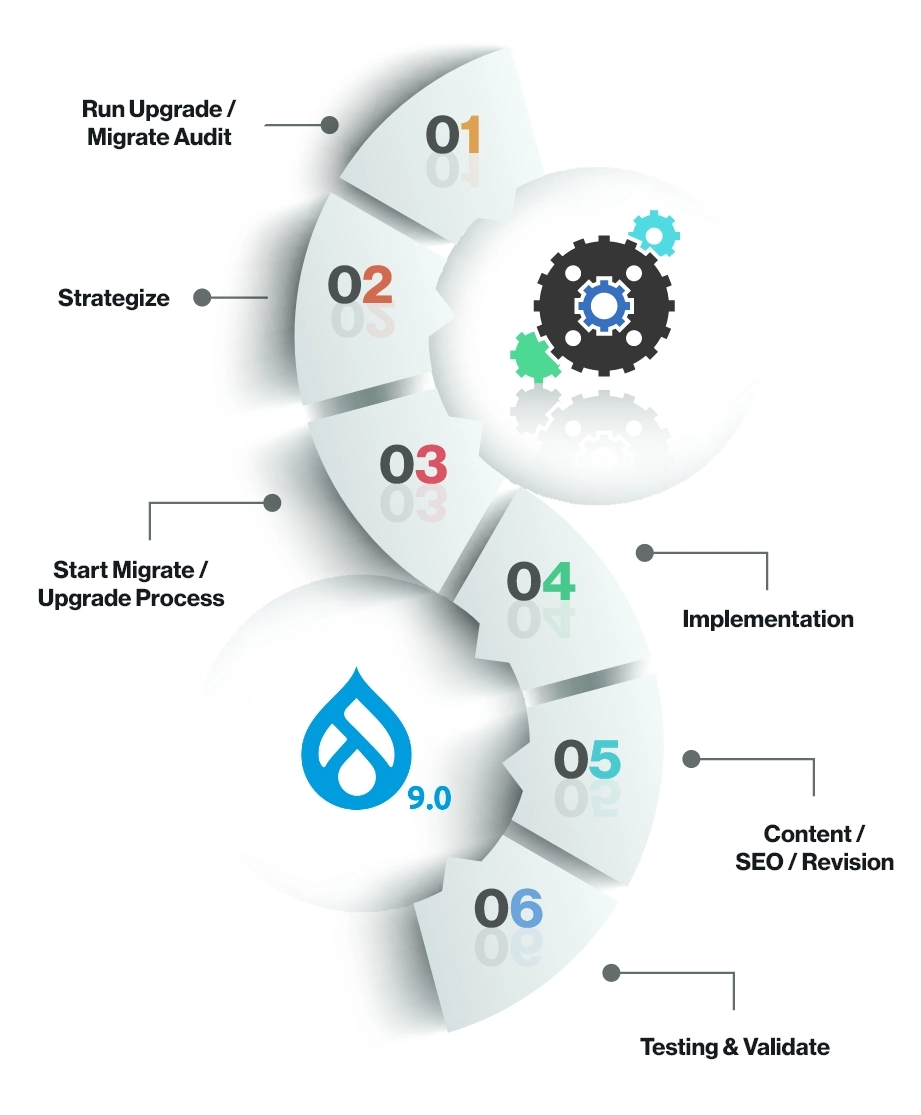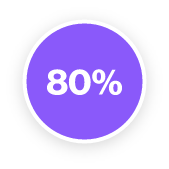 Improved Admin Interface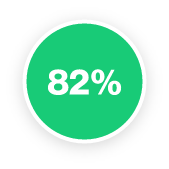 Modern Workflow Tools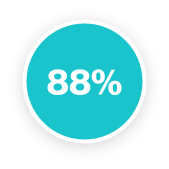 Themes Work Amazingly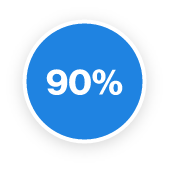 Better Web & Mobile Experience
Problems that we help you solve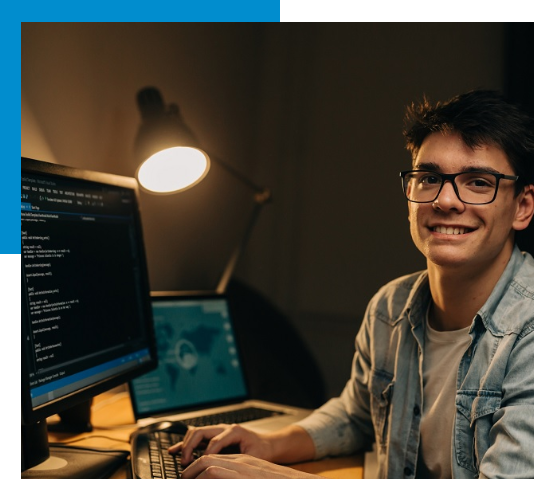 Address resourcing challenges
Our team creates enterprise grade solutions within a fixed timeline. Hire us to fulfil all your Drupal development requirements.
Contain escalating costs
Incorporate your requirements and business vision without breaking the bank. We offer cost-effective solutions.
Eliminate cookie-cutter design
Our custom Drupal 9 web design, themeing and front-end development support enables you to create a website or application that reflects your brand.
Upgrade Drupal 9
Upgrade Drupal 6 to Drupal 9 or Upgrade Drupal 7 to Drupal 9 or Upgrade Drupal 8 to Drupal 9. We offer expert Drupal 9 migration and Drupal 9 development services.
Full-cycle Drupal 9 services
Upgrade Drupal 9
Upgrade Drupal 9 without losing your data, traffic, or mind. We ensure a smooth, secure, and accelerated transition to the latest version of Drupal.
Drupal 9 development
Innovate and achieve business goals at the speed of light. Our engaging and highly secure web development services simplify and resolve your toughest challenges
Maintenance & Support
Our advanced IT support and maintenance services help you overcome technical issues. Benefit from faster issue resolution and reduced expenditure on IT maintenance.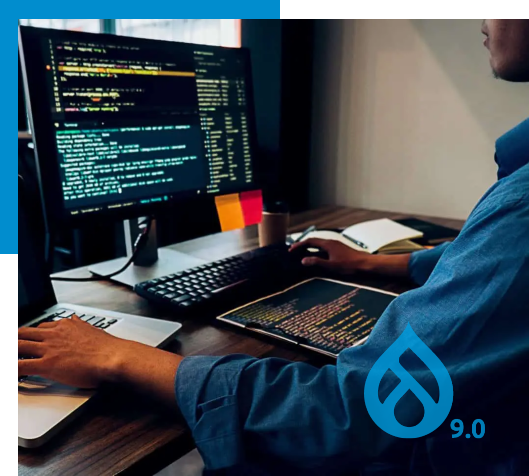 What do we do?
From design and development to testing, we offer a full range of web services for every stage of your project. Whether you are looking for creative website design or custom application development, our team of Drupal 9 web developers will deliver high-quality results that meet all your requirements.

Deliver seamless experiences
Our expert team tests and resolves issues with site stability, UX design, responsiveness and security much before your end-user ever sees your website or application. So you can be sure that everytime we deliver an exceptional solution you do the same for your customers.

Built to scale
We go the extra mile to develop solutions that last. We understand that you don't have the time or resources to make game-changing business decisions every 6 months. Our development team focuses on creating digital solutions that are truly future-ready and easily scalable.

Your in-house development team
We may not share the same office space as you but that's the only difference you're going to notice. We operate transparently and are available anytime you need us. A single point of contact is assigned to discuss all your project needs so your project keeps moving forward.
Testimonials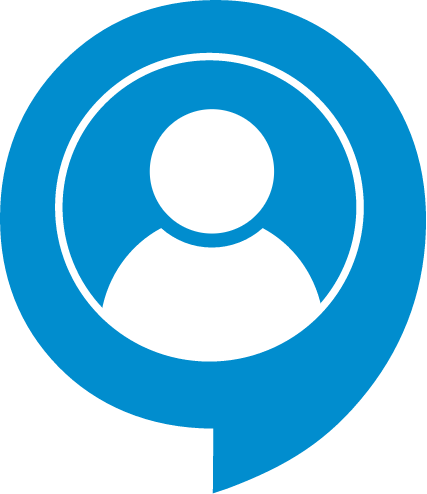 We are happy to have found the Drupal 9 development company - DrupalPartners - to help us with our migration and development needs. They were highly professional, knowledgeable, and easy to work with, and we were impressed by their ability not only to migrate our website from Drupal 6 to Drupal 9 quickly and efficiently but also to ensure a smooth transition for our users. We would definitely recommend them to anyone looking for assistance migrating or developing with Drupal 9.
Brian Moynihann, VP, eCommerce Industry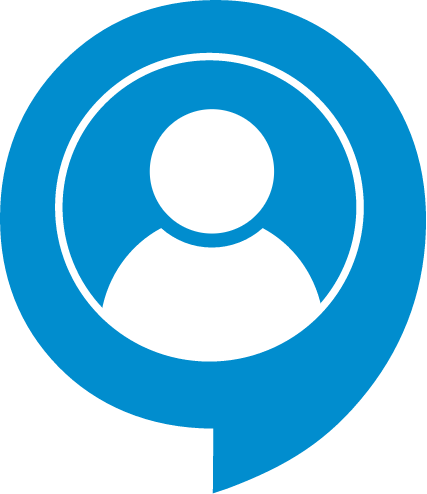 As a leading fashion retailer, we were looking for a Drupal web development company to help us with our website migration from Drupal 7 to Drupal 9. We found that DrupalPartners was the perfect choice for us – not only did they have extensive experience and expertise in working with Drupal 9, but their team was highly professional and responsive throughout the whole process. We would highly recommend them to anyone looking for help with migrating or developing in Drupal 9.
Eleanor Vincent, CEO, Orange Blue Fashions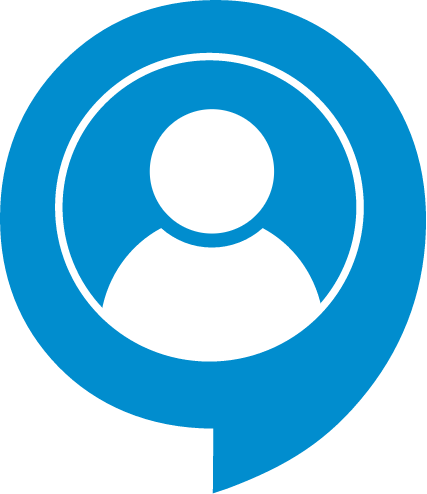 As an online retailer, it is vital that our website can handle the large amounts of traffic that we receive on a daily basis. With Drupal 9 being faster and more efficient than any previous versions, we knew it was the right choice for us. We worked with DrupalPartners development agency to migrate Drupal 8 to Drupal 9, and the team was able to successfully complete the project quickly and efficiently. We would highly recommend them for any Drupal 9 migration or development needs.
Timothy Reginald, CEO, Vast Sales
FAQs
Are you curious about what advantages come with upgrading to Drupal 9? Uncover the potential of this powerful platform and explore its features – from improved security, advanced functionality, and increased accessibility. With an upgrade to Drupal 9, your website can be more secu,re, efficient and user-friendly than ever before!
The industry standard is around $5,000 to $50,000 per website - depending on the complexity. While this may seem like a hefty price tag at first glance, it's actually a small investment to make in the long-term growth and security of your site. Talk to our people to find out our feasible rates.
The time required to upgrade your website will depend on a number of factors, including the complexity and size of your site, as well as any customizations or integrations that need to be implemented. It is typically recommended that you allow at least 4-5 months for this process, so make sure to plan ahead and get started as soon as possible.
Unfortunately, there is no easy answer to this question, as the time required to fix bugs will depend on a number of factors. These can include the complexity of the bug, how many issues are associated with it, and whether or not there are any workarounds available. Generally speaking though, you should allow anywhere from 1-2 weeks to address and resolve bugs.
Some of the key benefits of upgrading to Drupal 9 include increased security, improved performance, and enhanced functionality and flexibility. With this powerful platform, you can rest assured that your website is protected from external threats and able to grow with changing user needs and preferences. So why wait? Upgrade to Drupal 9 today and start taking advantage of all the benefits it has to offer!