- READ TIME: 2 min, 51 sec
Confused whether to choose Drupal or Magento? Here is the solution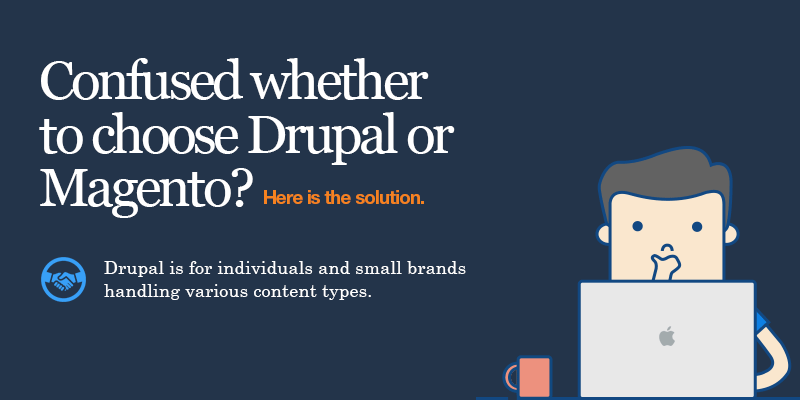 Drupal and Magento are among the most preferred CMS platforms available for eCommerce sites. While both Drupal and Magento are powerful in their own aspects, you need to choose one of them depending on your business requirements. If you are a product or marketing manager, CEO, CTO or a business development executive, this blog will help you choose the right CMS platform for your site.
Similarities
Drupal and Magento are open-source projects and therefore they are free to use.
Both the platforms are search-engine friendly with readymade modules and tools.
Drupal and Magento can be integrated with Windows, Mac, Android and iOS devices.
They offer a wide range of customizations such as design themes, tools and plugins.
Drupal has its own developers and affordable development services offered by Drupal agencies such as DrupalPartners.
Similarly, you can hire a professional Magento Business Solution Partner like The Commerce Shop for Magento services.
You need to host both these eCommerce platforms and online community of developers can be tapped in for your help.
Major social networks are also compatible with these CMS systems, thanks to the readily available free extensions and a wide range of store library.
The installation procedure is nearly the same. You can install both these CMS platforms from the scratch using installation packages.
Using Google Analytics and other integrations required for creating an SEO system can be done easily.
Admin interfaces in both the platforms offer basic functionalities by default but for customizations, you require code modifications which involves time and cost.
Differences
Drupal CMS is best suited for small to medium businesses and individuals.
Drupal has an edge over Magento in SEO and strong support for different content types. Magento offers a basic content support.
Magento suits eCommerce while Drupal is oriented towards managing content.
Drupal is open to have different things done like web services, content management, community and online store.
When it comes to scalability, Magento can be scaled up to 1 million users.
Multiple store management is possible with Magento platform.
Magento is a better option than Drupal in the product categorizations for eCommerce.
Among the overall costs, you need to pay for the Magento enterprise version features.
In Drupal's case, there are paid services for various levels of support which adds to the total cost of maintenance.
Magento is best suited for medium to large enterprises which usually involves a huge amount of sales or which requires hosting multiple stores.
Magento demands advanced PHP knowledge than Drupal.
Magento is basically for eCommerce and so integrating with other business areas like forum or community means you need to make a separate system and then make them interact with each other.
Conclusion
Drupal and Magento may seem similar in being open-source and free but as we look deeper into their capabilities and scalabilities, they are two different entities. Drupal is for individuals and small businesses which require handling various content types and engaging customers. On the other hand, Magento offers great scalability with a capacity to manage multiple stores in which case, if your business is predominantly eCommerce, this CMS is the way to go.