- READ TIME: 6 min, 9 sec
Top 15 Drupal Development Companies in the USA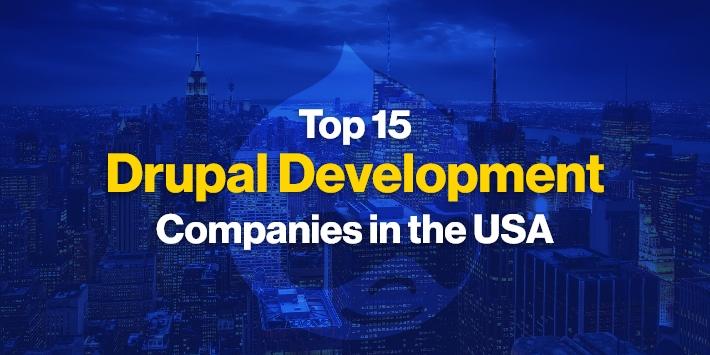 UPDATE: Wow! What a response! This article has been shared hundreds of times on social media and has been used by many of our customers. To keep it relevant, we've updated this blog post to reflect the release of Drupal 9 and changes in the industry.
While you're here, make sure to check out our Drupal Developers page - Not only a good place to see our services, but we've put together some great industry data, too!
Introduction
In an ever-expanding digital universe, choosing the right web development partner can make or break your online presence. If you're considering using Drupal for your website, here are the top 15 Drupal development companies in the USA that offer the perfect blend of innovation, experience, and technical prowess.
1. DrupalPartners
DrupalPartners stands out as a seasoned Drupal development company with a remarkable track record in creating high-performance Drupal websites. The company takes pride in its strong focus on customer-oriented service, delivery excellence, and unparalleled industry experience.
Renowned for its proficient team and unparalleled services, DrupalPartners is one of the leading names in Drupal development. With a team size of over 50 professionals, they charge an hourly rate of $25-$49, ensuring you get exceptional value for your investment.
2. Bilberrry
Bilberrry takes a holistic approach to Drupal development. Their dedication to the craft of creating seamless user experiences has earned them a spot in the top Drupal development companies in the US.
Bilberrry has a commendable reputation in delivering scalable and interactive Drupal solutions. Their team of over 50 experts charges between $50-$99 per hour, ensuring high-quality output.
3. Codup
Specializing in custom e-commerce solutions, Codup brings a unique blend of technology and creativity to the Drupal development landscape. Their commitment to providing tailored solutions has won the hearts of many businesses.
Known for their expertise in creating highly customizable Drupal sites, Codup houses a strong team of over 200 professionals. Their hourly charges are in the range of $25-$49.
4. BairesDev
BairesDev's strength lies in its tech-savvy team of Drupal developers. Their strategic approach to Drupal development focuses on achieving optimal user experiences, high scalability, and boosted e-commerce growth.
With an impressive employee strength of over 1000, BairesDev charges between $50-$99 per hour. Their robust solutions have consistently been rated highly for quality and reliability.
5. SocialSEO
Balancing Drupal development with a strong SEO strategy, SocialSEO paves the way for increased visibility and functionality. Their solutions ensure a strong online presence for your e-commerce business.
SocialSEO, with its competitive rates of $100-$149 per hour, has a dedicated team of around 50 employees. They offer comprehensive Drupal development and SEO services.
6. TechAvidus
With a passion for custom solutions and a keen understanding of industry-specific needs, TechAvidus takes a tailored approach to Drupal development. Their innovative solutions cater to businesses of all sizes.
With over 50 experienced professionals on board, TechAvidus delivers excellent Drupal solutions at an hourly rate of $25-$49, making them a popular choice among startups and SMEs.
7. Digital Silk
Digital Silk is known for creating digital experiences that are both visually stunning and technically sound. They have a strong portfolio of Drupal websites that boast impressive design and superior functionality.
Digital Silk is a premier Drupal development company with over 50 employees. They charge an hourly rate of $100-$149, ensuring high-quality, sophisticated digital solutions.
8. Azumo
Azumo Azumo is at the forefront of using AI and cutting-edge technologies in Drupal development. Their creative approach, coupled with tech prowess, offers unique solutions that set e-commerce businesses apart from the competition.
Azumo stands out with a compact, highly skilled team of around 50 experts. Their services are priced at $50-$99 per hour, offering a balance of cost and quality.
9. Boldare
Boldare's Boldare's Drupal development services are based on lean and agile principles, ensuring a flexible, adaptive, and user-focused approach. They strive for excellence in delivering digitally transformative Drupal solutions.
Boldare's team of over 250 experts ensures that they can handle complex Drupal development projects with ease. Their hourly charges fall between $50-$99.
10. Hexagon IT Solutions
Hexagon IT Solutions offers comprehensive Drupal development services, leveraging the power of Drupal to create sites that are visually appealing, user-friendly, and optimized for conversion.
With an hourly rate of $25-$49, Hexagon IT Solutions offers affordable and effective Drupal development services. Their team size is around 50.
11. Leobit
With a strong focus on agile methodologies, Leobit creates Drupal solutions that are flexible, scalable, and in tune with evolving market demands. They are known for their personalized and efficient service.
Leobit houses over 100 professionals, providing comprehensive Drupal services. They charge between $25-$49 per hour.
12. Instinctools
Instinctools excels in creating Drupal solutions that not only meet current industry standards but also anticipate future trends. They blend technology and strategy to deliver outstanding results.
With more than 250 professionals on board, Instinctools is an ideal choice for large-scale Drupal projects. They charge $25-$49 per hour.
13. Unico Connect
Unico Connect brings together the power of Drupal and a deep understanding of various industry domains. They offer comprehensive Drupal development services, ensuring high performance and business growth.
Unico Connect, with a team size of around 50, offers an array of Drupal services at the rate of $25-$49 per hour.
14. Saigon Technology
Saigon Technology offers end-to-end Drupal development services. With a strong emphasis on quality, they deliver solutions that meet the diverse needs of their global clientele.
Saigon Technology is well-known for its cost-effective services priced at $25-$49 per hour. They have a workforce of over 100 professionals.
15. Lupus Art Net
Rounding out our list, Lupus Art Net brings creativity to the world of Drupal development. They excel in delivering Drupal solutions that are aesthetically pleasing, functional, and highly effective in driving user engagement.
With an hourly rate of $50-$99, Lupus Art Net ensures that you get quality Drupal development services. Their team strength is around 50.
Conclusion
Choosing the right Drupal development company can be the game-changer for your e-commerce business. Each of these companies brings its unique strengths and expertise to the table, ensuring that no matter what your specific needs may be, you can find a Drupal development partner ready to propel your digital success.
These are some of the top Drupal development companies in the USA, each with its own strengths and specialties. It's important to choose a company that aligns with your business goals, budget, and technical requirements to ensure a fruitful partnership.
So whether you're looking to revamp your existing Drupal site or planning to build a new one from scratch, these top 15 Drupal development companies in the USA can provide you with the expertise and insight you need to thrive in today's digital landscape.