- READ TIME: 5 min, 25 sec
Drupal 9 End of Life is Here. What to do next?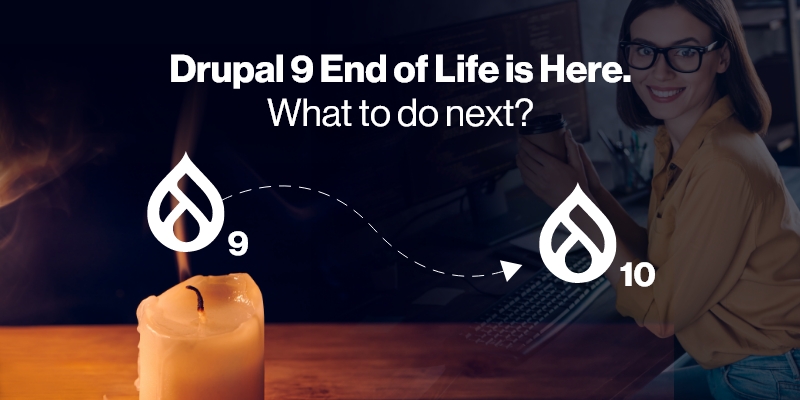 Introduction
Drupal has become the most sought-after content management system that hundreds of thousands of website owners rely upon. As a robust and versatile content management system, Drupal has revolutionized the way businesses manage their websites. Over the years, Drupal has released a series of upgrades to provide its users with the most powerful and advanced website experiences. Often referred to as Drupal releases, these upgrades typically include bug fixes, feature enhancements, and security optimizations.
It's official—Drupal 9 End of Life is here.
As Drupal continued its transformative journey, the release of Drupal 9 marked a significant milestone in the realm of content management systems. Launched in June 2020, Drupal 9 has powered millions of websites. This version quickly gained traction and went a long way in redefining the standards of digital experiences with its innovative features. However, after the unveiling of Drupal 10, a super-advanced version of Drupal with incredible features, Drupal 9 has hit its end of life this November 2023.
Drupal 9 heavily relies on the PHP web application framework Symfony 4. Since Symfony 4 hit its dead end in November 2023, Drupal 9, which was solely built on Symfony 4, had to make a move to Symfony 5 or a newer version. That's the reason why Drupal 9 is being kissed goodbye so soon despite being a massive hit.
What happens after EOL?
As Drupal 9 has reached its end of life, websites running on this version will face functionality issues, interrupted architecture, potential security vulnerabilities, lack of automated updates, incompatibility errors, and limited community support. The consequences of using an obsolete and unsupported Drupal version will severely impact the overall health of your website, customer experience, and the bottom lines of your business.
Every Drupal 9 website owner needs to take this seriously because the risks of using an end-of-life version can break their business. Let's discuss how to act on this.
What should you do next?
Wondering how to navigate this change? You don't really have to! Upgrading to Drupal 10 is your next best step and hands-down safest option.
Here's why upgrading to Drupal 10 is a cakewalk choice:
New functionality and modules for Drupal 10 are actually already added to Drupal 9 releases. This means upgrading to Drupal 10 from any version of Drupal 9 can be carried out quickly and efficiently.
The most advanced release from Drupal, Drupal 10, is by all means identical to its predecessor version, Drupal 9, with its deprecations removed. This way, upgrading your website to Drupal 10 means removing the deprecations of Drupal 9 and making your website secure, super-advanced, and failproof. Experienced Drupal developers can easily pull this migration off.
The transition to Drupal 10 will be smooth and seamless because the makers and contributors of the platform have ensured that the migration process is seamless and less disruptive, minimizing downtime and enhancing precision.
Drupal's Built-in upgrade tools and community support simplify the Drupal 10 upgrade process. Drupal has a highly resourceful and strong network of expert developers in its support community, with whose assistance you can navigate the complexities of Drupal 9 to Drupal 10 migration.
How to upgrade to Drupal 10?
While bidding goodbye to Drupal 9, the makers of the CMS platform have ensured that upgrading to its successor version, Drupal 10, shouldn't be a painstaking process. Here's how to upgrade to Drupal 10:
In the first place, ensure that your hosting environment matches the prerequisites and platform requirements of Drupal 10.
If you are in any version older than Drupal 9.4.x, then you should upgrade to Drupal 9.4.x or Drupal 9.5.x so that upgrading to Drupal 10 will be smooth.
If your current themes and modules are removed or found incompatible, upgrade them to the corresponding contributed projects.
Use Drupal's in-built upgrade status checker tool to ensure that all the contributed modules are compatible with Drupal 10. Upgrade the incompatible modules individually to simplify your upgrade process.
Another way to address incompatible modules is to update your project's composer.json file to include the versions required by both D9 and D10.
Upgrade custom Drupal 9 modules and ensure they are all compatible with Drupal 10. Remove all deprecated codes that were a part of D9.
Manage deprecated modules, tools, and themes by removing them and replacing them with compatible alternatives. It is essential to address and manage altered scaffold files.
After following the above steps meticulously and completing the troubleshooting process, you can upgrade your website to Drupal 10 using the composer-based upgrade instructions.
What if you don't upgrade to Drupal 10?
The consequences of continuing to use Drupal 9 and its unsupported releases can include potential functionality issues, security vulnerabilities, and a negative impact on SEO and user experience. Here's more on what happens if you don't upgrade to Drupal 10.
Drupal is heavily dependent upon frameworks like Symfony, CKEditor, and Twig. As these projects (Symfony 4, CKEditor 4, and Twig 4) are also reaching their end of life, if you don't upgrade to Drupal 10, your Drupal 9 website's performance could be at stake.
Two changes are expected to occur for Drupal-contributed projects post-EOL and before the end of January 2024.

The automated testing platform DrupalCI won't support Drupal 9.
The release branches that support Drupal 9 exclusively will be marked unsupported.
So, now is the best time to embark on your Drupal 9 to Drupal 10 upgrade journey.
Closing thoughts
The key takeaway is the importance of acting promptly and ensuring your Drupal website's continued success and security post-EOL. As a leading Drupal agency for 14+ years and with an accomplished history of contributing to hundreds of Drupal projects, our team has helped many Drupal 9 websites smoothly upgrade to Drupal 10. Get in touch with us to explore more on how to make a smooth transition to Drupal 10.