- READ TIME: 1 min, 44 sec
What's New With Drupal This August 2017?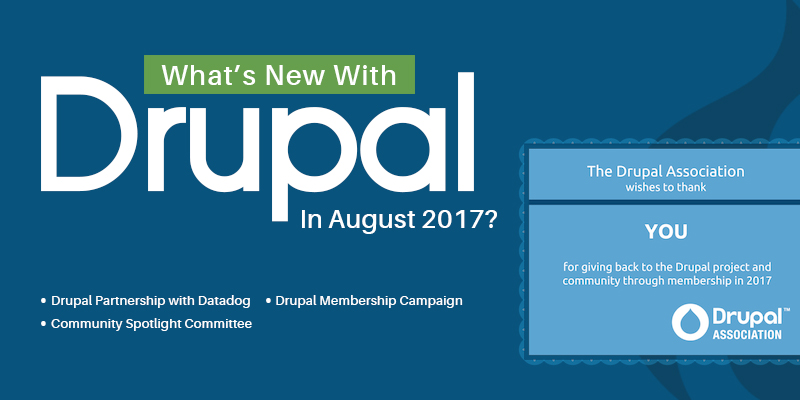 The Drupal Community has announced a few interesting updates this month. These great turns have helped Drupal remain one of the most preferred CMS Platforms.
Drupal Partnership With Datadog: Being the largest and longest open source project on the web, managing all the websites and services of drupal.org was a tedious task. In order to provide quality and long lasting solutions to its clients, the Drupal community has partnered with Datadog, one of the leading cloud-scale monitoring providers. From this month, Datadog will provide a centralized and alerting service to the entire community.
Drupal Membership Campaign: The campaign started with the goal of delivering 500 certificates and raising $18,250. So far the campaign has motivated many Drupal enthusiasts to join the community. The Drupal Membership Campaign started on July 10 and extended until August 4, 2017.
Community Spotlight Committee: The Drupal Community invited all Drupal enthusiasts to join the Community Spotlight Committee that identifies Drupal heroes every month and celebrates their heroism and contribution to the community. Lyndsey has a great vision for the program. In her own words, she says: "We want the Community Spotlight to represent a shared story or an experience that will resonate and connect with where the community and the project is at that point in time. We want to highlight the depth of experience that exists, and the evolving potential through emerging leaders and new energy"
With an assurance to maintain the standards and security of your website, our experienced Drupal development professionals are waiting to help you develop a seamless website needed for your business' success. Keep in touch with us to know more about the latest updates in the Drupal community.