- READ TIME: 8 min, 26 sec
How and When To Migrate To Drupal 9 - A Comprehensive Guide!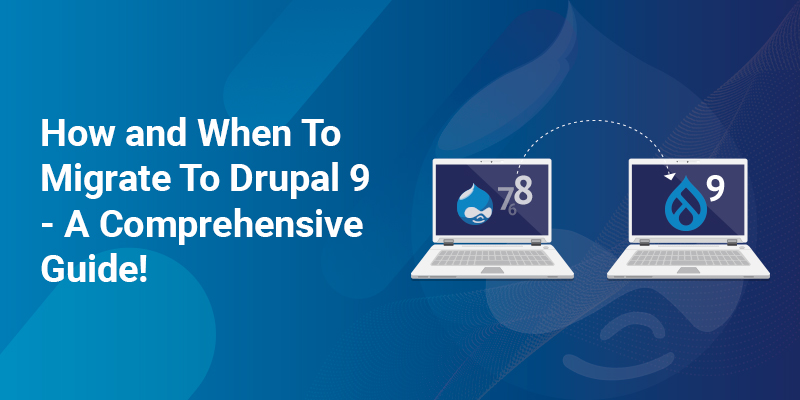 Drupal 9 Migration is the most talked-about topic among Drupal developers, Drupal agencies, and Drupal companies, as the lower-end versions are fast-paced towards the end of life. Drupal 7 platform users are large in numbers, and there is a dire need for them to move to the latest Drupal 9 as it might raise concerns and security alarms. Many Drupal 7 users seem to miss the point of migrating to Drupal 9 in time, and one of the many reasons could be the Drupal CMS extending the end-of-life date by one year to November 2022.
Notably, this decision to move the Drupal 7 end-of-life date forward was the Drupal Association's pandemic-inspired move. On the other hand, the migration delays could be the outset of complicated, cumbersome, and budget unfriendly migration processes. Drupal Community insiders are well-informed of this and have made excellent efforts in reversing it. They are ready to assist Drupal Migration from 6, 7, and 8 to 9 with new modules, tools, systems, and accelerated project planning.
The result is a new era for fast and smooth Drupal Migration from 6, 7, and 8 to 9 with minor snags.
Drupal Partners bags enough experience and expertise in the process. We've compiled a comprehensive guide to details, insights, expert opinions, modules, tools, and systems in this post. We've also taken an extensive picture summary of all the work going on to fast-track Drupal migrations. Keep reading; we are about to uncover the details one by one...
What's New in Drupal 9 and Why Do You Need To Upgrade Drupal 9?
Drupal 8 launched on 19th November 2015 - it's been a while now, we noticed a lot of websites businesses moved to this new version. Nevertheless, last year, Drupal officially rolled out on 3rd June 2020. The latest version release sent out the ripples to all the older versions of Drupal to upgrade Drupal 9.
Drupal 8, 8.8.x, or 8.9.x, users can easily upgrade their site to the newest version. Drupal CMS users need not panic; D9 is built on the foundation of Drupal 8. All the tutorials Drupal developers used to migrate to Drupal 8 apply here as well.
Every website would look forward to migrating to the newer version of any technology or framework because of the latest advancements. The D9 version has made things a lot easier and offers the best performance. While there are not many noticeable new features added in Drupal 9, the latest version's performance is sure to bring more people aboard.
Some modules such as Place Blocks and SimpleTest found in Drupal 8 are not present in Drupal 9.
Drupal 9.1 - New Features
As stated above, even though Drupal 9 didn't roll out with any new exciting features, the Drupal community anticipated that the versions in line would soon release with exciting features, and so did Drupal 9.1. The new Olivero frontend theme is one of the new experimental, compelling features. Therefore, we can expect the forthcoming models to pack significant and impressive new features. Any Drupal website on the lower version needs to be upgraded to Drupal 9 first to enjoy those new features.
Upgrade Drupal 9 Easily
Acknowledged by the software community experts, Drupal 9 migration is the most straightforward upgrade in over a decade. Furthermore, it also offers assurance to related more effortless upgrades even in the future. With such a more straightforward upgrade to the newer version, one would never need to re-platform their site.
Headless CMS
In the previous versions of Drupal, this CMS worked as the end-to-end platform solution; put simply, backend or frontend one had to use the same CMS, it applied in places such as creating pages or displaying content. But, Drupal 9 has become a headless CMS. Therefore, the only option is to build a backend content repository on Drupal and use other technologies or frameworks to build the front end. Through the application programming interface of API, these front-end technologies would communicate with the backend.
New Layout Builder
The all-new layout builder is yet another new upgrade offered in Drupal 9. All these years, the layout builder provided by Drupal was used by site builders and content editors to build layouts for content display with the drag-drop interface. D9 new Layout Builder succeeds the PlaceBlocks module, and it is a lot easier to work on.
Symfony & Twig Updates
Symfony, which is a third-party integration tool, has gone through an upgrade in Drupal 9. Noticeably, Drupal CMS started to adopt Symfony 3 in its Drupal 8.8 version. As a result, the upgraded Drupal 9 has third-party core dependencies, including Symfony, Twig, and similar dependencies.
When Are Drupal 6, Drupal 7, Drupal 8, and Drupal 9 Versions Being Discontinued?
February 2016, Drupal 6 Officially reached the end of life and is no longer a community-supported release on Drupal.org.
Drupal 7 end-of-life was scheduled for November 2021. Later, the Drupal organization extended this date until November 1, 2023, considering the COVID setback.
Drupal 8 support is still ending in November of 2021.
Drupal 9 support will end in November 2023.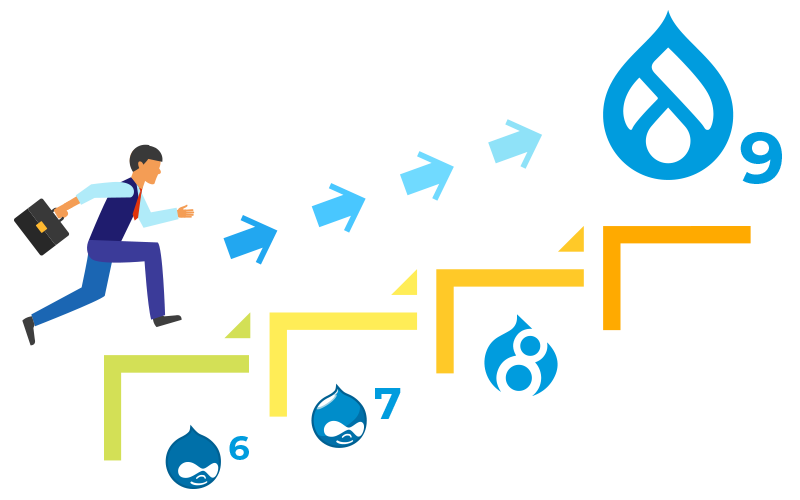 All reasons put right; it is the best time of the tide to Upgrade Drupal 9 invariable of the version you are running on!
Drupal 9 Migration Path - What in-store for your website?
Drupal 8 update rolled out with prominent features compared to earlier versions; however, 71% of Drupal 7 users still missed to migrate to the Drupal 8 platform. Therefore, many may conclude that Drupal 9 could also meet the same fate; but, the chances are feeble. The truth is Drupal 9 is anticipated to turn the tables.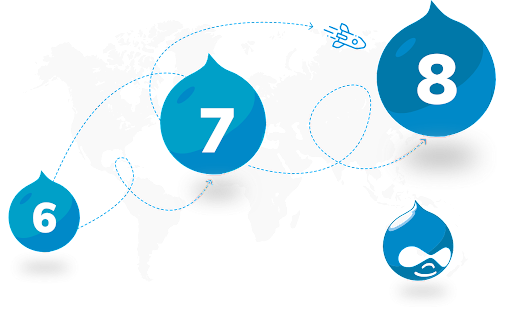 Drupal 9 comes with scheduled version updates, and therefore, it rules out the possibility of waiting for some unforeseen major upgrade. Furthermore, the Drupal community support for Drupal 7 and Drupal 8 is there till November 2022. Hence, websites running on the predecessor versions need to migrate to the latest D9.
For those who plan to migrate, here are some insider tips:
Drupal 7 to 9 or Drupal 7 to 8 to 9 Upgrade? Which Way?
Drupal 7 was one of the successful versions of Drupal CMS as it covered the most number of businesses under its wing. When Drupal 8 hit the market, many still chose to stay on Drupal 7. But, that is not the case now; all D7 users need to go to D9 to avoid security, usability, and support challenges in the future. We understand that there may be some anxieties in understanding the new version; however, Drupal 7 users need not panic. It is worth remembering the community support for Drupal 7 is open till Nov 2023.
The usual way that many suggest migrating your website from Drupal 7 to Drupal 9 is through Drupal 8. Going through Drupal 7 to Drupal 8 to Drupal 9 helps make your site more compatible with the latest features. The two approaches are:
Migrate the existing content by building a new Drupal 8 site or
Move the entire content onto an empty Drupal 8 installation
The other way is to upgrade Drupal 9 directly. By doing so, you skip the Drupal 8 version approach.
Long story short - Many consider Drupal 6/7/8 to Drupal 9 as migration or re-platforming. But it is not as challenging as moving to a completely different platform. Drupal 9 is more open and natural than upgrading to 8 was a few years ago. For other ideas, talk to our Drupal experts...
Drupal 8 to Drupal 9 Migration - Steps Involved
If you are already on the Drupal 8 version, consider it easy to upgrade to Drupal 9. As a matter of fact, it is even considered the most comfortable upgrade in aorund a decade in the software industry.
The foremost actions on upgrading from Drupal 8 to Drupal 9 covers these considerations:
Drupal 8, Drupal 8.8, or Drupal 8.9 are ideal fits to make the smooth move to the Drupal 9
Ensure that the PHP version, PHP extensions, image library, cURL extension, database extensions, etc., are available with the hosting environment to support the smooth migration process.
Investigate and fix deprecated code removed during the upgrade to Drupal 8.
Ensure that all the hosting tools are compatible to meet Drupal 9.
In the next few steps, make sure to place your site in maintenance mode.
Apply the new codes and patches
Reapply for the changes or modifications to different files.
Update the core dependencies.
Update your database
Relieve the maintenance mode.
Drupal 7, 8 and 9 Migration: Step by step Approach
Step 1 Backup Your Older Drupal Site
Step 2 Install The Fresh Version
Step 3 Move Things To The Latest Platform
Step 4 Verify Modules
Step 5 Enter Key Details
Step 6 Initiate The Migration
Wrapping Up
Every older version of the Drupal website needs to migrate from Drupal 6/7/8 to Drupal 9. If you plan to migrate on time and need help, talk to our Drupal experts for a proper migration plan. You'll get to work with experienced developers/migration experts from our team.
Why Drupal Partners?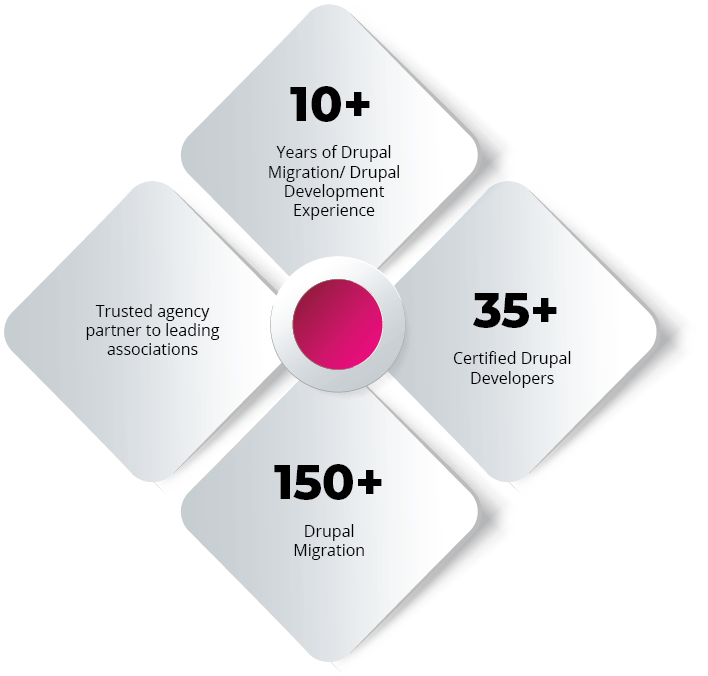 The process of Drupal 9 migration is a lot more secure and swift with us than you imagined!