- READ TIME: 3 min, 31 sec
How to prepare your web personalization with Drupal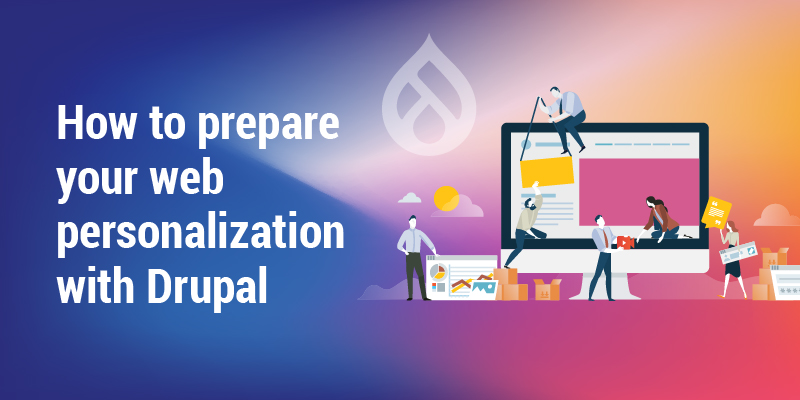 The online competition is intense these days; thereby, forcing every online contestant to enhance customer intimacy to stay ahead of the curve. Having said that, it is vital to say that web personalization is the key to your online success. According to a survey, 80% of the website visitors tend to click away immediately when the content is irrelevant to their search.
Econsultancy's survey revealed that website personalization should be the number one priority in organizations' digital strategy to sustain and provide greater customer satisfaction. Strait-laced analysis of web personalization methods should prove crucial for digital firms, but it is the way forward. Keep reading as we uncover the secrets behind why and how to prepare your web personalization with the Drupal platform.
Why web personalization anyway?
Every website's ultimatum is to attract quality visitors and improve the engagement rate. This helps achieve the periodic goals hassle-free. Simply put, Drupal web personalization improves the engagement rate. Therefore, you can look forward to increasing the average time a user spends on your site. It supports more content consumption; thus, visitors leaving your website decrease drastically and influence a higher conversion rate, improved satisfaction, and an elated brand experience.
Web Personalization enables you to improve the relevance of your content. Here the list of things you'll be able to accomplish by successfully implementing Drupal web personalization and some instances that turned favorable to our clients are also highlighted below:
More Sales and Higher Conversion Rates
In Atlanta, a leading departmental store witnessed its revenue per visit increase by 4% by personalizing its on-site search experience.
Efficient Lead Generation
In Atlanta, a car company started getting 70% more brochure requests and 110% more test drive bookings.
Decreasing Support Team Overhead Costs
A water purification apparatus selling company slashed incoming requests to its call center by 40% by personalizing its online information service.
More High-grade Experiences For Stakeholders
A Fashion eCommerce website started driving diversified traffic by 30% after the web pages and content was appropriately optimized.
Key Steps To Implementing Drupal Web Personalization

Audience Segmentation
Personalizing your Drupal website lets you target your messages accordingly. Therefore, it is imperative to sort audience type first before the message is sent out. Map the audience rightly to send the right whitepapers, case studies, or ebooks - it is of paramount importance.

Mapping Out Content
After effectively mapping out the audience, map out the content needed to go out to them. In B2B Marketing, you can consider building on metrics like awareness, interest, evaluation, and commitment through various content types.

Based On Feedbacks
Feedback is your token for sending personalized messages to the target segments. A data is considered implicit when an inference is taken from user interactions. A detailed investigation of the page traffic/visits, responses to CTA's, Menu navigation, time spent on the pages, bounce backs throws light on the odds that need to be patched.

Count On Data Sources
First-party data sources such as user interactions with the website, email marketing, marketing automation, etc., provide insight into user behavior. Cull out information from trusted partners (third-party) data sources that can come in handy in extracting user profiles.

Identity
Details such as IP address, location, browser, and device are automatically detected non-personal identification traits. Personal information like gender, age, interests belongs to personal identification traits.
Conclusion
Drupal, on the whole, provides an incredible platform for web personalization. Over the years, digital strategies have attained a superior level, and now they are working on web personalization tactics to provide meaningful content to the users. In this blog, we have covered the basics, very soon an elaborate post will roll out - stay tuned!.
Reach us at [email protected] to personalize your site and build a more significant online presence.