- READ TIME: 1 min, 20 sec
Join Our Webinar Titled, "Migrating from Drupal 6/7 to Drupal 8/9"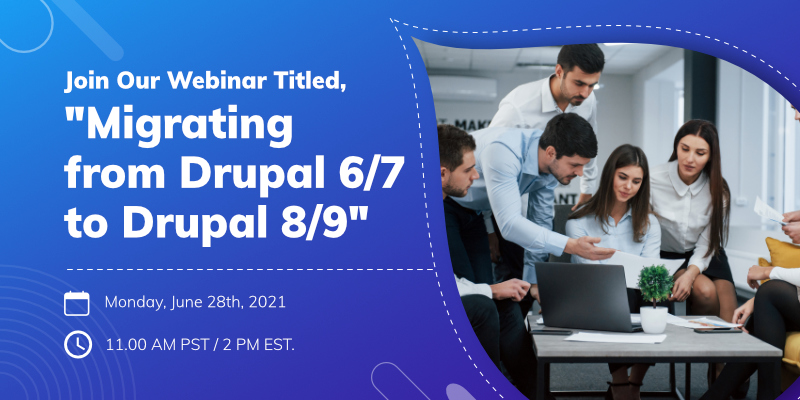 We are happy to invite Drupal 6/7 users/ marketers and enthusiasts to join our free Webinar on "Migrating from Drupal 6/7 to Drupal 8/9," scheduled to happen on Monday, June 28th, 2021, at 11.00 AM PST / 2 PM EST.
Our experts will share their experience/thoughts on migrating to the Drupal 8/9 platforms and why it is essential to do it now. Besides that, get deep insights on what if you jumped on the Drupal 8/9 bandwagon and how you could benefit from it instead of planning for a big migration on a far-fetched date.
Learn about the migration aspects, planning process, tools, and other essentials in the webinar from experts who have already accomplished such migration feats. Register now to learn about the underlying factors!
The Webinar Covers:
What the migration path looks like to go from Drupal 6/7 to Drupal 8/9?
What does the significant leap look like - ahead of 2/3 Drupal versions?
How is this migration different than if you had upgraded to Drupal 8 sometime in the last few years?
How to prepare for your significant Drupal 9 migration?
How Drupal Partners accelerate your migration and simplify the process?
How soon should you migrate?
Affordability, Resources, Technicality, and other vital factors that you should be aware of?