- READ TIME: 1 min, 36 sec
Upcoming Webinar: Drupal 9 or 10: Which is the Right Choice for Your Digital Marketing Strategy?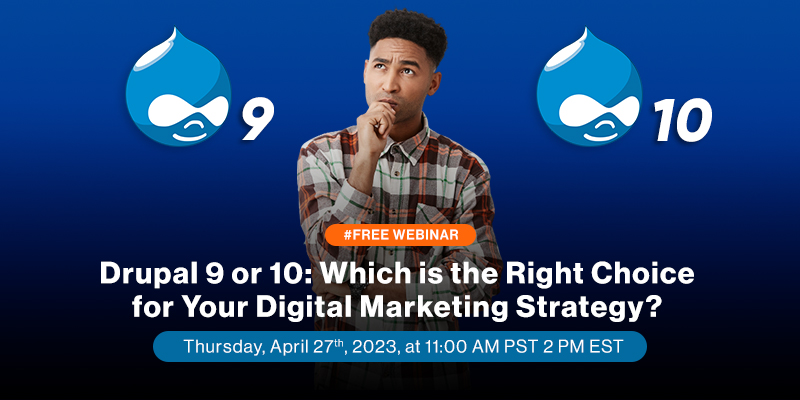 The Drupal 10 version rollout happened on December 14th, 2022!
This is an affirmation to Drupal users that the platform will continue to get better and better. While most of us expected the usual 5-year gap after the D9 launch, it got launched a lot quickly in 2 years. However, with it, D10 brings a wide variety of new and improved features designed to make web development easier and more effective. Some of us are confused as to whether stay on the older version or move to D10 to support our Digital Marketing Strategy.
Here is an upcoming FREE webinar titled: Drupal 9 or 10: Which is the Right Choice for Your Digital Marketing Strategy?
Get the guidance of our experts to help make the most informed decision.
Join us in the webinar & uncover:
The key differences between Drupal 9 and 10
What are the benefits of upgrading to D10
Which version is right for your Digital Marketing Strategy?
Tips on making a smooth transition
A Q&A session with our experts.
Date: Thursday, 27th April 2023
Time: 11:00 AM PST/ 2:00 PM EST
Speakers: Nash Ogden, Karthik Kalimuthu, Senthil Kumar
Who Should Attend This Webinar & Why?
Firstly, it's a free and insightful webinar for marketers, developers, and project managers who are currently using Drupal. It will also be beneficial to those who wish to upgrade or migrate to Drupal 10 in the future. Attend this webinar to make an informed decision on your digital marketing strategy and get a better understanding of how both versions can help you grow your business.