About the client
Inside Higher Ed is the online source for news, opinion and jobs for all of higher education and job search. Whether you're an adjunct or a vice president, a grad student or an eminence grise, they've got what you need to thrive in your job or find a better one. Inside Higher Ed was found in 2004 by three executives with decades of expertise in higher education journalism and recruitment.It's a great place to learn about various higher education courses and offering.
Their mission is to serve the higher education ecosystem for individuals, corporations, etc. with their exclusive editorials and marketing initiatives. They have a stream of loyal readers due to their unbiased and a independent voice on everyday's pressing issues.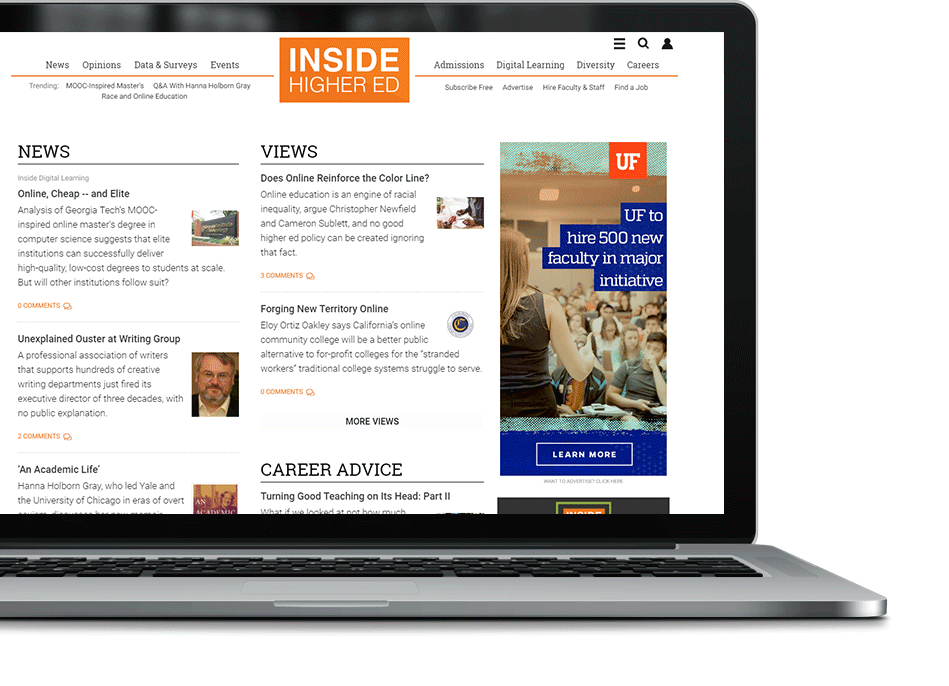 What we did?
Removed and replaced inefficient modules on the site.
Improved their site loading time.
Upgraded their search feature.
About the project
Inside Higher Ed's website is on Drupal 7.The main problem was that the installed modules were not updated and the APIs was non functional. They needed custom functionality enhancement to make their website user friendly. Also, to improve their content discovery in their ever growing data, the search functionality needed to be restructured to generate speedy search results.
---
2.5X
Increased Page
Speed
---
Client's challenge
Insidehighered.com is a Drupal 7 site. Most of the initial modules had not been updated and some modules were no longer functional, as the APIs didn't exist any longer.
Download Case Study
Download Our Publishing Case Study To Know More
2X Increased Search Results Speed
100% Achieved Search Accuracy
2.5X Increased Page Speed
How our feature enhancements helped the client
We have made their publishing website error-free by updating their non functional modules.The new features we included on the website has improved the user experience along with providing value addition to customers. The search feature functionality is twice as fast with 100% accurate results. The website is also optimized to improve the page loading speed.
Now the client is in the second phase of development to include new functionality regarding content discovery and reader engagement.