- READ TIME: 3 min, 36 sec
3 Things Every CMO Should Know About Drupal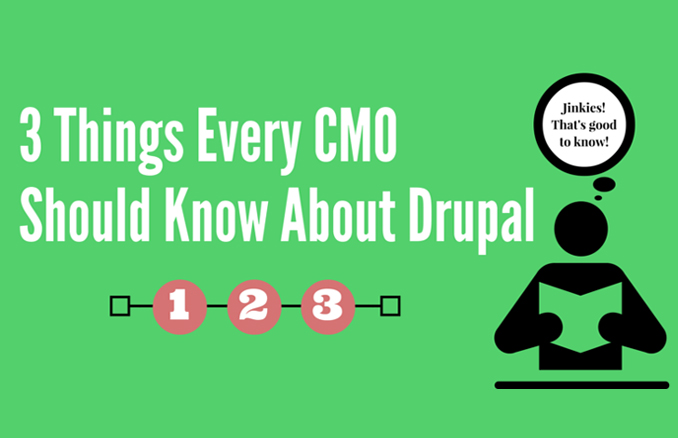 Every business dreams of greater conversion rates, brand visibility and a fantastic digital footprint. However, creating and delivering a riveting customer experience across existing and emerging channels with ease is a huge challenge. The game has changed and now customer acquisition/retention is more difficult than ever before. The interaction points have shifted from the stores to online channels, from in person to on-screen. It's now essential to capture and track customer interactions from multiple channels and avenues.
And nobody knows this better than the Chief Marketing Officer (CMO).
CMOs are constantly under pressure to achieve ROI on ALL marketing efforts. To ensure a significant campaign, a data driven, targeted approach that is painstakingly planned is now the norm. Connecting and influencing customers now demands a presence on multiple channels and significant investments of time. Take home: It's a lot of work. Oh, and adding to this is the volatile economic climate.
Despite the ROI and data driven-everything climate of the CMO, we think that there is [some] light at the end of the tunnel. And we as Drupal Developers think that light is, well, Drupal. With that said, here are 3 things that every CMO should know about Drupal.
#1. Drupal Is Flexible
Creating an immersive online experience requires crafting original/targeted content that connects with the customer, regardless of the platform and device. And, ideally, this original content will convert prospects and capture invaluable customer insights.
Enter Drupal - Drupal is the only platform that offers a unified interface to deliver content, community and commerce across any digital channel. Drupal empowers businesses to expand their digital footprint, generate demand and build brand loyalty – all at once. Drupal is a one-stop solution that caters and fits all requirements. And it seamlessly integrates across web, mobile, social channels, platforms and databases.
Drupal's core strength lies in the fact that there are modules for every need. For example, Drupal offers a Content Construction Kit (CCK) that enables the creation of new content types. Users can create Pages, Blogs, Books and even Polls. Another plus is the ability to create pages for Press releases, Testimonials or FAQs by separating into different content types, while holding the controls over the design, functionalities and user and change management.
#2. Drupal Has Great Extendability
With Drupal, you can extend the functionalities of your site to suit any campaign requirements. Though other CMS solutions do offer similar plug-ins, extensions and modules, you may have to make significant changes in the system/backend to utilize them. Not with Drupal. Since Drupal is an open-source platform, you are free to create or modify a modules depending your business needs. There is also a large Drupal Developer network to help you with customizing your modules to reach your campaign goals. Drupal also offers backend integration with leading CRM, ERP, marketing automation and a lot more.
#3 Drupal Has Top-Notch Security
Security is of paramount importance and the biggest concern businesses face in this era (Just ask Target, Staples and other big stores with compromised data). A marketing campaign, if successful, will attract increased attention and, as a result, lots of web traffic. This means purchases, emails and phone numbers – AKA the stuff hackers want.
To ensure things are secure, Drupal has a dedicated security team that regularly releases updates and carries out reviews on a regular basis. Some may argue that Drupal, being an open-source platform, is a vulnerable platform. We think not. Especially when you consider some of the Drupal clientele: The White House, MSNBC.com, The Economist and more.
And there you have it. We think Drupal is the ultimate solution for the CMO. For a business to be truly digital, your internal systems need to be connected and work seamlessly. Drupal does that.