- READ TIME: 2 min, 31 sec
A Very Merry Drupal Holiday Poem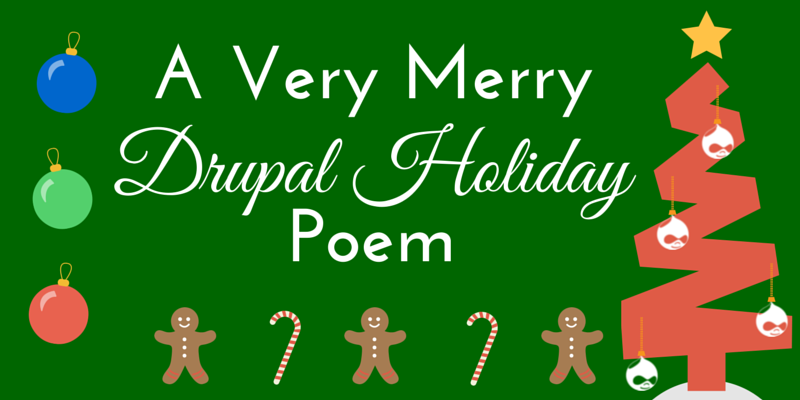 We at DrupalPartners love the December Holiday Season! A Season in which you can practically celebrate a holiday every day. And then some.
With such celebratory fervor in the yuletide air, we went to our computers and searched for "drupal holiday poem." We were aghast when we discovered that, despite the festive season of giving and wonder, that no one had written a joyous holiday piece to or about our great love, Drupal.
This would just not do. This would just not do at all.
Thus! We donned our Santa hats, went to our keyboards, put our heads together and created a special Drupal Holiday Poem just for you. With the exciting Drupal 8 release just around the corner, we made it the inspiration for this (soon to become) holiday masterpiece.
If this goes well, we may write a February Valentine's Love Poem about Drupal Development and Drupal Migration. Oh, the possibilities!
And with that, we wish you and yours a wonderful Holiday Season!
'Twas The Night Before Drupal 8 Release
'Twas the night before Drupal 8 release, when all through the house
Not a single developer was stirring, not even old Klaus
The backends were clean and primed with care,
In hopes that St. Dries soon would soon be there
The developers were nestled all snug in their beds
While the visions of git commits and updates danced in their heads.
And mamma with her iPad, and I with my laptop,
Hoped that the new Drupal update would not be a flop
When out of D.O there arose such a clatter,
I sprang from my bed to see what was the matter.
Away to the update, I flew like a flash
Opened a new browser and cleared my cache
When on the homepage, I saw the download
I screamed with excitement and blew my server load.
I installed the update with wonder and glee
The things I saw, you wouldn't believe!
New blocks, new modules and new entities
OMFG – I love good ol' St. Dries!!!
More rapid than Nginx, I opened the front door
And proclaimed to the world, "Holy Core - there's more!"
"Updated Views! Updated Fields! And better markup!
The responsive design is fun, fast and without a single hiccup!
In the moment of excitement I screamed, "Oh my gosh, ya'll….!"
And I totally fainted from the elation and amazement of it all.
I awoke to angel standing over me.
But who was it other than ol' St. Dries?
He smiled as said, "This update is tight!
Happy Drupal 8 Update to all, and to all a good night!"
Special thanks to Ivan Alfaro for his help in crafting this (soon to be) holiday hit. Thanks, Ivan!