- READ TIME: 4 min, 46 sec
7 Things Digital Marketers Should Know About Drupal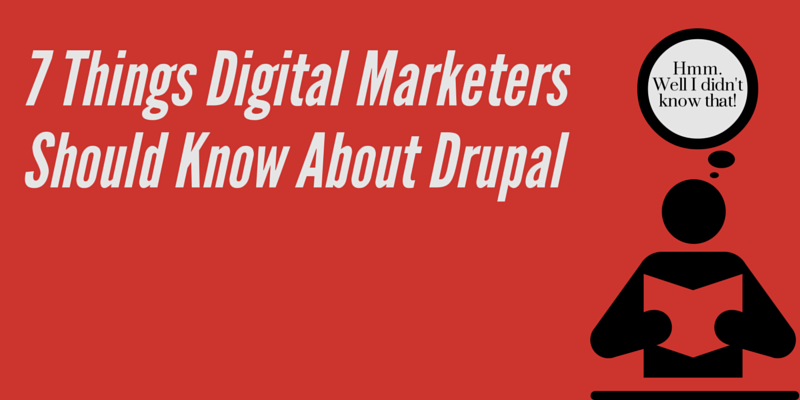 Being a Digital Marketer is hard. Period. From every click to every share, all content or time spent on a marketing campaign is tracked and subject to the looming question, "What's the ROI on that?"
While technology has made Campaign Tracking much easier, there are a myriad of companies and websites that promise the best bang for your digital buck.
In fact, just check out this list of "Must Have Tools" for SEO. There are literally over 300 entries. And they all will email you with promises to make your SEO amazing, investment increase 100-fold, get you all the internet traffic ever, help you lose weight and get that date that you've always wanted. And you, Digital Marker, are expected to figure out which service is the best.
And, on top of the above, you probably manage your website with some sort of content management system (CMS) that [you hope] posts all of your content correctly, tags everything properly and somehow, through unknown magic, keeps everything looking the same.
The equation looks like this
:
Track everything (ROI) + 1.23 billion tools to do it with + a CMS you hope works = exhausting
Hear us, Digital Marketer – Your pain is felt. Your angst communicated. Your ever-consuming desire to check-that-email-open-rate-and-AdWord-click-through-rate-just-one-more-time-ok-I-hope-my-CMS-doesn't-break-again known!
We at DrupalPartners think there's a better way. A more integrated, thorough, reliable and intuitive way…
And that way: Drupal.
How Drupal Fits The Bill...
Yes, we think Drupal can help you, the Digital Marketer, do your job and do it better than ever. From Fortune 500 Companies to SMBs, Drupal is being adopted for its integration capabilities, scalability and flexibility. This makes it a fantastic marketing tool.
So, to keep it simple, here are 7 Things Every Digital Marketer Should Know About Drupal.
1. Drupal CRM Modules Rule
To create an effective and successful digital campaign, marketers require as much data as possible. Examples: Customers buying history, region of the country, current open quotes, etc. All of this info is usually housed in the CRM. What's great - Drupal easily integrates with any CRM, pulling data out and pushing data in! Drupal has several modules that are easy to install and configure. Some of the better CRM tools have even created manuals/guides outlining how to integrate and sync data with Drupal.
2. Drupal Social Media Integration Rocks
Social media – We can safely predict that it will not go away anytime soon. And Drupal is right there in the mix of it. There are several Drupal social media modules that integrate with your site to make posting and sharing a lot easier. Upload your content to your site, have it instantly posted on your social accounts and then track the number of shares… That sounds dreamy.
3. Drupal Understands Content
Flexibility is a key feature for whatever CMS you use. And Drupal doesn't disappoint. The Content Construction Kit in Drupal allows you to create numerous content types and also customize them in sync with your digital strategy. What kind of "content types?" Think polls, blogs, whitepapers, recipes and more. You set the content type and Drupal organizes it.
4. Drupal Is Great With SEO
Gone (thankfully) are the days of splattering your page with keywords and back linking to directories and questionable PR sites. SEO is now more legit than ever… And with that, you want to make sure that your CMS is ready for the task. Thankfully, Drupal comes with its own set of awesome SEO features. With Drupal, you can:
Optimize content for crawling (such as videos, images, texts and so on)
Get total control over your URL structure by attributing custom URLs to any content type
Use its smart categorization system to set your content to be easily indexed by search engines
Easily locate and use meta tags, title tags, alt text and more
5. Drupal Email Integration Is Wonderful
Email marketing is incredibly important to any digital strategy. Drupal not only allows integration of your email service but also comes with its own set of modules that are feature-rich and easy to use. Drupal provides categorization techniques enabling businesses the flexibility to tailor-make email campaigns. Take home: Email campaigns based on data and what people are doing on your site.
6. Drupal Landing Pages Convert
Unlike other CMS services, Drupal, under its Panels module, offers creation of customized landing pages that come with some incredible features! Some neat ones: Fast creation of multiple landing pages, easy-to-use integration with contact forms and videos, A/B testing that lets you decide the most effective landing page and more.
7. Drupal Is Mobile Friendly
If your site isn't mobile friendly, you might as well open your wallet and throw away any money you have in it. Drupal is mobile friendly and ready. Drupal comes with beautifully responsive themes that are compatible with any device. And those are the 7 Things Every Digital Marketer Should Know About Drupal. **phew** Want to know more about Drupal? We at DrupalPartners love this stuff! We'd love to talk to you about how Drupal Development can, well, make your life easier! Schedule a demo below.