- READ TIME: 6 min, 33 sec
The Definitive Guide to Upgrading Your Site to Drupal 10 - What Are the True Costs and Benefits?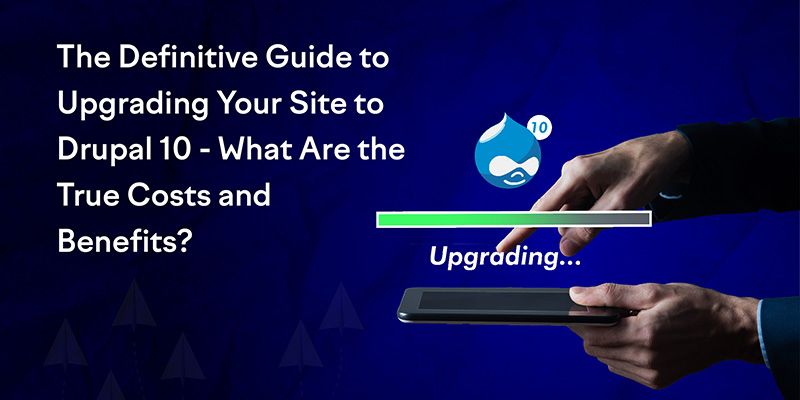 Did you know that Drupal is utilized by over 1.4 million sites worldwide, and it's the second most popular content management system after WordPress?
With Drupal 10 rolling out last December 14th, we decided that in this blog post, we'll look at why upgrading to Drupal 10 is a great idea for businesses in various industries.
So, why make the switch from your current platform to Drupal 10? Here's why...
If you're still relying on an outdated version of Drupal, it's time to consider upgrading to the latest release - Drupal 10! By doing so, you can experience a variety of benefits that will increase your return-on-investment (ROI).
You'll likely see increased user engagement due to improved features and functionality. This in turn increases conversions with more visitors converting into customers or subscribers. Ultimately this leads to greater revenue for your business.
Enhanced SEO visibility:
Drupal's newest edition is SEO-optimized, which can directly propel your website towards the top of search engine results and open a world of fresh opportunities in terms of potential customers arriving to your doorstep - as well as greater profits.
Minimized upkeep expenditures - enjoy the rewards of a cost-effective operation!
By upgrading to the newest version of Drupal, you can save yourself time and money by reducing maintenance costs. Moreover, this newer software is optimized for improved performance and scalability that will be able to handle more traffic as your business grows which offers a higher return on investment (ROI).
Enhanced security measures:
Investing in the most recent version of Drupal is worth every penny, as it dramatically reduces the chances of unwanted breaches and hacking. Not only will this protect your website's reputation, but also safeguard its revenue source.
By focusing on these key factors, upgrading to a newer Drupal version can dramatically elevate site performance and enhance the capacity for generating revenue - enabling you to gain an even higher return on investment.
To experience various benefits, Please upgrade to Drupal 10
Upgrading to Drupal 10, the latest version of the open-source content management system, has numerous benefits. With enhanced security features, improved performance, and new capabilities, Drupal 10 can help businesses remain competitive in the current digital era. The platform is designed to handle high traffic, making it an excellent choice for companies seeking to enhance their online presence.
Upgrading to Drupal 10 is recommended for businesses because it is the latest version of Drupal, supported and maintained by the community, which means it will provide better security and compatibility. Here are some reasons why upgrading will benefit your business.
Want to learn more about the latest Drupal 10 development?
Tripled Security
Drupal 10 has improved its security by removing old code and adding new features to reduce the risk of attacks. It has also implemented measures like Same-Site Cookies, CSP 3, and Content Security Policy (CSP) Level 3 to enhance security.
Drupal 10 has not had any critical security vulnerabilities reported by the Drupal Security Team since its release, which makes it more secure than older versions. This enhanced security can assist businesses in safeguarding sensitive customer data and decreasing the possibility of cyber-attacks.
Enhanced Performance
Drupal 10 is now faster and more scalable than Drupal 9, according to benchmarks. This means businesses can potentially accommodate more traffic and enhance the experience of their customers. Performance enhancements, such as better image loading, improved caching, and more efficient asset management, may result in faster loading times for web pages, which can increase conversion rates.
Drupal 10 New Features
The Drupal community reports that Drupal 10 comes with over 100 languages support, providing companies better multilingual content creation and management. Another essential feature that comes with the upgrade is the Media Library, which makes it easy to manage and reuse multimedia assets, expanding companies' reach to a worldwide audience.
Accessibility
Drupal 10 is designed with accessibility features that enable people with disabilities and older users to use it. It features several accessibility improvements such as color contrast, ARIA landmarks, and semantic HTML. It meets the highest level of accessibility compliance, which is WCAG 2.1 AA. This makes Drupal 10 an ideal choice for businesses that want to broaden their reach and promote inclusivity.
Improved Language Code Output for Long-Term Use
The Drupal community currently supports and maintains Drupal 10, which is the latest version of Drupal. Drupal 10 is supported for three years and there are long-term support (LTS) releases every two years. It is recommended to upgrade to Drupal 10 to ensure businesses are using the most secure and up-to-date version of Drupal. This can help prevent future security issues and compatibility problems.
Language Code For Improved SEO output
Drupal 10 has enhanced its SEO capabilities by improving its URL handling, meta tag handling, and structured data. Drupal claims that the updated URLs can boost a business's visibility and expand its organic reach.
Improved Language Code For Collaborative Output
Drupal 10's Workflow module allows multiple users to edit content simultaneously, promoting collaboration and speeding up content creation. This feature helps content creators manage their workflow seamlessly while fostering teamwork, as per Drupal.
Mobile-Friendly
Drupal 10 is designed with a focus on mobile devices, making it ideal for smaller screens and touch-based interactions. It has a responsive design that enables businesses to create mobile-friendly websites, reaching more customers on their mobile devices.
Improved compatibility with third-party modules.
Updating to the newest version of Drupal can make sure that your website is able to work with the newest versions of third-party modules and plugins. As a result, your website's functionality and performance may improve.
Drupal 10 Migration Costs
The Drupal 10 upgrade costs are dependent on the size and complexity of your website. It can range from a few hundred dollars to several thousand dollars. The cost is also affected by whether you do the migration yourself or hire an expert for assistance. Small businesses can often save money by doing the upgrade themselves, although larger companies may need professional help to ensure that everything goes smoothly.
Migrate to Drupal 10 with confidence, the latest version has a lot to offer for your growth and easy website management. With its robust features, Drupal 10 can make your business more efficient and increase conversions. Contact our team to learn more about the upgrade process and cost estimates for migrating from Drupal 8 or 9 to Drupal 10. We will help you get the most out of your upgrade.
Wrapping Up
Upgrading to Drupal 10 can have various competitive advantages, such as enhancing the site performance and revenue-generating capabilities, which can result in a better return on investment.
Drupal 10 is currently being actively supported by the Drupal community and comes with improved security, accessibility, collaboration, and compatibility with third-party modules. This makes it a great choice for businesses to quickly implement solutions and future-proof themselves.
Get in touch with us now to book your upgrade to Drupal 10. Discover how it can improve your site's performance and increase your ROI.