- READ TIME: 3 min, 46 sec
Drupal 8 Updates And Modules To Spruce Up Content Marketing And Management
3 min, 13 s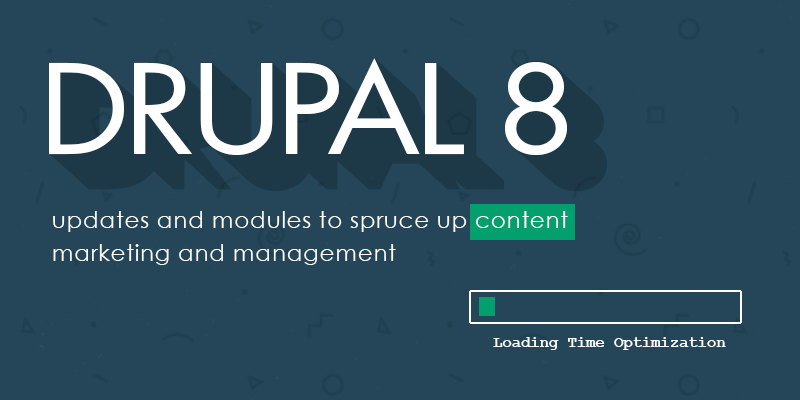 Drupal 8 and Content Management – What makes the latest version of this platform the best buddy for Content Marketers? Let's begin with considering the prerequisites for effective content management.
Being SEO friendly – From URLs to meta contents and everything else
Ease in enhancing (improvising and performing edits to contents)
Loading time optimization
Streamlining UX across all devices
Convenience for users to share
Ditching out language dependency
Having listed out the prerequisites, it now boils down to the matter of how Drupal 8 manages to be the frontrunner in providing a higher level of convenience in managing contents? Read on to know.
First things first, modules are the best part in Drupal and Drupal 8 is no exception to it. Ever since the rollout of the latest version (Drupal 8.3.0), the SEO community is abuzz about the SEO modules of Drupal 8 but that's not all of it. There are a handful of modules that can make content management a breeze.
We have categorized them based on 'User Experience', 'Management', 'Performance' and 'Marketing' capabilities. Here they are:
User Experience:
ColorBox - Helps in smooth overlaying of images without disconnecting from other contents.
Image Effects - Optimize image rendering across several devices to achieve consistent UX
ShareThis - A higher degree of convenience for users to share contents they love
Management:
Admin Modules - Create your own interface to prioritize and delegate tasks faster
Field Group - Create a content classification DNA to group contents and manage them effectively
PathAuto - Dedicated to URL creation, PathAuto lets you create crisp and clear SEO-friendly URLs
Marketing:
Mail System - Complete management hub for your branding, retargeting mail campaigns and newsletters.
Linkit - Hyper linking made easy to direct traffic to other contents
Performance:
BigPipe - A cache solution that allows loading of cached contents first followed by dynamic
Sans modules, Drupal 8 has more under its hood to extend capabilities in terms of managing tasks, creating engaging visual experiences and enhancing contents on the go.
Improvise Content Right 'On The Page'
No more rushing to backend and logging in to perform edits or updates. With Drupal 8's QuickEdit feature, you can perform edits directly on the page if you are logged in.
Content edits can be done and saved instantly. You can go on adding images and create hyperlinks as well. Just a drag and drop would get things done in a flash. Sounds cool, right? But that's not all.
The CKeditor helps in performing the off-stage level edits. You can toggle between content and source-code view easily to perform edits and view changes simultaneously.
Get The Right Visual Message Across
A well optimized visual experience matters the most as users access your contents through multiple touch points and device fragmentation is increasing exponentially every day. Drupal 8 is backed with features that assist you to provide a consistent visual experience across all mediums.
Irrespective of the screen sizes, browsers or devices, your content's visual experience will not tumble as image size, styles and alignments can be customized appropriately to guarantee a perfect outcome.
Speak The Native Language Of Your User
Contents can go viral anytime and can grab eyeballs of users anywhere around the globe. To make this happen, you'll have to turn local. Visuals can get the point across but what about your texts? Being native is the best thing to do and with Drupal 8 that's a cakewalk.
Translation modules of Drupal 8 can disguise your textual part into the language that's native to the user. Based on the geographical locations targeted, you can choose between the translation modules and connect easily with your potential customers in any part of the globe like a local player.
That sums up the keynote content management prowess of Drupal 8. Content Managers can leverage on these modules and built in features in creating and delivering contents with up-to-date web standards and engaging visual experiences.
If you wish to have Drupal 8 as your CMS or migrate to Drupal 8 from older versions or any other platform