- READ TIME: 3 min, 45 sec
What's New In Drupal 8.3.0?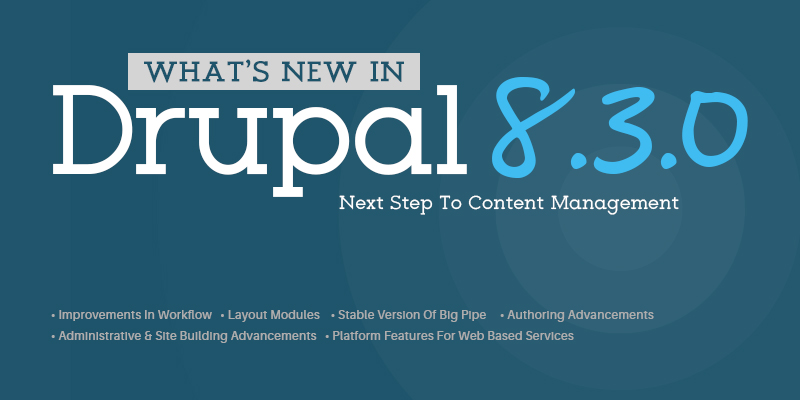 One of the most preferred CMS, Drupal has now come up with another minor release version, Drupal 8.3.0 on 5th April, 2017. This version is promising its users prominent changes in the release process by implementing scheduled feature releases and semantic versioning. The latest version comprises a lot of improvements ranging from authoring experience, improved site administration to REST support, and a stable version of the BigPipe module. Drupal 8.3.0 also constitutes of new modules that can be used to conceptualize workflow, plan the layouts of the site content, and offer a general layout API to interface with other modules.
What can we expect from Drupal 8.3.0?
Improvements in Workflow: Large companies have a large number of content creators and hence need a streamlined workflow to ensure proper approval and editorial process. Drupal 8.3.0 has come up with a new UI which provides an insight into the entire workflow on a single screen. Using these workflows, you can create custom publishing states, control transitions between them and also control who can access each stage of the workflow.
Layout Modules: Version 8.3.0 of Drupal offers two new experimental modules- Field Layout module and Layout Discover module. The code for both these modules is adopted from the Layout Plugin Module. Both the modules provide two basic layouts with an option to add new layouts from other modules.
Stable Version Of Big Pipe: Being the first module to have graduated from the experimental program of Drupal 8, Big Pipe allows websites to deliver personalized content swiftly. Dries, in his blog post gives an overview of Big Pipe, a project of Facebook origin, as follows:
Instead of waiting for the entire page to be generated, BigPipe immediately sends a page skeleton to the client so it can start rendering that. Then the remaining content elements are requested and injected into their correct place. From the user's perspective the page is rendered progressively. The initial page content becomes visible much earlier, which improves the perceived speed of the site.
Authoring Advancements: Images can be easily uploaded, dragged and dropped using the Quick Edit option. The other authoring changes include improved usability for image fields on mobile devices and advancement of CKEditor using the AutoGrow plugin. CKEditor facilitates better user experience on larger screens, superior paste from Word, and a new default skin that better matches Drupal's Seven administration theme.
Administrative And Site Building Advancements: Drupal 8.3.0 offers a newly redesigned admin status report to keep you posted on the latest status messages for your site. The Views listing page is now made consistent with respect to other administrative listings. The "Allowed HTML tags" input is now a textarea that enhances the usability and security of filter configuration. The Views filters for Content and People pages are rearranged for better filtering.
Platform Features For Web Based Services: The new version of Drupal supports web services to benefit decoupled sites and applications, with bug fixes, improved responses, and new features. You can now register users from the REST API, 403 responses now return a reason why access was denied to enhance developer experience, and anonymous REST API performance is increased by 60% while utilizing the internal page cache.
Why should you upgrade your site to Drupal 8.3.0?
The launch of Drupal 8.3.0 provides welcome fix to security issues and bugs, in addition to enhancing both developer and user experience. Content management is much easier for larger corporations and business process turn effective due to the complete control achieved on the workflow.
Since, the new features of Drupal 8.3.0 are more promising in terms of both look and feel in addition to security and reliability, it is good for you to upgrade your business website to Drupal 8.3.0.
Our expert Drupal Developers can help you in upgrading to Drupal 8.3 and suggest the best way to make use of these new features in your professional website to not just increase the user experience, but also increase the conversion rate of your business.