- READ TIME: 3 min, 56 sec
Drupal 9 Migration A Complete Overview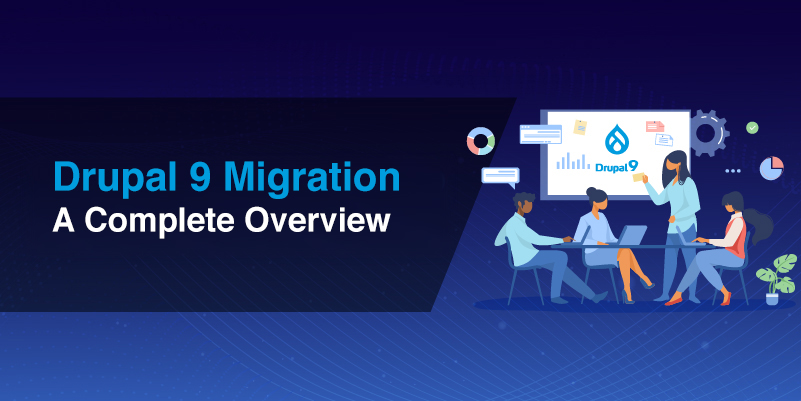 Drupal is an incredible platform that propels over 215,998 websites in the US. More and more businesses favor and recommend Drupal to others as it is perfect and useful in many ways. Today, Drupal 9 software is the most talked about as the other older versions are sunsetting. This post here will uncover its beginnings, journey, uses, migration, and more of Drupal.
The Beginnings
Drupal is Dries Buytaert originally wrote a free and open-source web content management framework written in PHP as a message board. Today, about 1,180,000 sites use Drupal, and the range of websites includes personal blogs to corporate, political, and government sites. It became an open-source in 2001.
The Journey
Drupal received the essential recognition in 2003 when it helped the Democratic Party's primary campaign for the 2004 U.S. presidential election. By 2014 Drupal was developed by a community. From July 2007 to June 2008, the official website of Drupal provided more than 1.4 million downloads of its software, an improvement of nearly 125% from the preceding year.
The Users
December 2019:
Drupal community spanned more than 1.39 million members.
117,000 users were actively contributing, resulting in more than 44,000 free modules that extend and customize Drupal functionality.
Over 2,800 free themes change Drupal's look and feel, and at least 1,300 free distributions.
The Software Releases
So here we present you the timeline of Drupal releases:
Drupal 4.0 was released in 2002.
Drupal 5 was released on January 15, 2007.
Drupal 6 was released on February 13, 2008.
Drupal 7 was released on January 5, 2011.
Drupal 8 was released on November 19, 2015.
Drupal 9 was released on June 3, 2020.
Drupal 10's initial release schedule is in July 2022.
The Sunset Software
With Drupal 9 successfully released, Drupal 7 & 8 are announced as end-of-life in November 2021. This means that all the software manufacturer's support is getting withdrawn as the version is getting outdated. You gotta be cautious and make quick strides to move to the latest platform.
Drupal Migration
Whatever the Drupal software version you are on, the need for the hour to migrate to Drupal 9 as the other two have been announced as sunset software. Drupal migration is easy and least complicated when you put the best of skills together in going from one version to the other. Completing it within the said time helps prevent disruption within your organization.
Why Pick Our Services For Drupal Migration & Development?
Drupal Partners offers one of the best Drupal migration and development services. Our team works together for faster delivery. It helps to automate, scale, and build resilience into their applications. This gives the developers time to other services instead of thinking whether the application will handle any unforeseen crisis.
When it melts down to Drupal migration, you can rest assured that our experts will provide smooth, quick, and hassle-free migration. Ever since 2009, we have serviced over numerous clients and are well-versed with the challenges that surface during the process. Our experiences run deeper into building some of the most progressive and secure sites for government, non-profits, higher education, retail, eCommerce, and more.
Drupal 9 packs the most advanced and comprehensive of user-friendly features and functions. If you look forward to migrating without any tensions. Reach out to us now to discuss your opportunities with Drupal 9. We guarantee quick and accurate migration to the Drupal 9 platform.
Our team packs 30+ certified developers, 11+ years of Drupal development, and migration experience. By far, 150+ successful Drupal migration has been done by our experts. Migrate from an older version to the latest version and upgrade quickly within the timeframe. Don't worry about the migration cost as it is, all the same, to move to the latest Drupal 9 from whatever platform you are currently using.
Wrap Up
Drupal 9 is the new cultural change, which teaches us that this is the team's binding force to work as one unit. Please think of us when you plan to go in for a soaring business with Drupal Migration from any platform.
For more information on our services and pricing, and we would be glad to assist you. Click here to fix an appointment with us!