- READ TIME: 4 min, 24 sec
Why Do You Need To Migrate To The Latest Drupal 9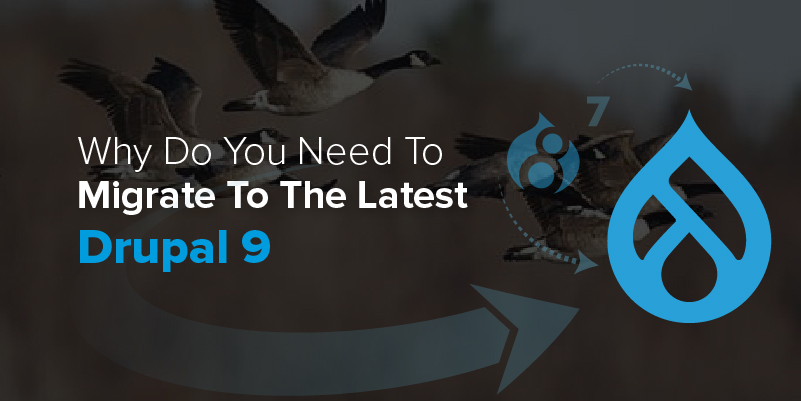 Migration to Drupal 9 is a crucial step on the road to your eCommerce transformation and an easy decision for any business!
During the springtime, the days' grow warmer, the flowers and trees start to bloom, and the world comes to life with birds' melodious calls. Nature lovers greet the signs of winter coming to an end by dancing and creating bonfires.
No one knows where these enchanting sounds and fun hide all winter!
While this may sound ideal - the Songbirds prepare themselves as they are about to begin one of their perilous journeys.
This Journey Is Called Migration!
Each bird has its own migration story—they travel from wintering territories in Latin America and the Caribbean to their summer homes in North America.
This season, Little Vincent, a new entrant in the Songbird family wasn't interested in migrating and desired to stay back, as he felt it was pointless from going place to place. However, the Songbirds Head - Charlie, lectured in length and reasoned him out before he finally agreed to go.
Similar to the migration of Songbirds, it is that time of the year when Drupal 7 and Drupal 8 users need to migrate to Drupal 9. If you aren't willing to migrate now, then you might be left behind. To learn why in particular? Continue reading the post here...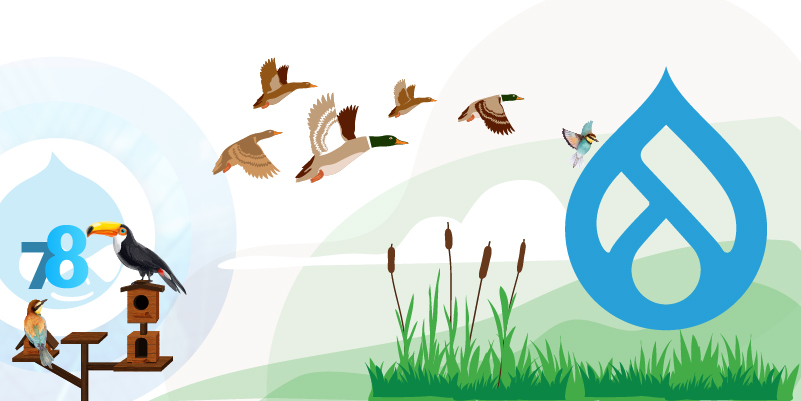 The much-awaited Drupal 9 is out, which sets the tone of an exciting step in Drupal's evolution. Unlike its previous versions, which was somewhat cumbersome and rated little complex when it melts down to upgrading - upgrading to Drupal 9 will happen at a breeze. Well, the experts say Drupal 8 to Drupal 9 will be an upgrade that is more akin to a point release.
Why Should You Upgrade?
There is a dire need to go from the earlier platform to Drupal 9 because Drupal 7 and Drupal 8 are for end-of-life status by November 2021, November 2023, respectively. Therefore, now is a time to begin planning for migration and understand what that will entail.
3 Compelling Reasons For Upgrading Your Site To Drupal 9
The support provided by the Drupal security team or security advisors will no longer be available.
Drupal 7 and Drupal 8 releases will be flagged as not supported on all project pages. This might make integration with other third-party tools and systems challenging.
There are chances of leading hosting services to withdraw their support for Drupal 7. Earlier version users will be left with no options other than handling and maintaining application and server level configurations on their own.
The Big Question - Should Drupal 7 Owners Need To Upgrade To Drupal 8 or Drupal 9?
As of now, there are about 700,000+ Drupal 7 users who need to migrate to the latest version. Users are welcome to upgrade directly from Drupal 7 to Drupal 9. For many websites, it is the best bet provided of the fact that the upgraded site has a maximum expected life.
On the other hand, the users can choose to upgrade to Drupal 8 first and then ultimately to Drupal 9. One of the important reasons to upgrade first to Drupal 8 might be that the site requires a functionality provided by modules available in Drupal 8 but not yet in a Drupal 9 compatible release.
Drupal 9 has a close resemblance to the final Drupal 8 release; however, with deprecated code removed and third party dependencies updated. Therefore upgrading to Drupal 8 first will make the upgrade to Drupal 9 far easier.
Key Benefits Of Migrating To Drupal 9
There are numerous advantages in switching to Drupal 9, which will be consistently updated by Drupal (according to the company sources) to help enterprises stay up-to-date. Once you upgrade your system to D9, you won't require making significant changes the next time you plan to update it to a newer version. Besides that, find the other reasons below:
Secure your users
Scale-up quickly
Increase your content reach
Reach out to the global users
Harness the expanded scope of open source
Enhance the efficiency of content editing
Provide a more exceptional customer experience
Create and publish the content effectively
Conclusion
Little Vincent made the right move to migrate alongside with other Songbirds. Otherwise, he would have been left behind to meet his fate. Similarly, the time is ripe for you to migrate to the latest Drupal 9 with all the supporting reasons at hand. If you still have questions on how to go about doing it without affecting the flow, you are welcome to talk to our Charlie without any hesitation. We would be happy to give you an overall understanding of how, when, and why to take it forward. Contact Us Now!