- READ TIME: 6 min, 14 sec
eCommerce Platform Price And Functionality Comparisons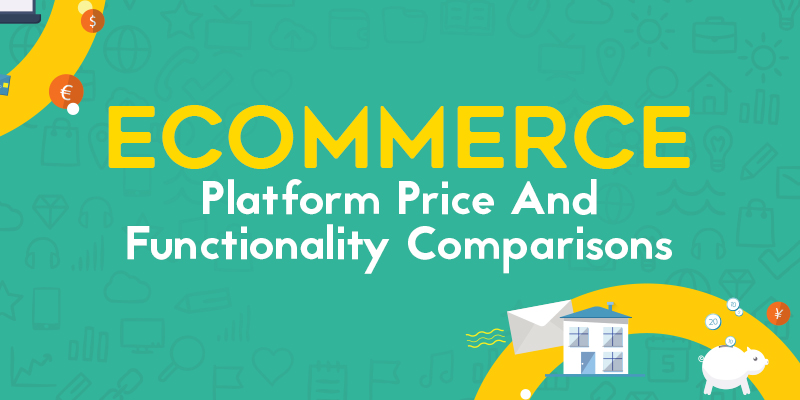 When we decided to compare the various eCommerce platforms available, I was not expecting to find agazillion options. I was really surprised that the majority number of eCommerce platforms is in the ready-made format, allowing entrepreneurs to instantly sell online.
The perfect online store should be SEO friendly and help market your products efficiently. There is no point in having a beautiful eCommerce store that no one ever visits, is there?
Let's jump into it and find what the top 5 eCommerce platform have to offer in terms of your eCommerce success.
Shopify – A Retailers Favorite Destination
It's the perfect solution for retailers who are looking to add to their existing revenue stream, as well as budding entrepreneurs who are trying to get into the eCommerce field. Unlike many other eCommerce platforms, Shopify doesn't have any sort of transaction fee and bandwidth limit. It lets you sell with no loss of revenue for a small fee ranging from $9 to $145 per month, depending on your monthly plan. Shopify also has plenty of other great features including the 'Buy Now' buttons that let you sell directly through your Facebook pages.
The major drawback is the lack of global reach and multilingual features. Similarly, customers are stuck to mundane themes that are used by thousands of other sellers online. Subscribers are restricted to their layout, with no option to customize and add other great features that could help thee Commerce store thrive.
Volusion – A Comprehensive eCommerce Platform
Volusion is one of the few platforms that gives you a complete set of tools to build a comprehensive eCommerce site, but for a monthly fee. One of the major advantages is their round the clock support and no transaction fees that most platforms have. There is also a dedicated iOS and Android app that lets you get instant updates for each transaction made, bringing down the total shipping time.
The major drawback is their bandwidth limit. This particular fact actually makes up for their no transaction fee. If you have a big database of products, then get ready to pay a hefty sum to host your eCommerce solution in Volusion. Also, they don't have the SSL certificate, which works as a major trust factor for buyers to make a transaction.
WooCommerce – A Simple Plugin To Sell
WooCommerce is a not really an eCommerce platform, but rather a plugin that extends any site to a eCommerce one. The major advantage of running your eCommerce platform is that you can customize your online store the way you want it. Similarly, since it's built on a CMS, it's easier to create relevant content, making SEO so much easier. Various dedicated plugins are available to use advanced marketing and analytical strategies to increase your eCommerce success.
The major drawback is that WordPress might require some level of coding and it's a difficult for a non-technical person to set up a site without a developers help. Also, since WooCommerce is a plugin, it works only for a smaller eCommerce stores that host only few hundred products. Even though it uses the WordPress platform (which is SEO friendly), tools for higher level of marketing are not readily available. Lastly, security is one of the biggest issues, as WordPress sites are the most targeted by hackers.
Confused between WooCommercevs Drupal Commerce? Then, this is your perfect read.
Drupal Commerce – The Robust eCommerce Platform
Drupal Commerce is built on Drupal, which is one of the most robust CMSs out there. It helps build enterprise level eCommerce stores efficiently. Since the store is built on CMS,creating relevant content for SEO becomes so much easier. Drupal Commerce provides all the marketing tools necessary to help reach out to global customers easily. Their unique multilingual features also help in building brand awareness amongst people worldwide.
The major drawback in hosting your eCommerce through Drupal Commerce is the 'price factor,' as you cannot build a site without a developers help. But, the site expands as you grow and flexible enough to design it the way you want it. Also, it's one of the most secured platforms which easily brings the trust factor amongst shoppers.
If you're itching to know more on Drupal Commerce, we have the right eBook that tells you the best ways Drupal Commerce can help your eCommerce business thrive.
BigCommerce – The Most Expensive Solution
BigCommerce is a dedicated eCommerce portal that helps market and sell your products efficiently. They have a comprehensive library of materials that helps in running a successful online store. They also take security issues very seriously and invest a lot of time in maintaining their sites in an optimum speed. BigCommerce also offers around the clock support to help eCommerce store owners sleep in peace.
The major drawback is the higher credit card transaction fee when compared to other third party services. Also, since it has its features built in with the platforms, there is no way to make it flexible to work the way you want. The service fees start from $29.95 per month (Standard Plan) to $199.95 (Pro Plan). Another major drawback is that when you choose to start your store with BigCommerce, it's not easy to migrate out at all.
The eCommerce Platform Comparison
| Features | Shopify | Volusion | Woocommerce | Drupal Commerce | Bigcommerce |
| --- | --- | --- | --- | --- | --- |
| Customization | Restricted | Restricted | Highly | Highly | Restricted |
| Scalability | To An Extent | To An Extent | Sky Is The Limit | Sky Is The Limit | To An Extent |
| Security | Medium | Medium | Less | High | Medium |
| Flexibility | Not | Not | Highly | Highly | No |
| SEO Friendly | Yes | Yes | SEO Nazi | SEO Nazi | Yes |
| Global Reach | Caters Mostly To Us & Uk | Caters Mostly To Us & Uk | Yes | Yes | Caters Mostly To Us & Uk |
| Multilingual Option | No | No | Yes | Yes | No |
| Advanced Content Use | No | No | Yes | Yes | No |
| Get Ownership To Your Site | No | No | Yes | Yes | No |
| Payment Gateways | Good Number Of Options | Not Many Options | Good Number Of Options | Good Number Of Options | Good Number Of Options |
| Customer Support | 24/7 Customer Support | 24/7 Customer Support | Supportive Community Members Always Available | Supportive Community Members Always Available | 24/7 Customer Support |
| Abandment Cart Saver | Yes | Yes | No | Yes | Yes |
| Price | 9$ To 179$ Per Month | 15$ To 135$ Per Month | Free + One Time Development Cost | Free + One Time Development Cost | $29.95 To $199.95 Per Month |
| Additional Cost | None | SSL Security Cost + Platform Transaction Fees | None | None | Bandwidth Price |
We, being Drupal eCommerce developers, were quite skeptical about the performance of the various eCommerce platforms. As we learn more information, we found that each platform has its own charm and caters to different types of online stores.
But on the flip side, the potential of these platforms is only feasible to a certain extent. As a 'to-be' entrepreneur, you might want to jump-start with one of the ready made options out there. That is perfectly 'fine', but, when you decide to expand and grow, remember there is an option that will help expand your business worldwide and also let you access advanced marketing techniques to improve sales. If you have big dreams and looking to make it big as an eCommerce entrepreneur, then we think Drupal Commerce is a great fit for you!