- READ TIME: 4 min, 59 sec
Social Media And Drupal Commerce – Made For Each Other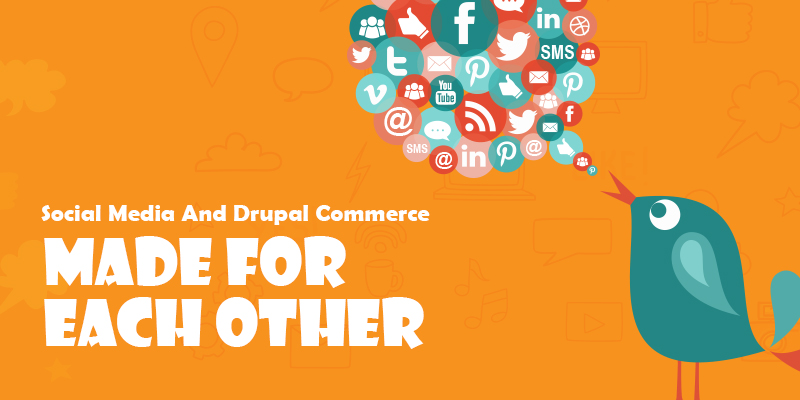 If you're in the eCommerce business,  then you know that social media sites are the go-to place to connect with your audience. A recent study shows that companies have set aside 9% of their marketing budget just for social media. This number is set to grow to 22% in the next 5 years.
Social media spending is bound to increase, as business seek to increase sales, along with acquiring global customers. Thus, your eCommerce platform should seamlessly integrate with social media sites and perform actions that best help your social media strategy.
Here's How Drupal Commerce Works With eCommerce 2016 Social Media Trends
There's more than one way to integrate your business with social media, improving visibility along with building brand value. In fact, there are big changes expected in the next few years, as more intelligent and predictive marketing techniques come into play. At that time, information curated from the social media sites will be one of the most vital resources.
Let's see how Drupal Commerce and social media helps you connect with customers and improve business.
Social Login – A Great Way To Gain Customers And Capture Their Data
Drupal Commerce lets you use social login easily through dedicated modules. A lot of websites love to build their own login portal, but having a social media login is the norm now. There are over a million sites online with social logins and customers use half of them. Imagine the number of accounts customers would have to create if they can't login via their social media. But, letting users sign in through social media accounts proves to be useful in more ways than one way. You not only get them on your site, but also access 200 more pieces of valuable data/information about the customer from their social media account.
The Power Of Recommendations – Let Customers Vouch For You
The 'Share' feature is an extremely powerful tool. Spending a lot of money on your marketing budget might not give you the desired result. But, when you have customers sharing your products, then the reach is much higher and creates a better ROI. Drupal Commerce is built on Drupal, a content management system, allowing you to customize your share button position! You can play around with color, placement and more to discover what gets your customers to share. Get customer's to market your product and earn the credibility you deserve.
Multiple Platform Integrations – As One Is Never Enough
eCommerce store owners are forced to be active on multiple platforms since their target audience is, well, on multiple platforms. Being active in various platforms show us which one works best and which doesn't. You will be surprised by the different social media platforms that bring you traffic. Similarly, a study from Shophify has shown us that various platforms provide various conversion rates. Combined with your other marketing plans, a social media marketing budget does show a good ROI.
When we think about multiple platform integration, you might think it will take a lot of time and resources to utilize the available social platforms. However, Drupal Commerce lets you share your content to the portals of your choice with just a click of a button.
Get All Your Feeds In One Place
Do you have customers singing your praise on your social media platforms? Then, use it to your benefit! Sync your social feeds to display on your homepage. Drupal Commerce lets you sync all your social accounts in one place and highlight your most popular posts/reviews. Bring your social media popularity to your Drupal Commerce site seamlessly with the use of dedicated modules. Potential customers who find your site will easily trust your credibility and services with such real-time user testimonials.
Let Customers Share What They Buy
As the popularity of social media and eCommerce increases, customers are keen to share what they buy. It's just one of the social trends, allowing buyers to get their friend's opinion on the product or just show off. Use this to your advantage and get your customer's friends to your site. This is a great way to reach out to the target audience, who could turn into potential buyers. Dedicated Drupal modules let you do just that and help you utilize your social media presence in a profitable manner.
Reward Customers For Sharing Your Products And Services
Customers don't always promote your website just because they love you. There is always the need to give them a little push to make them do what you wish. Small incentives and rewards go a long way in getting them involved in the social sharing process. These rewards not only help in getting your message out there, but also help to increase your traffic and sales.
Drupal lets you set conditional rules to sharing your products or offer on different social platforms. When customers satisfy all the conditional rules, they will be awarded. Automate your social media marketing tactics and get the targeted traffic!
Drupal Commerce is one of the few platforms that helps to sync your social marketing activities with your website. Don't silo them – Your social media success relies on bringing both your site and the social media platforms together.
Looking for a perfect eCommerce platform that helps build a beautiful site as well as market it efficiently?
Contact our Drupal Commerce Developers today!