- READ TIME: 5 min, 13 sec
Dear Zapier: Please Create Zaps For Drupal Commerce ASAP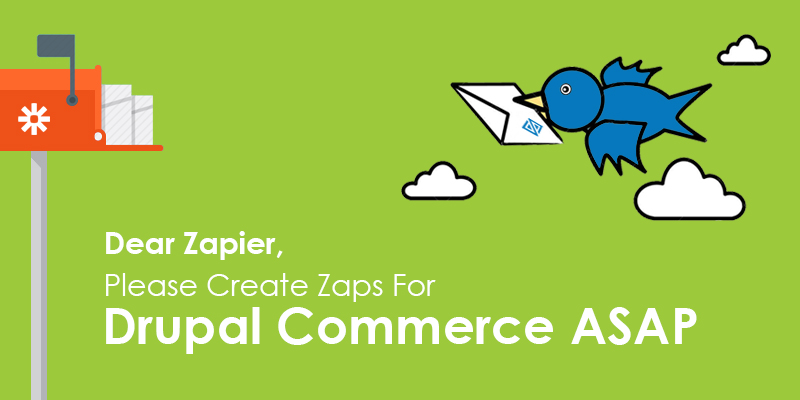 The holiday season has come and gone and we hope it was great for your business.
Even though it's one of the best times of the year to boost your profit, it's also very hectic – What with all the marketing campaigns to monitor and specials to entice potential customers.
If ran several campaigns, then you probably realized the difficulties of monitoring the campaign performance, along with taking care of order management, shipment tracking, customer support and other essential eCommerce activities.
That's where Zapier comes to your rescue!
The Wonders Of The Zap!
It can help automate most of your eCommerce processes efficiently. Here's how zaps do wonders for eCommerce store owners:
Create An Efficient Email List Of Potential Buyers
You know the importance of building an efficient email list. A list containing thousands of customers who have used your services are your perfect target for all your future marketing campaigns. So, it's important you never lose such customer data.
But organizing customer email addresses manually is torturous. One needs to copy and paste each address onto an Excel sheet and upload them to an email marketing application.
But there's hope! Zapier helps integrate your eCommerce platform with your desired email marketing tool. Never miss a customer's data, as it will instantly sync the two applications and acquire the necessary details, automatically. You not only save time, but also the hassle of manually updating your email list with new email addresses.
Customer Records Are Created Instantly In CRM
Building impeccable customer relations is essential to have a successful eCommerce store. Shoppers build loyalty with not only a smooth shopping process, but with an organized customer support. Having an updated CRM is essential to handle all customer crisis, efficiently. Zapier can help connect your database with CRM applications like Zoho CRM, Salesforce, etc. to map customer details and their purchase history.
Again, to maintain your CRM, you would need to spend many man hours in manually update it yourself or build an expensive tool to automate it. But, with Zapier, you can easily connect the CRM with your back end in a cost efficient manner. If any customer issue arises, you can easily track and resolve by accessing real time information using your CRM application.
Instantly Sync New Orders
New orders that come in immediately get updated in the order workflow. If you have a priority shipping plan, different automation logic can be applied. This automates the work assignment process completely. Your employees can seamlessly perform tasks without any confusions and get the orders ready on time.
Zapier can also sync with work management apps to assign each order as a new task. This ensures that orders are shipped immediately to reduce the total purchase time. Your customer loyalty increases when they get their product shipped in a couple of days.
Create And Send Personalized Emails
When a new user signs up or makes a transaction in your eCommerce site, it's a norm to send them direct mails. It's an important tool we use to build long lasting relationship with the customer. Personalized emails will let them know that your services are open, any time, and lets them get in touch with you instantly.
As your customer acquisition increases, it's impossible to manually send personalized emails. The only other alternative is to make use of automation tools to help send emails instantly, as and when needed. Zapier bridges the gap between the third party mailing app and your backend to send a personalized email for every new sign up and order placement.
Instant Export And Analysis Of Sales Data To Excel
Making a sale and monitoring it until it gets delivered is not the toughest part, but analyzing the sale patterns and bringing in all the required data together is the biggest challenge.
Zapier syncs with Google Sheets and updates each sale, instantly, to keep the data accurate and relevant. The sale can be segregated based on the different types/kinds. If you have a promotional campaign running, then those records could also be tracked separately. Monitor the performance of each campaign, understand your customer purchase behavior pattern and behavioral effortlessly with Zapier.
Make Team Management Easy
Running a team is never easy. That too in a dynamic field of eCommerce, there are more than one area we need to concentrate on. Work management apps linked to your eCommerce platform helps in getting information across to the right person easily. Communication between team members and updating the status of customer has never been easy. Zapier lets you.
Make incoming orders as a task in Asana or other work management tool
Instantly get alerted when you are running low on stock
Once the order is packed and shipped, it immediately reflects on the site and the customer gets an email stating that the order is ready to be shipped.
So, Zapier helps in automating the work assignment between the merchandising team and the shipment team. This helps in a smooth task management to get the order ready and shipped on time.
Sad News: Zapier Isn't Available For Drupal Commerce
Zapier is a great tool for many eCommerce stores. But sadly, it's not yet open for the Drupal Commerce platform. We know it's the ultimate eCommerce platform and we think that when it's teamed with Zapier's advantage, then watch out world!
This is the sole reason our Drupal eCommerce developers want it made available for Drupal ASAP!
So, here's what you can do to help:
Voice our opinion and get the Zaps we want for Drupal.

 

Vote now!
Thanks for doing your part! We'll update you soon on the results!