- READ TIME: 3 min, 7 sec
Join DrupalPartner's Free Webinar On Migrating Your Website to Drupal 9!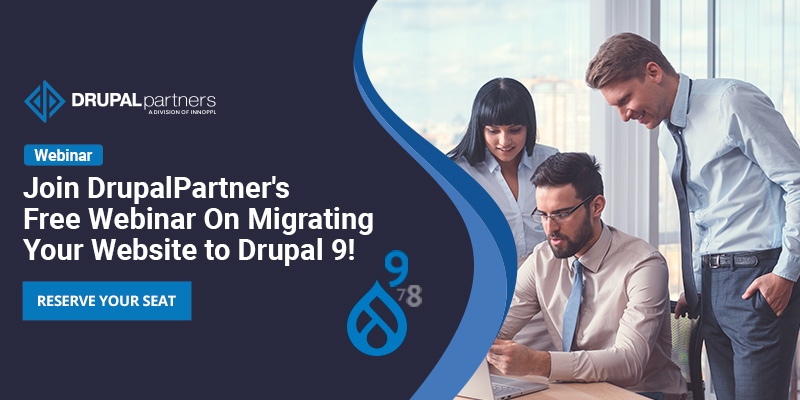 The news is out - Drupal 7 is reaching its end-of-life in November 2023, and Drupal 8 already ended in 2021. Around 65% of websites are still running on Drupal 7, and there is a dire need for them to move to Drupal 9 to prevent security threats, data loss, and scale up to match futuristic challenges. For this reason, DrupalPartners has planned an insightful FREE WEBINAR called How To Plan Your Drupal 9 Migration to Boost Overall Performance, Customer Experience, and Website Security on March 31st.
Register Now For The Free Webinar
In this webinar, we'll debunk the misconceptions surrounding updating your website to Drupal 9, porting your themes and modules to it, and the need for thorough planning when shifting a major migration at scale. By the conclusion of the one-hour session, you'll have a better understanding and confidence in moving forward with your planned migration.
The webinar targets mainly Drupal website owners, Drupal businesses, developers, educational institutions powered by Drupal, and CTO's. It is beneficial if you need to migrate a website with numerous pages but fear you might lack the budget or resources.
The webinar cover:
Why Migrate Now
What Happens When You Migrate
The Migration Challenges
Roadmap & Migration Journey
The Value of Migrating to Drupal 9
Given Drupal 7 and 8's end-of-life, migrating to Drupal 9 is not only a necessity but also a must. It also gives managers, editors, and users a richer experience on both the front and back ends while maintaining the features and flexibility that helped Drupal grow into the foundation for over 1 million websites.
Even if you don't know a lot about Drupal, there are several reasons why your website may be vulnerable to security risks. First and foremost, it's critical to update all of your core components regularly so that they're up-to-date with the latest functionalities and security fixes. Furthermore, migrating to Drupal 9 is an opportunity to rethink a more intuitive, user-friendly interface that takes Drupal's WYSIWYG approach to the next level.
About The Webinar
Alongside Karthik Kalimuthu, Hamad Zafar will discuss how DrupalPartners will migrate a website to Drupal9, the lessons they learned, and share practical advice that will simplify your Drupal migration.
What: How To Plan Your Drupal 9 Migration to Boost Overall Performance, Customer Experience, and Website Security
When: March 31st at 11.00 AM PST 1 2 PM EST.
Duration: 1 hour
Cost: FREE
What You'll Learn:
Drupal 9 benefits & features
Drupal 9 migration and the challenges involved
Migration journey
Questions (You can ask everything related to Drupal CMS besides the Drupal 9 migration)
A FREE 30-minute Consultation with the experts
How to Register: Fill out this form.
Our Speakers
Hamad Zafar
Director Of Sales
Hamad Zafar has spent the previous eleven years assisting CMS clients in migrating their websites, including several Drupal migrations. His significant experience benefits clients in moving their websites from a lower Drupal CMS version to a more convenient higher version. He is always ready to assist clients in increasing their sales by utilizing their resources.
Karthik Kalimuthu
Chief Technology Officer
Karthik Kalimuthu is on the lookout for cutting-edge technologies that will help Drupal websites succeed in today's ever-changing and competitive digital world. He has developed bespoke modules and themes for all versions of Drupal after being a chief technology officer, intuitively analyzing migration metrics.