- READ TIME: 3 min, 17 sec
Check Out Our Drupal Case Studies From Our Awesome Drupal Developers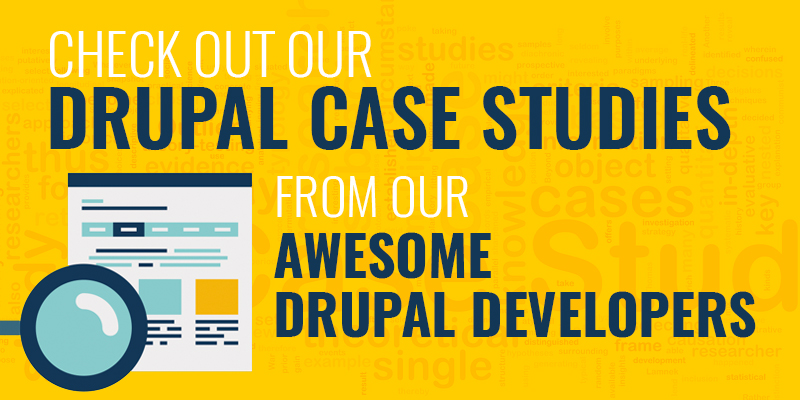 We're pretty darn proud of our Drupal developers. They work long and hard to ensure that our Drupal clients are happy, engaged and involved.
This post will showcase a few case studies of our developer's top projects to let you see some of the fantastic work they've done. It's exhilarating to have collaborated with amazing clients who have aided in the growth of our developers, and, in turn, the whole organization. A shout-out to each and every client who had pushed all of our developers to reach their highest potential!
eCommerce Case Study: Wallaroo Hats Company
Wallaroo Hats had recently migrated to the Drupal platform from .Net and was facing many practical difficulties in site performance and usability. The other major issues faced were with their sales orders, merchandising, lack of product reviews to entice users, wholesale order placement process and much more. Basically, since they rely on eCommerce orders, their sales had taken a huge hit. Want to know how we cleared up their site and helped them get back on track? Read our Drupal eCommerce case study!
Government Case Study: AOC
Our client is responsible for the website georgiacourts.gov and a dozen other associated sites related to the state of Georgia. All the websites were built separately with individual back-ends, making it difficult for the site admin to manage them all at once. They relied on the IT support for even simple changes to the website, making the process extremely time consuming and inefficient. Similarly, each website hosted a different theme and format, lacking the brand image which they wanted. Want to know how we made the work simple? Read our Drupal for government case study!
Entertainment Case Study: Outside Television
Outside Television is an entertainment portal focusing on the active outdoor lifestyle. It's a program portal based on Outside Magazine and caters to millions of Americans. The client had a fully functional Drupal website, but it was extremely buggy. Their major concern was hours of downtime, which resulted in revenue loss. The website was also extremely slow, resulting in lose engagement rates. Eager to know how we fixed their site and how we increased their engagement? Read our Drupal for entertainment case study!
Publishing Case Study: Inside Higher Ed
Inside Higher Ed offers online jobs and news information for higher education. Most of their modules were not functional due to the absence of APIs. They required expert Drupal advice to fix their short term and long term problems, focusing on creating and updating their site and making it secure. Want to know how Inside Higher Ed is enjoying their new website? Read our Drupal for publishing case study!
University Case Study: Georgia State University
The National Institute for Teaching Ethics and Professionalism (NIFTEP) is based out in Georgia State University. It conducts workshops for academics and practitioners, using innovative ways to teach ethics and promote professionalism. They reached out to us for incorporating updates, patches and much needed Drupal maintenance. They also wanted usability fixes for effective site management. Want to know how the NIFTEP community benefited? Read our Drupal for universities case study!
And there you have it! Some of our favorite Drupal projects and case studies. Looking for some expert help? You've come to the right place - DrupalPartners is one of the top Drupal problem solvers with years of experience in eCommerce, government, higher education, publishing and entertainment.
Need some Drupal help? Contact us today.