- READ TIME: 5 min, 6 sec
A Quick Look At The Top Drupal Trends To Rule In 2021!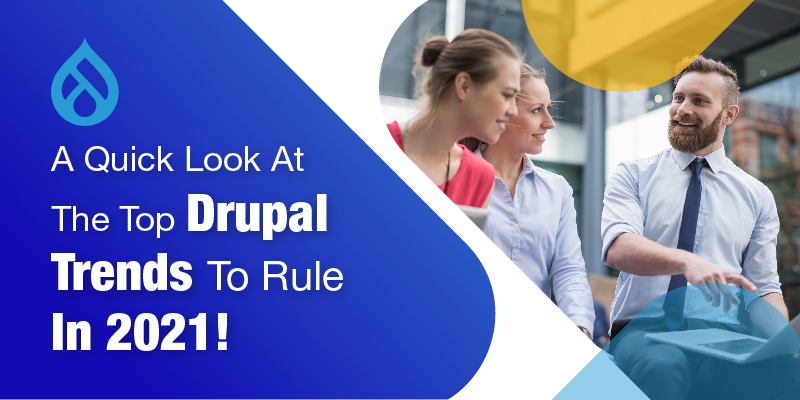 Open Source CMS has evolved at a magnificent speed since its birth 20 years ago. Five years ago, when it was born, Drupal 8 was a challenging upgrade. Migration and bringing in the content were both tedious and time-consuming tasks.
Surprisingly and thanks to the semantic versioning in Drupal 8, the release of Drupal 9 was a smooth, no-event task for all those who were initially paranoid about this launch. It was a manageable and uncomplicated process that put the developers' and businesses' minds to rest.
This leaves one wondering why there is so much hype around Drupal 9! And what is the right thing about it, and what are the anticipated Drupal trends for 2021? Here is an interesting post to read on:
The Latest Drupal 9: What You Need to Know!
Drupal 9 is the 100% tested stable code base of Drupal 8 minus some deprecated code. It has no additional features when compared to its earlier version. It was built keeping in mind an API-first development intention, with tools that define editorial workflows.
What is deprecated code, and why was it removed?
A code becomes deprecated when it should not be used and when there is an alternative to it that can be used. But one good thing is that the deprecated code continues to work for some time, thus giving the module maintainers enough time to upgrade to the alternative.
Onlookers of Drupal 9 appreciated the fact that it gave them many benefits like
First and foremost, the migration process was a massive relief for sites using a different version of Drupal.
Unlike the previous version, for this upgrade, refactoring was not required.
Deploying the Drupal 8 version helped work out the issues even before the release of Drupal 9
What's New in Drupal 9 and Why Upgrade To Drupal 9
Good news! You can update your site with Drupal 8.9 till the end of 2021. While we can expect the updates on development and security to go on for a while, the final version of Drupal 8 will get bug fixes and security coverage only up till November next year.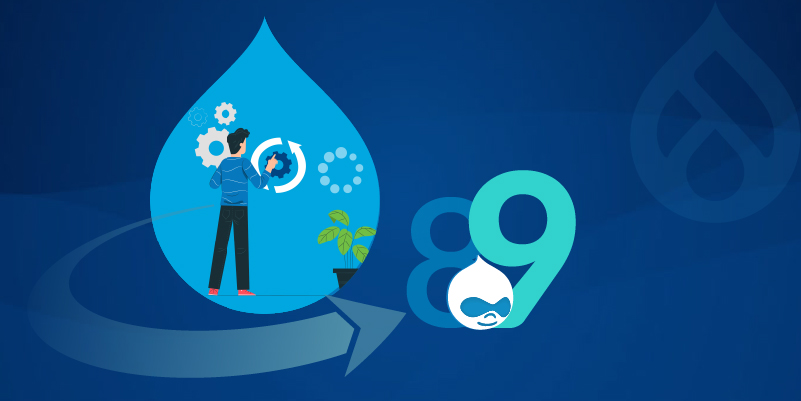 If your site wants forward compatibility with amendments at a later date, Drupal 9 is for you. But one needs to keep in mind that not all Drupal 8 code might run on 9.
For all those who want to migrate to Drupal 9, this might turn out to be a boon to tap and avail of Drupal 9 features.
Check for compatibility:
Before starting anything on migration, the first step would be for you to check whether your modules or hosting environment are compatible with migrating to Drupal 9. So, ensure your hosting environment matches the platform requirements to Drupal 9.
A ready reckoner on the migration process:
We have come up with pointers on the upgrading process and presented them for your reference. The site to be migrated should be in Drupal 8.9, which is the latest version because any version beyond Drupal 8.8 will not be supported.
Upgrade to the newest PHP 7.3+ requirements.
Your site should be deprecate-coded and fixed when needed.
Make the custom code compatible with Drupal 9To decide on the upgrade flow; your site should be based on Composer.
So check on this.
Upgradation Tools and modules
We have also given you the list of tools that will come in handy in your migration.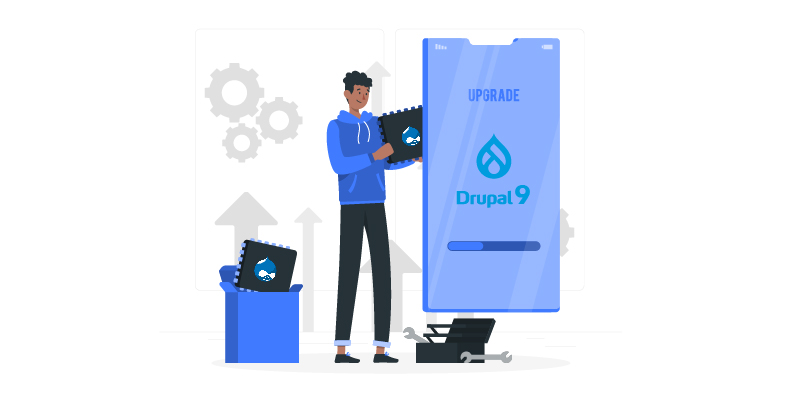 Upgrade Rector: Deprecated Drupal 8 sites' codes should be updated to the latest Drupal 9 compatible code.
Upgrade Status Module: Information on projects to be informed.
Core Migration: update and migrate your entire content and site Configuration.
Drupal Module Upgrader: scan and convert outdated code on all of your Drupal 7 sites.
Migration from Drupal 8
Drupal 8 to 9 migration resembles Drupal 8 minor version upgrade. You can totally take a breath and wait if you are using the Drupal 8.9 version. As said, it will just deprecate codes without many changes.
A few modules are not supported by 8.9, and so an upgrade will be needed in these cases. So ensure your modules and features are supported well on time as the support for Drupal 8 might not be extended beyond 28 November 2021.
Migrating from Drupal 7 - Drupal 7 to Drupal 9 Makes More Sense!
However, if you still own Drupal 7, migration would prove to be tough. But the current pandemic has come as a blessing in disguise – Yes! Community support for Drupal 7 will stay till 1 November 2023.
Though you might have long term support for Drupal 7, it would still be wise to migrate earlier than the said time.
The migration journey from Drupal 7 to Drupal 9 might turn out to be unique for each environment and more challenging. The more complex your site is, the more challenging it will be to migrate.
Drupal 9 – The wise pick!
Start preparing for the migration and to migrate for business continuity. Carefully consider the scope, time, budget, skills you possess, and the impact after the upgrade concerning your current environment.
Wrapping Up:
As we move toward 2021 and continue to reckon with COVID-19, Drupal 9 might need a new default frontend theme, and Drupal 9.1 is anticipated to be released by the end of 2021. We should be on the lookout for new deprecations and features. Drupal 9.1.0 is expected to introduce new deprecations and features. In 2021 and beyond, the futuristic framework will make the product efficient, safe, feature-rich, and in line with modest trends.