- READ TIME: 4 min, 5 sec
How Drupal 9 Is Designed To Match The Web Accessibility Standards - An Overview!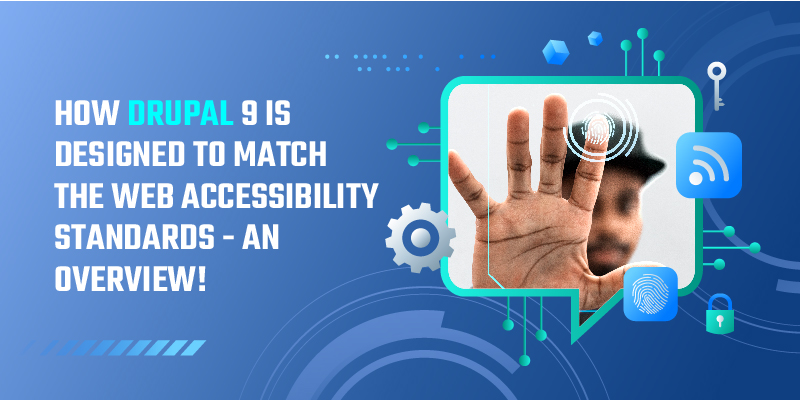 The latest market share data posted in July 2020 indicates that Drupal is the third biggest of the US's top 10 content management systems. Even though WordPress and Joomla have a larger market share than Drupal - Drupal holds a considerable market share than other leading CMS, including Magento, TYPO3, Squarespace, Blogger, Shopify, and Bitrix. In recent times, Drupal is used by several high-traffic websites, including FedEx's news site, AT&T's app beta website, Sun Microsystems Java.net, Reuter's Lab Website, etc.
In order to relish the smooth sail, it is vital that you download the latest Drupal 9 and install the core modules for the successful running and designing of a Drupal website. The installation and configuration guidelines of the core modules are provided by the various tutorials across the different websites. However, it is advisable to have the expertise to complete upgrading or moving from another platform.
Whether you are a start-up company or a mid-sized business, the most critical challenge you may have to face from the initial phase is creating value for the customers. To automate the workflows, you should have a tool that can help avoid mistakes and offer support to the entire team in their daily work. Take a look at the user-friendly features of Drupal 9 that drive more incredible benefits for the business owners and end-users.
Key Takeaways
Built-in support for web accessibility standards.
Simplified content authoring and ongoing maintenance.
Streamlined theming and website building process.
Separation of content and presentation layers for better management.
Accessible Features in Drupal
For holistic Drupal users who heavily rely on a screen reader, it is the time to sit back and relax as Drupal 9 supports the proper use of semantic markup. For instance, use headings reliably for page-level navigation. Drupal's accessibility team has accomplished in classifying accessibility barriers and has fixed them. There have been many improvements, especially:
Search engine form and presentation
Drag and Drop functionality
Color contrast and intensity
Adding skip navigation to core themes
Image handling
Form labeling
Removing duplicate or null tags
Accessibility for Developers
When we say a site is accessible, then we mean that the site's content is available, and functionality is accessible for everyone. Developers can rely on Drupal to use the same features supported in websites. This time it is super accessible.
Drupal Modules and Accessibility
Drupal 9 ensures that all the modules and the content produced are accessible. Watch for the D7AX hashtag on the page of each module you download for your site. D7AX on the download page indicates the module developer has adopted the resources for producing accessible modules.
Drupal Themes and Accessibility
At the theme layers, many of the accessibility challenges are implemented. The D7AX hashtag marks themes whose developers actively support accessibility improvements. There is also a Theming Guide Accessibility section and an Accessibility handbook published to make it easier for themers to know Drupal's best practices.
Key Takeaways
Drupal has been a trusted choice of more than 1.7 million websites due to its reliability, including those for renowned businesses and organizations like Tesla, NASA, NCAA, and beyond.
Drupal Community Sites
An object-oriented approach lowers the barrier to entry for new developers. Drupal 8 and all previous versions used a procedural approach to scripting. This means that the code is executed the same way every time the script is run. Procedural scripts are more reliable, and for any issues, you can contribute a bug to the issue queue for these projects.
Drupal 9
Drupal 9 Core is compatible with WCAG 2.0 and ATAG 2.0 which support the development of sites effortlessly. Drupal 9 is anticipated to evolve a lot more in the coming days and its accessibility community will be involved in catching up with the best practices.
Want to learn about Drupal 9 Features?
Here is an interesting Webinar Replay titled, "Journey To The Latest Drupal 9: Understanding Features, Migration, & Modernization Compatibility" - JUST WATCH
Wrap Up
Allow us to help you get the most with Drupal accessibility. It is highly essential to make your website accessible to all users. Our Drupal experts are ready to help you whenever you need them:
Install and configure the accessibility modules
Move your site from another CMS to Drupal 9
Move your site to the accessible Drupal 9
Test your website's accessibility standards
Create the accessibility feature that is needed for your site