- READ TIME: 4 min, 52 sec
Shopify: The Simple Drupal eCommerce Solution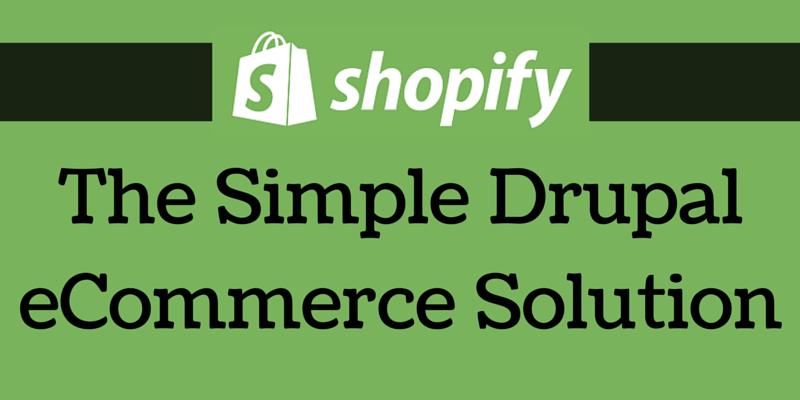 Let's just get this out of the way: Our Drupal Developers love Shopify.
Shopify is known for its simple and easy eCommerce configuration. Currently, 160,000 eCommerce stores are running on the Shopify platform. This is awesome news for Drupal eCommerce owners as they can easily customize their site with its unique shopping cart features.
It's impossible to set the entire store by only using Shopify, but having a solid Drupal site coupled with the Shopify module results in the perfect eCommerce solution.
Why Shopify Might Fare Better Than Drupal Commerce And Ubercart
In the past, there were only two options for choosing eCommerce for a Drupal website: Drupal Commerce and Ubercart.
The first eCommerce solution for Drupal was Ubercart, which was released for Drupal 6. It's a fairly easy eCommerce tool but it's not that flexible. Customizing the eCommerce site is difficult and website owners had to stick to a limited number of options.
Then, Drupal Commerce was released along with Drupal 7, boasting great customization abilities. It's the perfect solution to overcome the difficulties of Ubercart. Yet, Drupal Commerce has an elaborate setup process which is time consuming and detailed technical knowledge is necessary to configure the store.
Enter Shopify! Shopify helps shop owners to set up their store in less than 10 minutes. Yes, you read that right – It takes very little time to set up the entire shop and start running it. Having a Drupal CMS option coupled with Shopify module not only helps in configuring a flexible site, but also treats Drupal entities the same as the Shopify products. Thus, the Shopify entities are changed in the same way as the other Drupal entities, making it easy to add individual product fields to showcase products in the search results. Shop owners can also create a customized theme according to their requirements and preferences.
Shopify Personal Advantage
Shopify is a well-known product with its own support team. If you are stuck midway implementing the module, you can always contact them or get access to their well-written documentation. Also, if you have a blog running on Drupal, you can include Shopify as a widget and sell individual products along with the post. Keeping your online store updated is also simple. With every Shopify update, your Drupal site is updated along with it. Thus, everything stays updated!
Why We (Developers) Love The Shopify eCommerce Module
Seamless and simple integration of Shopify with Drupal
Any changes in products, orders, images, etc. can be shown instantly by the means of webhooks
Events can be hosted and lets users follow through custom webhooks
Ability to customize the names of each field and page for product fields, tags and collection
Get a full view support for each product field
Custom link name generation ending with /products or /products/tags/TAG_ID, and /products/collections/COLLECTION_ID
Create a custom cart block display for users to check the number of items in the cart along with the total amount
Create beautiful cart image with Font Awesome
Variant pricings and products are supported
Theme generators available to help with a smooth checkout process from Drupal to Shopify
Create links to edit details from the bankend for easy editing abilities
Access to Drush integration to retrieve product details, sync updates, etc.
Products are integrated into the Drupal's core to ensure a full-fledged functional search feature
Update:
Why You (eCommerce Site Owner) Should Love The Drupal Shopify Module
It's the perfect option for budding entrepreneurs looking to start their eCommerce store.
You can integrate Shopify eCommerce module along with your existing website.
Minimal store setup time and cost. Imagine this: You can start selling in a single day!
It's easy to promote using social media platforms.
Simple product page setup and customization.
The best feature is that when you have a Drupal site synced with Shopify, Drupal will easily delete or add product pages based on the back end updates.
Want To Try Shopify Out?
Sign up for a Shopify account get access to include the module in your Drupal site now.
Download the Library Module, Shopify API module and Shopify API library
First, install the Library module
Then, install the Shopify API Module and Shopify API Library. It's essential to install these before the actual Shopify Module.
Next, install the Shopify Module and enable it.
Limitations With The Shopify eCommerce Module
We love Shopify and we recommend it to clients who have add-on products or services that they sell through their website. But, when it comes to a massive eCommerce solution, Ubercart or Drupal Commerce is what we suggest to our clients. Here's why:
Drupal is a great CMS that is robust and flexible; the Shopify eCommerce module will not do justice to it.
You cannot customize your store, as you will be forced to use Shopify's template.
The subscription cost goes up along with the number of projects.
There are not many sophisticated eCommerce features that are available in the other Drupal eCommerce solutions.
While Shopify has a fairly easy set up process, our developers are always ready to help you out in case you are stuck. In fact, we've put together a guide to help you find the best developer: How To Hire A Drupal Developer. We have dedicated team who love creating Drupal eCommerce websites that look great and help you reach your ROI goals. Contact our Drupal Developers to get things started.