- READ TIME: 5 min, 24 sec
Top 3 Marketing Reasons Why Nonprofit Organizations Prefer Drupal CMS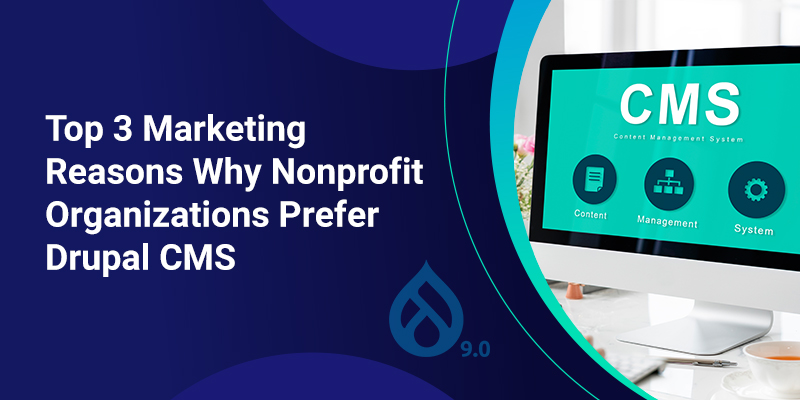 COVID19 has brought to light many things!
Today, a nonprofit organization's success heavily relies on marketing strategies and infrastructure to compete in the digital landscape. Not to be ignored, 70 % of members, prospective donors, and volunteers live digitized lives. Everything is done online, from completing official tasks to shopping online or staying in touch with friends and family. When approached digitally, it triggers their curiosity, and many decisions are made.
Therefore, if you want to inspire members, prospective donors, and volunteers to get involved — or provide insights on how you can help them — you need to convert your actions into digital form. Remember, all your marketing ideas and strategies should be pointed to win their attention. Therefore, it is worth understanding that you will quickly become obsolete if you keep working using pre-information-era methods like direct mail campaigns and events. And you'll be left behind in the competition by other charities who made the early bird efforts to show up their presence online.
A website in place doesn't fulfill — particularly if it's mainly inactive and doesn't populate the right content. Facilitating online donations and registrations alone is insufficient; notably, if your plans aren't spontaneous, they will not trigger meaningful, automated follow-up. On the flip side, listing out your services is also inadequate — especially if members or other audiences can't easily find the information they're looking for.
Going digital should not be taken lightly and must be approached with the idea of making your website the hub of the marketing efforts. A high-value, high-tech, highly compatible, open-source CMS like Drupal enables you to produce a marketing strategy that cuts through the digital clutter and gains the recognition you deserve.
Top 3 Marketing Reasons Why Nonprofit Organizations Prefer Drupal CMS
Usually, many of our clients come to us with regular complaints about their existing website. Each change they need forces them to pay yet another fee to their developer. In the same time, many of them are capable enough to update existing content to a certain extent. But adding
New menu options
Landing pages
Microsites
Redesigning an outdated page using different components — demands an experienced developer to step in.
On the contrary, a perfectly-designed Drupal site gives you an adaptable pool of components and elements that you can blend easily.
It helps your marketing efforts in 3 places:
1. Generate Content Effortlessly To Tell Your Story
In order to market, you need to tell your accomplishments and stories in a compelling way to attract the audience. As a marketing leader, you can narrate innumerable accounts of the difference your mission makes in the lives of people in your community.
Drupal makes it effortless to feed your site with appealing content that encourages your users to search and explore more about the excellent work you're doing. By implementing a mixture of "containers" in which to put your content, Drupal makes it easy to:
Draw your readers' eye to important points within a page
Upload and manage your own videos
Add photos and images
Formulate scroll-worthy paragraphs and sections to maintain readers engaged
2. Instantly Propel Marketing Campaigns to Accelerate Results
As a marketing leader, you will be able to respond quickly to the many requests:
Create a microsite or landing page
Create compelling information about a major fundraising campaign
Develop an email-driven drip campaign
Update your navigation menu
Create a crowdfunding initiative
Communicate with members about changes
Drupal allows you to react to all of these demands without a developer's need.
3. Adequately Help Your Members With Digital-First Strategies
Drupal CMS provides you the versatility to adjust to your users' growing needs. And you may notice that the digital solutions you build are more than stop-gap proposals. They have the potential to grow important, robust methods for you to serve your audiences more holistically.
Command Seamless Integration For Your Fundraising & Event Management Platforms Using Drupal
The world today is digitalized, and everything is online. Considering these benefits — donations, transactions, event registrations, memberships, etc. — have also gone online to enable a hassle-free process from start to finish. However, the user experience is just the beginning, and therefore, what powers the back end is just as essential.
Our experts at Drupal Partners have concluded that many proprietary event management and fundraising software do not connect with any CMS through a standard API. Instead, they often require a customized script. The script allows data to flow back and forth. With Drupal Partners, we would complete much of that hard coding upfront — and you can expect it to function for years to come hassle-free.
The proper scripts guarantee you obtain the needed data to finish a transaction and send automated thank you or confirmation emails. However, even more importantly, you can also gather the biographical details about your members, donors, and event attendees that allow you to personalize future interactions to develop the bond over time.
Drupal can seamlessly integrate with your fundraising and event management platforms.
Choose The Perfect Flexible CMS That Can Empower Your Nonprofit Contest in a Digital-First World
Several nonprofit organizations are taking their own time to embrace a digital-first mindset. Probably, this approach could be due to historical emphasis on direct mail campaigns, personal relationship building, and in-person events. However, it is vital to understand that it is also part of a more pervasive challenge. It's nearly impossible to innovate when you're perpetually understaffed and overworked, especially if that innovation requires a skill set you don't have.
That's why you need the right web development partner by your side. It's time to invest in a well-built, custom website that will grow and flex with your changing needs.
Do you want to know more about how Drupal can support your nonprofit organization to excel in today's competition, just reach out. Our experts will investigate how we can help.