- READ TIME: 3 min, 30 sec
Top 6 Reasons On Why Drupal 8 Is Your Best Choice For Publishing Industry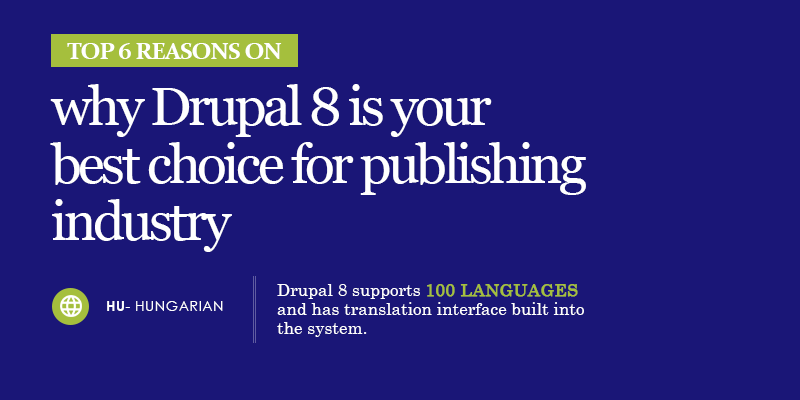 Drupal 8 has over 200 feature enhancements and multiple tools that makes it more suitable for the publishing industry than any other CMS platforms. Since its release in November 2015, the content management software as a whole, scaled up in terms of performance, quick content revisions on the site and security.
If you are into online publishing and hunting for a suitable CMS for your newsfeed website, here are top 6 reasons on why Drupal 8 is your best choice.
Enhanced content authoring
Content authoring is a primary area where Drupal 8 focuses on. To be specific, it focuses on usability by providing in-line, in-context on page editing. The usage of WYSIWYG (what you see is what you get) editor support enhances the writing and editing process. Online publishers who are constantly in need of updating the content frequently will find the WYSIWYG editor, very useful. Quick Edit, part of the Drupal 8 core, allows authors and editors to quickly fix and make changes at the front-end.
Improved performance over previous versions
Drupal 8 is faster than its older versions. To start with, loading of JavaScript is quick, thanks to its effective caching mechanisms that are built into the platform. When the user accesses the same page built in Drupal 8, repeatedly, it loads almost instantly. The BigPipe module, PHP 7 compatibility and useful libraries like Guzzle, Composer, and the inclusion of Symfony 2, make Drupal 8, fully equipped to ensure faster loading time, an essential factor for growing readership in publishing sites.
Multilingual and translation support
Drupal 8 supports 100 languages and has translation interface that is built into the system. For publishers having multiple sites specific to the local market, they can enjoy using this multilingual support of Drupal 8 because the translation process will be lot simpler than before. Every field, form, and menus can be configured as per the local requirement.
Mobile-first and responsive design
Content is accessed by users from different devices like mobile, tablet and laptop. Responsive design is a must in today's mobile-first workflow. Drupal 8 has been designed thoughtfully to ensure mobile-first workflow as well as responsive design. Whether it is altering screen sizes or resolution, Drupal 8 handles them like a charm, that too with minimal coding.
Security enhancements
Drupal 8 has advancements such as a dedicated security team to identify errors and provide solutions quickly. It uses the Symfony framework which has achieved enhanced safety and a secure web environment. Even when it comes to proprietary-level security features, Drupal 8 with its 3K active developers, 650K active members, are supportive when it comes to informing the community about potential threats or any security threats in general.
Flexibility in framework support
Web developers who were long looking to integrate development frameworks (client-side) such as Angular, Backbone and Ember.js can rejoice because, Drupal 8 supports them. Twig, a new theming engine, based on PHP helps in equipping the Drupal site with functions and features. HTML5 enhances the compatibility and using 'Block' and 'Views' not only improves the site's visual appeal but helps publishers handle multichannel and on-demand content (eg: live news) with ease.
Summary
Drupal 8 has a strong open-source community with over a million users (Drupal.org) and thousands of coders across the world. There are many Fortune 500 companies that use Drupal 8. So, for a publisher, opting Drupal 8 means, having the privilege of getting support from a large community of coders and users. Drupal 8 offers the best of both worlds: feature-rich yet easy coding. And with security enhancements, flexibility in integrating different platforms and compatibility with PHP 7 and HTML5, makes it the most suitable CMS for publishing.