- READ TIME: 3 min, 22 sec
Top 7 Reasons For You To Consider Drupal 8 For Your Next Website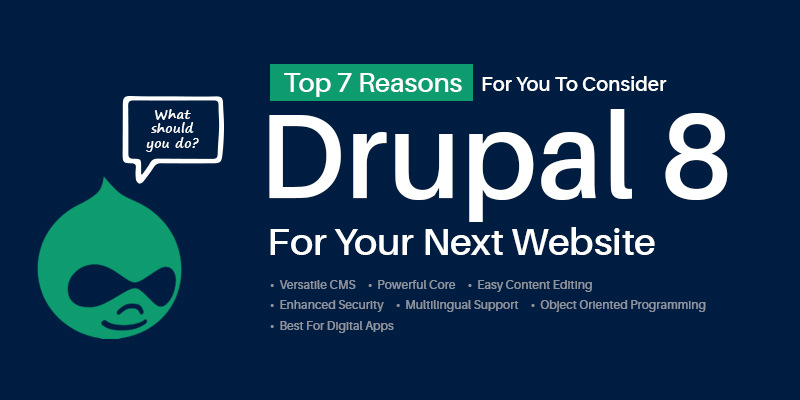 The latest version of Drupal is out in the market with a lot of changes and advancements. Being very unique from the previous versions of Drupal, Drupal 8 is re-engineered to prove itself to be the best content management system. Though it has been just a few months since Drupal 8 is released, a few early adopters have come up with some great websites.
If you are looking forward to get a new website for your business, it is must for you to consider Drupal 8 for the following reasons:
Versatile CMS : Drupal 8 is the best way to handle the content of your website for the framework makes content composition and publishing easy. The preview option gives you an overview of the content on various devices which makes publishing simple and effective.
Powerful core : Drupal 8 has over 200 features and advancements with some of the most widely used contributed modules of Drupal 7. The new core modules included in Drupal 8 include date, CKeditor and views module. The Views module comes as a welcome addition for the developer as it provides flexibility and advancements in various Drupal layouts.
Easy Content Editing : A major drawback in the previous versions of Drupal was the complexity in editing content. Drupal 8 with its user friendly content editing makes the lives of all the content managers much easier. The latest inclusion to the list of modules, the CKEditor, makes content editing straight forward and simple.
Enhanced Security : Drupal 8 has a robust framework with enhanced security that prevents external threats from entering the website. The security features of Drupal 8 can fix complex issues and manage them in a few minutes. Drupal websites are less susceptible to external threats and hence are used by most government organizations.
Multilingual support : The best feature of any CMS is the support it offers to various languages. Multilingual support helps in localization of the site, saving more time and money. In addition to this, multilingual support makes customization of the site simple and effective. Drupal 8 supports 94 languages and translations are handled with just four core modules, providing an enhanced translation experience to the users.
Object Oriented Programming : Disparate to its previous versions, Drupal 8 adopts the object oriented programming approach and making it offer great benefits to developers. The shift to OOP from the procedural code has enabled Drupal to lay a firm foundation in enterprise architecture. Drupal's object oriented code allows the re-usage of code and easy debugging, making it useful for growing projects.
Best for Digital apps : with the continuous transformation to the digital world, it is vital to have a platform that can support advancements. Drupal 8 helps in integrating apps with technology at ease. It has an API that can create powerful content and easily connect it with other applications and sites. Since the future is set to be completely digital, it is vital to have a platform like Drupal 8 to carry out all the functionalities and integrations with social media easily.
If you are someone who is looking forward to get a new website for your business and manage all the content effortlessly, it is a must to choose Drupal 8. Or if you own a website with Drupal 6 or 7 as your CMS, you must really consider migrating your website to Drupal 8. Be it developing a new Drupal 8 website or migration from Drupal 6 or Drupal 7, you can completely rely on our expert developers to get it done.