- READ TIME: 2 min, 0 sec
What's New With Drupal In May 2017?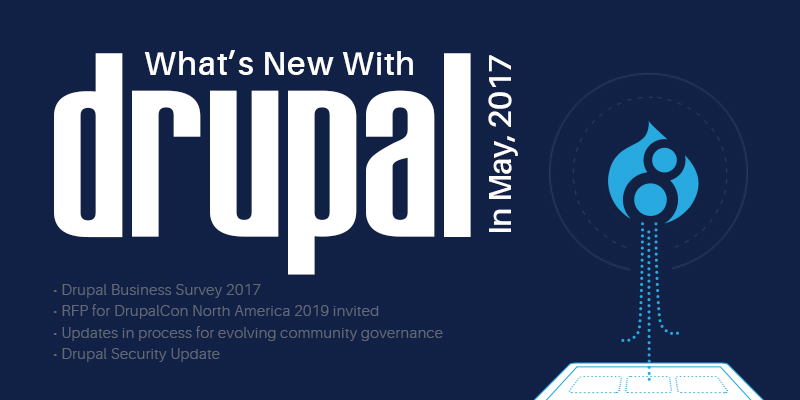 The Drupal Community has brought a few interesting updates this month. These most wanted advancements make Drupal the more preferred CMS which is both, robust and reliable.
Drupal Business Survey 2017 : In collaboration with One Shoe and Exove, the Drupal Association has launched the second Drupal Business Survey 2017. The idea behind the survey was to get an insight into the major issues faced by Drupal agency owners and other companies that use Drupal for their business. Every Drupal enthusiast could mail their ideas and suggestions to the Drupal Association and the results of the survey will be published in June 2017.
RFP For DrupalCon North America 2019 Invited : The Drupal community initiated the RFP process for DrupalCon North America 2019 and 2020. Drupalers interested in hosting the conference should have shared the link with their state's travel bureau on or before 1st June 2017.
Updates In Process for Evolving Community Governance : In order to get better clarity, integrity, and resilience, the Drupal Community has come up with new governance models, management, and decision-making practices. The new governance model comprises of four phases - discover, plan, build and iterate. The plan has kick started with the discover phase includes methods such as one-on-one interviews with selected individuals, mediated group discussions, surveys and feedback form.
Drupal Security Update : In order to get away from a range of critical security issues like a third party hacking your site, the Drupal Contributors community came up with the Site Verify Module. The module verifies websites with services like Google Webmaster Tools using meta tags or file uploads. In order to get the best of this module, it is recommended to upgrade to the latest version of Drupal.
With all these updates and advancements, It's best to upgrade your Drupal website to the latest version. Our team of dedicated Drupal development professionals is waiting to help you build and market the perfect website needed for your business success. To know more about the latest happenings in the Drupal community stay connected with us.