- READ TIME: 2 min, 43 sec
4 Reasons Why You Should Start Your New Project in Drupal 9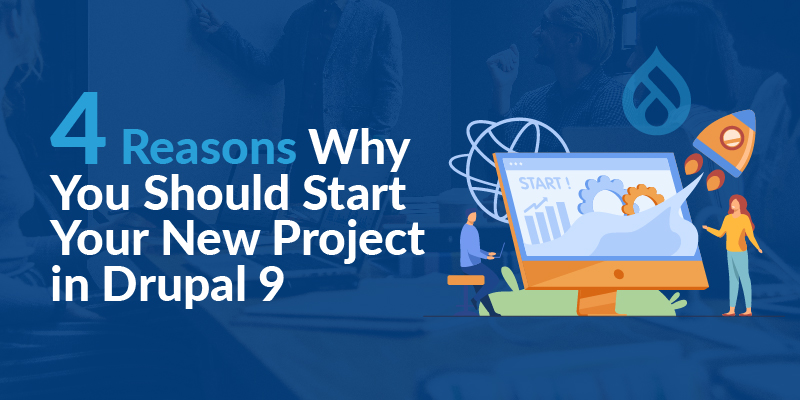 Drupal CMS has emerged as one of the most complex content management systems ever since its advent. All Drupal 7 or 8 users - be it newbies or seasoned Drupal developers are bound to run into one of the hiccups or all of the issues outlined below at some point in time. Such problems need critical attention to be resolved ASAP, or it may thwart your business success and hamper your customer success.
Here Are The Most Common Drupal Site Drawbacks
Every Drupal 7 or 8 site owner would have come across these issues frequently, or at least once:
Slow page load
White screen of death
Security issues
There is a definite need for an adequate support and maintenance team to address these issues. Usually, such problems are signs of deeper issues such as memory exhaustion.
Other Prevalent Problems Are Outlined Below, and Learn What You Can Do About Them:
On your Drupal 8 website, you unanticipatedly get the message "The provided hostname is not valid for this server," you - don't have to panic. It is due to the essential feature inducted to protect Drupal 8 against HTTP Host Header attacks. To fix, set the $settings['trusted_host_patterns'] variable in your settings file. For more insights into resolving this issue, check out this space.
Legacy core code issues on your Drupal website can slow down performance and introduce vulnerabilities. Drupal Community support will not be available for such issues. Therefore, it is vital to update to the latest version. There is no other option.
While overriding a configuration value within settings.php and there is no indication in the UI. Frankly, there is no official solution to this problem. You can try on drupal.org; they provide a patch that you can try - click this link..
It is essential to secure your files and directories. A lot can go wrong if it is not appropriately fortified: the extended documentation can be found here. You can use the File Permissions module to set up your file permissions correctly, especially if you see errors about your sites/default/files and sites/default/private directories being incorrectly set up.
Final Thoughts
Some of the other widespread Drupal problems aren't mentioned here. But, if you face a dead end and need help resolve such unanticipated Drupal issues, you are free to approach us for a free consultation.
It is good to migrate to the latest Drupal 9 platform on the flip side because the new entrant addresses almost 90% of the past versions' issues. Drupal 9 gives developers access to all the latest features, automation, and a more straightforward development process. They also offer a pack of additional perks, such as advanced caching that helps speed up the performance, a mobile-first approach, and SEO-friendliness.
Talk to us; we will help you through whatever your Drupal need is!