- READ TIME: 6 min, 24 sec
Designing A CRO Friendly Product Page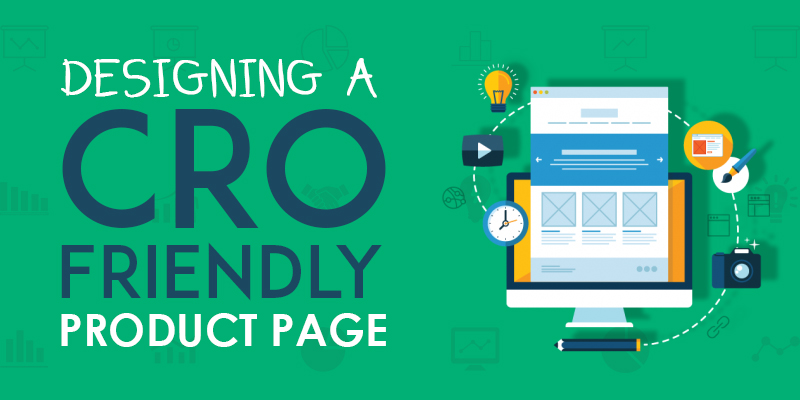 One of the biggest problems faced by eCommerce store owners is the lack of conversions. The product page is one of the pages on your site with the highest exit rates. Redesigning your product page with the right conversion rate optimization (CRO) ideas in mind has been known to increase conversions multifold. And what's great - Drupal 7 and Drupal 8 provides various modules to help in designing your perfect CRO friendly product page.
For a successful product page, the following elements play a major role in converting your visitors to paying customers.
Product Images
High quality images should be the most highlighted section of the product page. Ensure there is enough white space to let customers experience the product better.
Price
The price should be displayed prominently in a large, easy to read font. Don't make customers squint to read the price.
Product Description
The key is to be as detailed as possible, so that customers don't leave the product page. Provide all the supporting information needed to help customers make informed purchase decisions. 
Social Share Icons
Encourage customers to share your products! This will help you bring in more traffic to your product. When customers share your products with their peers and friends, the traffic will be extremely targeted and lead to a potential buyer.
Reviews
Showcase your awesome products and services.
Cross Selling/Up-Selling Elements
Start recommending products to increase customer's cart value.
To ensure your product page converts customers efficiently you must avoid making these mistakes on your product page.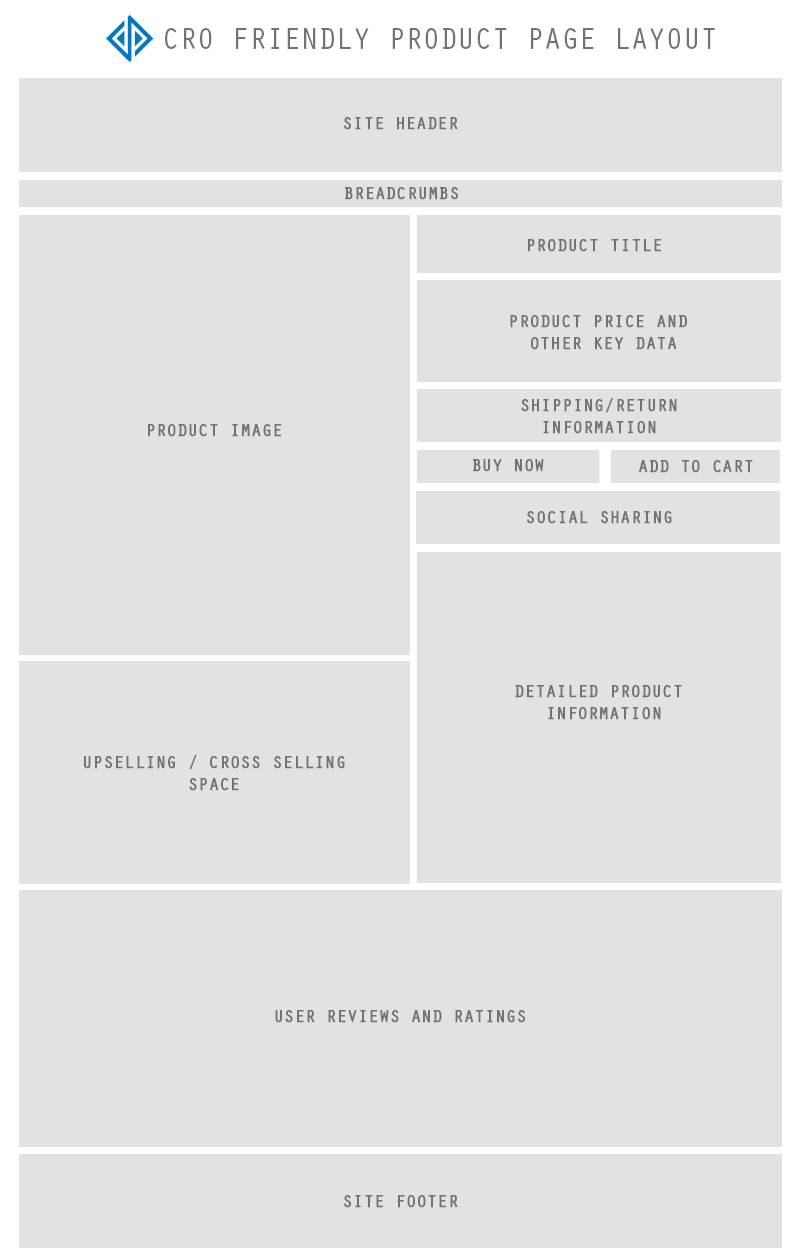 Don't Let Bad Product Photography Turn Off Customers
Whether you like it or not, product images are one of the most important conversion elements. The biggest drawback of eCommerce shopping is that shoppers can't touch or physically experience a product - They can only visually imagine it before clicking on the 'Buy Now' button.
When your product images are small or in low resolution, customers are unable to get the full visual impact. So, they leave without buying the product.
So how can you get them to buy?
Take Product Photos In Various Angles:
Shoppers are often skeptical about buying products online. They're already uncomfortable to pay for a product that they can't physically experience first-hand. You need to convince them by displaying images in all possible angles, showcasing the important elements of the product.
Bestmadeco.com is the perfect example where they have beautiful photography of all their products. It's visually appealing and the customer can witness the entire product.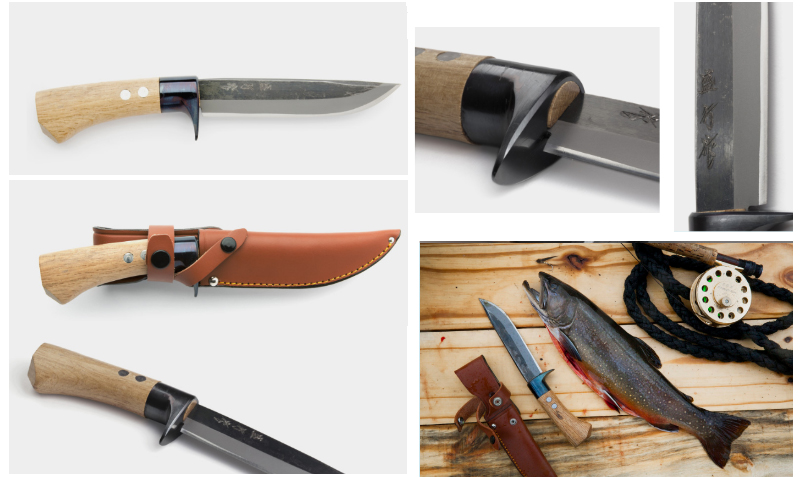 The images showcase the blades, handle, holders and all other elements of the product. This works much better than a single image as it lets customers relate with the product.
Make Contextual Use Of Products
It's important for customers to visually experience how the product is when it's in use. It gives them a different perspective about the product because they can relate better to the actual size and shape of the product.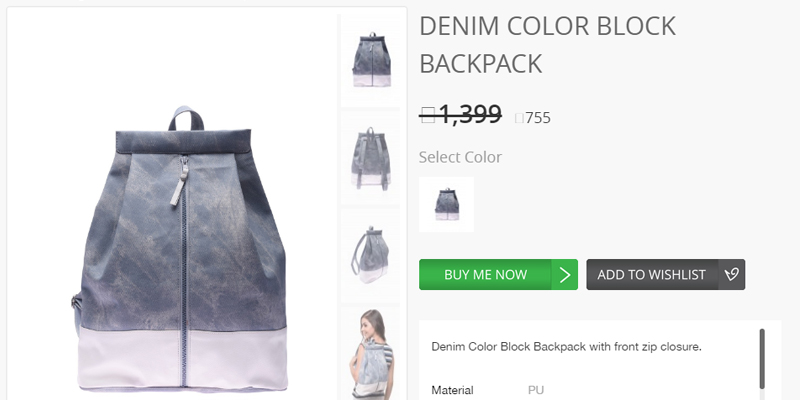 You are interested in this backpack, but even with the dimensions mentioned, it's impossible for the customer to imagine the size and how it would look on them.
Now, with this image: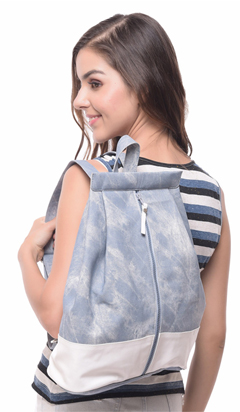 It's easier for the customer to image the product as the size is more apparent and style is defined.
Take Advantage Of Zoom In Feature
The zoom feature is key, as customers would like to inspect each and every aspect of the product. Since the space dedicated for the product image is limited, the zoom feature helps them with their buying decision.
ProTip: Use hover to zoom to help reduce the number of clicks your customers need to make. Our Drupal developers suggest the module Image Zoomer
By failing to use proper product images, you're turning off your customer and losing a potential sale. Ensure images are optimized so they don't impact the overall page load time. 
Useless Product Descriptions Will Make Your Customers Leave
The product description field is as important as the product images. Sadly, most eCommerce store owners don't realize it.
A study conducted by Neilson showed that customers are keener on viewing bookcase images on Pottery Barn when compared to the images of TVs on Amazon, where they're keen on reading the product descriptions.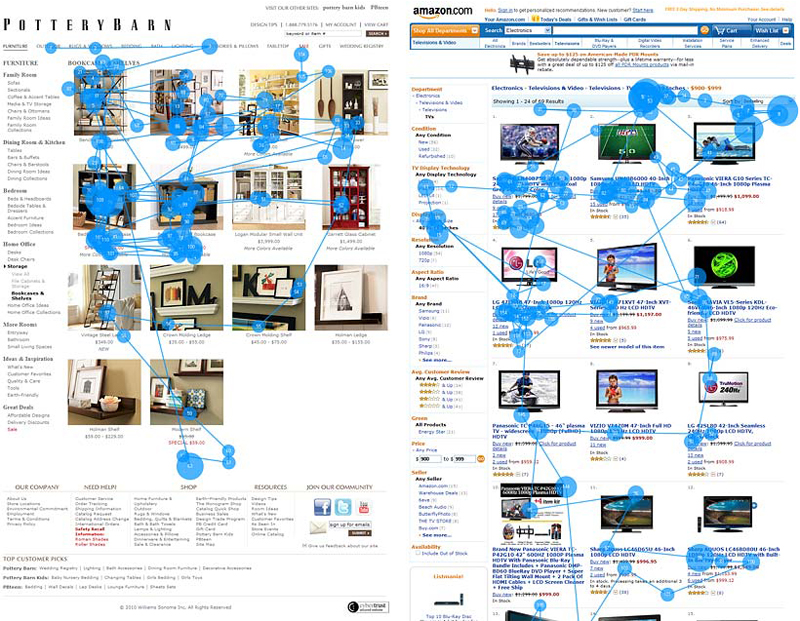 The difference was that customers buying a bookcase were worried about how it will look in their home and customers looking to buy a TV were more interested in its specification. 
When the product description field doesn't have the essential information that is needed, the customers will be left clueless. An image is not going to give enough information about the size, material or the technical specifications of the product, all these key information is crucial to help convert shoppers to customers. 
Have A Conversion Friendly Product Copy
1) Write SEO friendly product names and descriptions with the keywords that gets you SEO visibility
2) The product should be well described with all the necessary specifications. Don't miss out on any specifications and also mention any special instruction needed for the maintenance of the product.
The key is to not let customers leave the product page to look for more information– When they leave your product page, you might as well consider that a lost sale.
PROTIP: Display important information like size guide and compatibility information on the product page to help customers make quick purchase decision.
3) Write description that appeals to the buyers' senses. Make use of the right sensual words that helps them relate directly to the product.
You Don't Recommend Your Own Products
As an eCommerce store owner, you shouldn't be satisfied with just any amount of transaction. If you are a go-getter, then you should be aiming for a higher cart value. When you don't recommend your own product, who else will?  Product recommendation is a great feature that helps improve product visibility and increase customer's cart value. It induces cross-selling and up-selling elements to take advantage of customer's buying impulse behavior.
Protip: Our Drupal Developers recommend Entity Reference module to improve product visibility by cross-selling.
Not Encouraging Customers To Rate And Review Your Products
When you don't showcase how much your loyal customers are in love with you and your product/service, you are missing out on a great opportunity that leads to get new customers.
You have an awesome product or service, take advantage of the love customers have of it and encourage them to start rating your product and write reviews. These customer reviews will help in the easy transition of casual shoppers to paying customers.  You can also keep your product page fresh with great content which is good for SEO ranking as well.
Protip: Our Drupal Developers recommend Commerce Verified Reviews module to display reviews that are tuned for conversions.
A conversion friendly product page is key for your eCommerce success. It's not enough that you sell great product and excellent service, customer experience matters for ROI.
Not satisfied with your Drupal Commerce product page?
Reach out and our conversion specialist will design the perfect CRO friendly product page!