- READ TIME: 3 min, 8 sec
A Look Back At One Year Of Drupal 8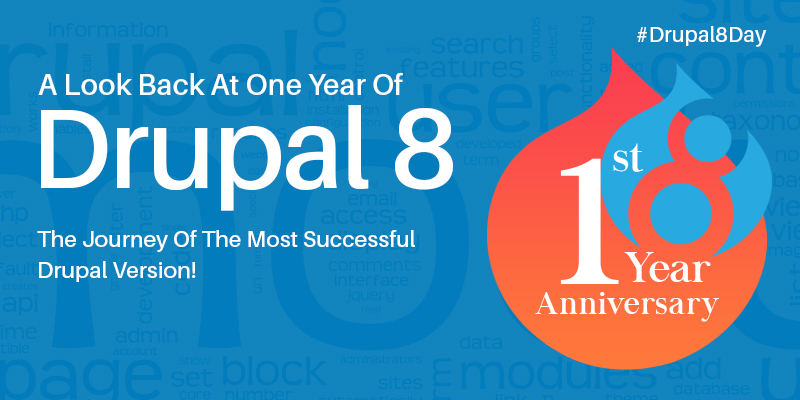 The Drupal community achieved another milestone with the release of Drupal 8 on November 19th, 2015. And it's been a year already after our Drupal 8 release party. With over 200 new features, 5+ years of hard work and 3000+ developers' contribution, Drupal 8 was indeed a major release which has shaped many prominent websites like NBA.com, Jurassic World, WWF, Alabama.gov and so much more.
Looking back at one year of Drupal 8, we find that it is the most successful Drupal release ever as 110,931 sites have opted for Drupal 8 so far. According to Dries Buytaert, Drupal 8 was adopted twice as fast as Drupal 7 during its first four months after release. Let's take a sneak peak of some of the most special features of Drupal 8 and the challenges ahead.
1. Easy Authoring With Quick Editing Options
The content authoring system is one of the easiest ways to judge a CMS.
Drupal 8 features CKEditor, an open source text editor, thus supporting users without any HTML knowledge. It simplifies content creation and has a graded browser support and is extremely user-friendly.
It's possible to edit your content in the front-end. This saves a lot of time as editors can instantly make changes to their content.
The new widgets will allow you to easily edit image titles and insert inline images.
In-place editing which allows you to create or edit your content on the page itself
Allows you to organize your content with effective tagging and taxonomy options
Content preview option
2. Building Mobile-Friendly Websites
According to Smart Insights, every year, mobile usage grows by 58%. When nearly 80% of users use a smartphone to search the internet, you need a highly responsive site that can attract the larger crowd. Drupal 8 is the first Drupal release built ground up with mobile in mind. With Drupal 8, you can configure your website to fit in any device as Drupal 8 and its themes are highly responsive.
3. Guaranteed Security
Drupal by all means is popular for its highest degree of security features especially after powering WhiteHouse.gov. Some of the security enhancements include twig auto-escape to prevent XSS vulnerabilities, automatic CSRF token protection, AES encryption, default Clickjacking protection etc.
4. Smooth Migration Through Configuration Management Initiative (CMI)
The configuration system is highly flexible in Drupal 8 which helps to smoothly import/export your site configurations. It uses YAML format for text files. Drupal 8 makes it easy for you to make changes during each process stage including the production environment. Since the core API supports extraction from any source, you can easily pull content from anywhere.
Download Whitepaper: Migrating Your Government Website To Drupal 8
Latest Drupal 8 Updates
Until Drupal 9 comes out, Drupal 8 will definitely experience more changes and updates that will focus on further improve user experience.
Drupal 8.2.3 was released a week ago
Modernize automated testing system through PHPUnit
Default content
Further enhancements in improving content workflow experience
Drupal 7 to Drupal 8 core content translation and language types migration
Media management
If you still haven't migrated to Drupal 8, read our fact sheet to get better insights on why you should opt for Drupal 8. If not, our Drupal experts are always available to assist you with anything about Drupal 8.