- READ TIME: 7 min, 42 sec
Drupal 9 vs. Drupal 10: Which is best for your website?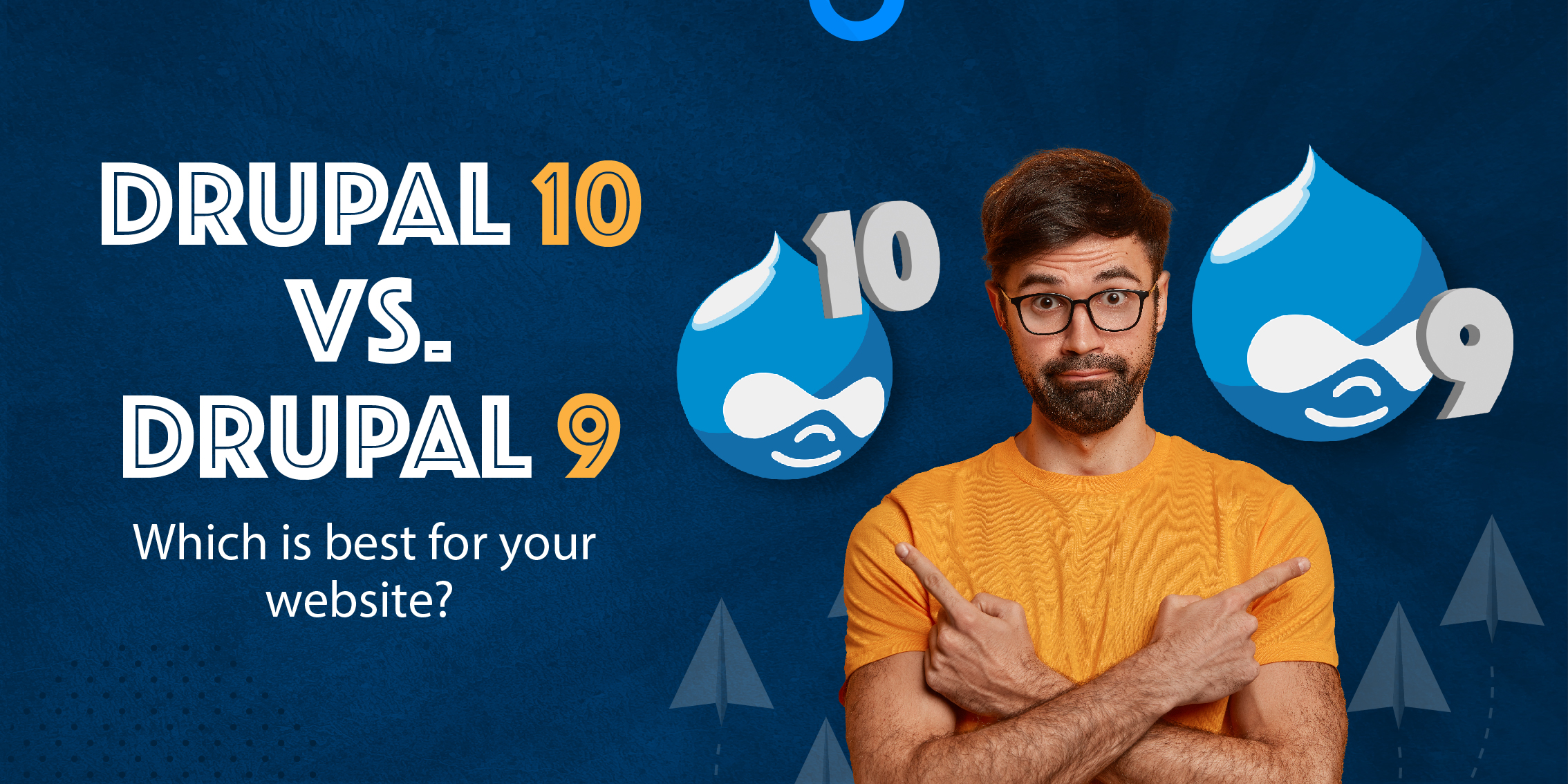 The Drupal platform is a globally renowned open-source CMS that offers versatility, speediness, robust security measures, and scalability to businesses of all kinds. It's no surprise then that over 1 million users around the world trust it – as its groundbreaking features have earned it global acclaim! What's more exciting now are the rumors buzzing around about the new version 10.
Drupal 10 was released on December 14th, 2022, and it has already gained massive popularity among the global Drupal community. With its new features and upgrades, version 10 promises to be even more powerful than ever before. This has left many people wondering – which is better? Should they upgrade to Drupal 9, or should they wait until Drupal 10 is released? Let's take a closer look at Drupal 10 and explore how it differs from its predecessor, Drupal 9.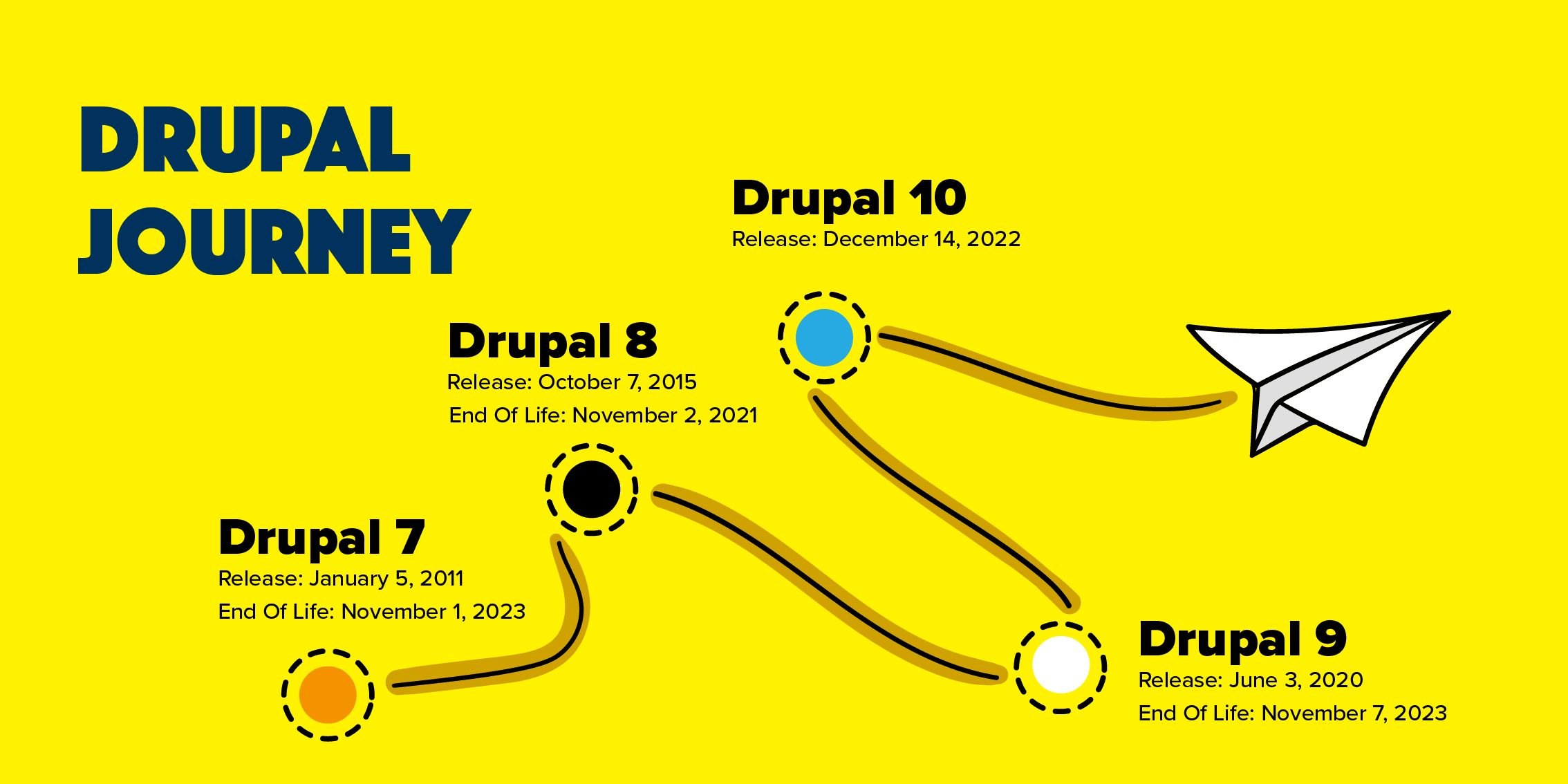 What Is The Difference Between Drupal 9 And Drupal 10
For many reasons Drupal 10 is an amazing software, discover the differences between Drupal 9 and its successor, Drupal 10. Therefore:
Evaluate how upgrading to this latest version can benefit your website by giving you access to new features and tools that will help enhance user experience.
Find out what makes these two versions distinct from one another, so that you can choose the appropriate platform for your web development needs.
How Different Is Drupal 10 From Drupal 9?
Drupal 10 is the latest version of the popular open-source CMS platform, offering a host of new features and upgrades that make it even more powerful than its predecessor. With improved security measures, performance enhancements, and usability tools, Drupal 10 gives businesses all the benefits they need to create top-notch websites that engage their users. Compared with Drupal 9, however, what are the key differences between these two platforms? Let's take a closer look.
Fascinatingly, it took four to five years for the release of Drupal 8 after Drupal 7. However, this time around between versions 9 and 10 is much shorter.
Building upon the foundation of Drupal 8 and 9, Drupal 10 stands as an innovative leap forward featuring refined and reinvigorated components.
Drupal 10 is likely to follow the same pattern as Drupal 9 with some modifications, such as updated dependencies and deprecated code being removed.
This follows Drupal's standard practice of upgrading for improved compatibility.
Therefore, we shouldn't anticipate the same level of innovation seen in Version 8.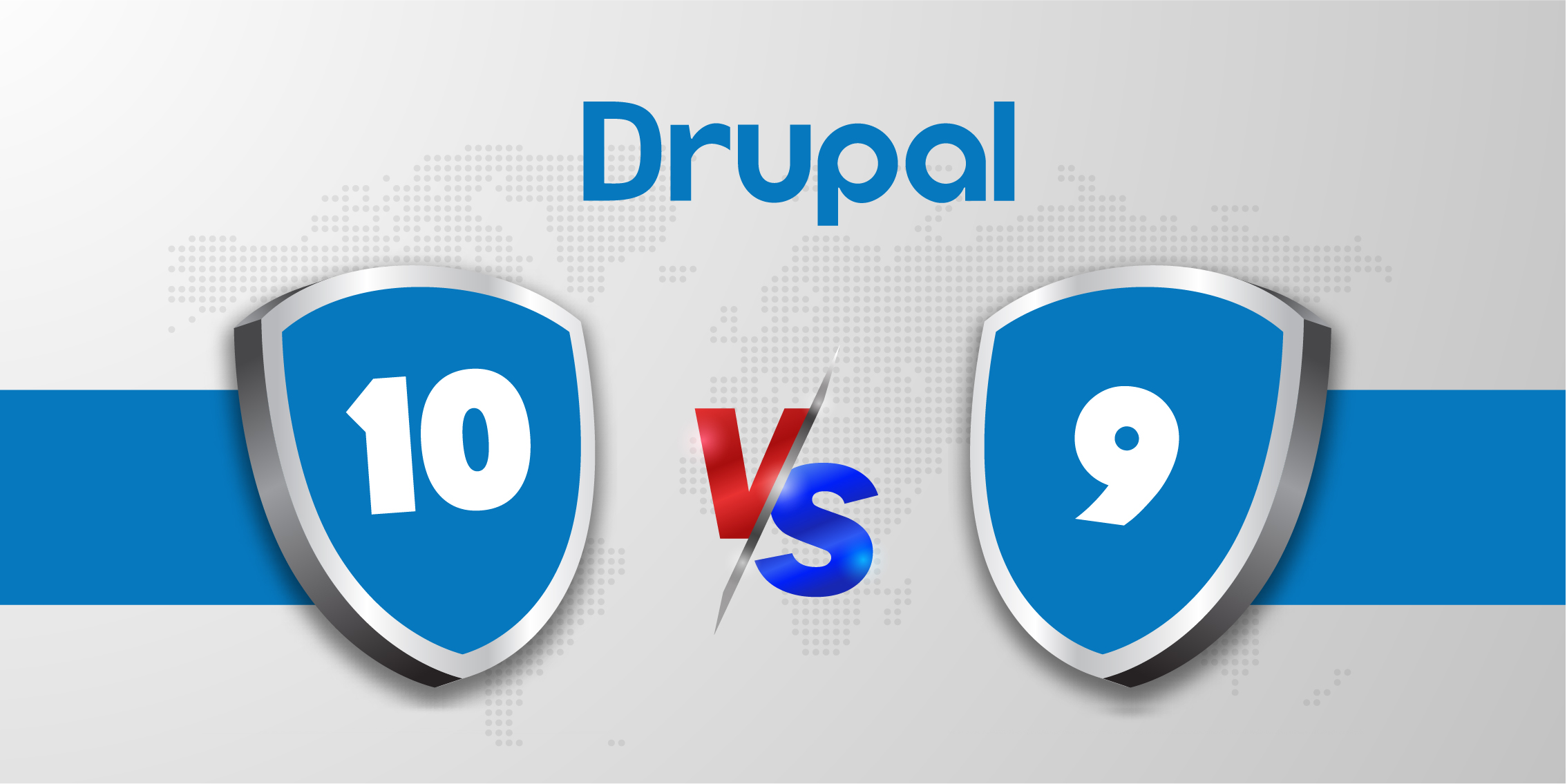 Key Features Of Drupal 9 and Drupal 10
Explore the revolutionary differences between Drupal 10 and its predecessor, Drupal 9. Discover the key features that set them apart - from advanced user experience to an improved API system!
| Drupal 9 | Drupal 10 |
| --- | --- |
| Seven | Claro administration theme |
| Bartik | Olivero |
| CKEditor 4 | CKEditor 5 |
| jQuery | Advanced JavaScript Components |
| Regular tools | Theme Starterkit tools |
| Symfony 5 | Symfony 6 |
| Lower versions of PHP | Supports PHP 8.1 |
Although the primary drawback of Drupal 9 is that it relies on Symfony 4, its support will reach a dead-end in 2023. This was one of the significant motives for speeding up the timeline for Drupal 10's release.
Drupal 10's 5 Key Initiatives
Drupal 10 has been crafted with five primary objectives in mind: optimizing performance, modernizing development methods, streamlining internationalization workflow, fortifying the security system and improving user experience. As Drupal is constantly evolving to lead the way on digital innovation, these initiatives guarantee that it will remain one of the most advanced technologies accessible today.
After examining the data from Drupalers' surveys and feedback, Drupal has identified five key initiatives that they have been vigorously working to achieve. They are;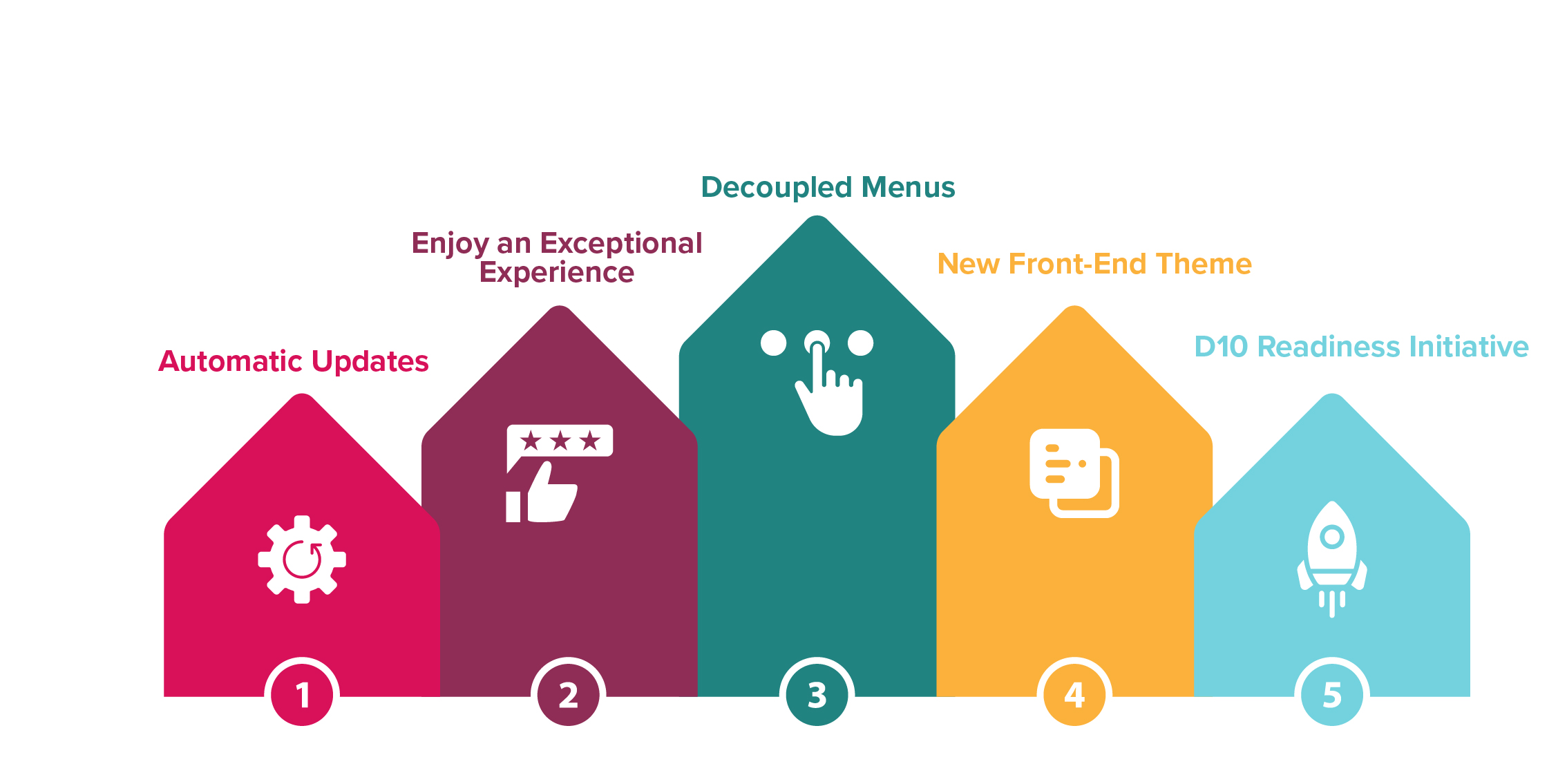 Automatic Updates
For many novice developers, Drupal site updates had been an arduous task. Fortunately, updating to Drupal 9 was made simpler with the aid of its composer - and now with its forthcoming Drupal 10 version, it is going to be completely automated and secure as long as the installation meets all requirements. This initiative ensures that there will no longer be any safety or security concerns associated with automatic update for your websites! It's most suitable for small-to-medium enterprises rather than large companies who tend to have customized workflows in place.
Enjoy an Exceptional Experience
D10 is proud to introduce Claro, a groundbreaking administration theme that comes with an efficient layout builder and media library. Although there are some complexities behind the scenes that may not be entirely obvious for site builders, much of this can easily be remedied through additional contributed modules. As such, users should remain confident in their ability to create remarkable designs using D10's innovative tools!
Drupal's tools, from media and content management to admin interface and beyond, make life simpler for web admins, editors, and site builders. These platforms are so valuable that a survey of Drupal users revealed an overwhelming approval; it is no wonder why they receive such attention!
Decoupled Menus
Drupal's decoupled menus initiative is geared towards those who use Drupal for headless architecture, giving developers the opportunity to create Javascript projects with ease. We've already crafted and tested a proof of concept that allows us to build configurable menus accessible via a single JS library - our primary aim being to construct an optimal passage from front-end JavaScript through to Drupal. Furthermore, improvements are constantly made both in terms of functionality and documentation so as we can guarantee smooth usage every step of the way!
Taking the leap to incorporate Javascript is revolutionary for Drupal, and this will surely establish them as one of the leading headless CMS platforms. In addition to official React and Vue components for menus, developers can expect an even more superior experience that content-rich modern headless systems provide. This platform also features authorizations and permissions capabilities so that content creators can effortlessly make any menu changes through their user interface without relying on coders - with all modifications then being reflected in the frontend JavaScript. For traditional websites, Twig templates are still preserved as well.
New Front-End Theme
The audacious Olivero has made its mark as the default theme for Drupal 10, replacing Bartik. The goal was to craft a design that would appeal to audiences of all ages; thus shadows and gradients were used sparingly while font types, animations, and color palettes are chosen with great care. In addition, this modern-looking theme features second-level navigation capabilities plus an inbuilt media player and layout builder!
D10 Readiness Initiative
The Drupal Readiness Initiative is taking major steps to guarantee that users have ample time to update their sites and help module maintainers along the way as we transition from older versions of PHP, Symphony, and Composer. For instance, making sure CKEditor in Symphony 6 has a smooth migration process by accounting for API changes and removing JQuery UI. Additionally, there's an extra effort being put into guaranteeing the 'one-off aggregator' module works properly with Drupal 10; something it is currently not doing under Drupal 9.
Drupal 10 Migration - The Way Forward
It would be incredibly advantageous to begin automating functions in accordance with Drupal 10 if you are presently running on Drupal 9. Adopting the Drupal-reactor is beneficial due to its variety of APIs included. Remember that, with a planned shutdown date for November 2023, upgrading your site to Drupal 10 should take place in 2023 for optimal performance.
The Drupal 10 upgrade presents significant compatibility issues with CKEditor version 5 that require organizations to plan ahead. Fortunately, the steps needed to make a successful transition are akin to those used in past updates; however, some uncertainty still exists about what challenges may arise down the road. It is paramount for all parties involved in this process be cognizant of these potential difficulties before implementing their upgrades.
#Get Help
Here at DrupalPartners, we specialize in constructing bespoke solutions for websites powered by the robust and reliable Drupal CMS platform.If you're looking for a reliable source to help migrate your organization to the latest versions of Drupal, rest assured that we can handle it!
We've successfully managed multiple upgrades on numerous occasions and are confident in our skills. So don't hesitate - to fill out the contact form now and one of our advisors will get back to you promptly. With us by your side, transitioning to Drupal 9 or Drupal 10 is going to be an effortless process!