- READ TIME: 6 min, 25 sec
Get Ready to Embrace the Future of Drupal - Introducing Drupal 10! Here's a Sneak Peek at What You Can Expect!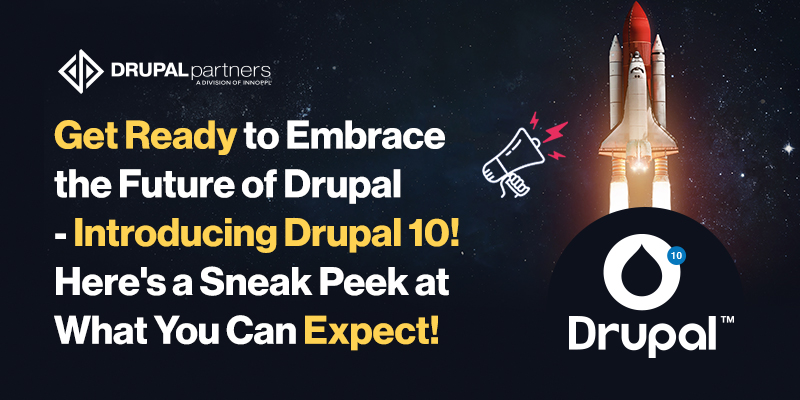 It's finally here and we know that some people might not be as excited about software updates, but rest assured - this new version will bring big changes to your website. So don't wait any longer - get ready now and start feeling all those benefits!
Drupal 10 has Officially Rolled-out on December 14th, 2022!
Are you ready for the most updated version? Here we'll talk about how to make sure you're prepared, why upgrading is advantageous, and what steps you can take to upgrade sooner rather than later.
Why Upgrade To Drupal 10?
As of November 2023, Drupal 7 and 9 will no longer be supported. If your website is still running on these outdated versions or any unsecured CMS platform, you are putting yourself at risk for downtimes and glitches that could damage your site's functionality. Make sure to upgrade before the deadline in order to avoid future issues!
On the flip side, trying to keep up with security measures and fixing bugs on your own can be a costly endeavor. Proactively upgrading to the latest version of Drupal is proven much more cost-efficient than attempting to build custom infrastructure configurations yourself.
With the power of Drupal 10, you can effortlessly create content using CKEditor 5 and make use of a better standard for powering your headless CMS. Furthermore, upcoming features such as automated updates will simplify maintenance so that you don't have to worry about it. Ultimately, this upgrade is ideal for corporations who want to craft remarkable digital experiences without any hassle!
Put Content Creation at the Forefront with CKEditor 5. Create digital content faster and more effectively than ever before!
As part of its mission to prioritize content creators and editors, Drupal 10 has embraced CKEditor 5. This was first introduced experimentally in Drupal 9.3, but is now the standard WYSIWYG editor with this latest version of software. By using this front-end development tool, users can create intuitive and engaging experiences for their audiences while streamlining the design process!
Rest assured, this overhaul brings about a much-improved content creation experience, supplying you with instant access to object editing tools. Its advanced features enable an effortless media and table management system, complete with basic formatting capabilities as well as enhanced efficiency functions out of the box.
Make a Lasting Impression With The Sparkling New Themes
Content developers will be thrilled with Claro, the upgraded default admin replacing Seven. Furthermore, Olivero - superseding Bartik as the new standard - focuses on usability and makes accessibility best practices a priority.
Claro stands out from other themes due to its lack of clutter and generous "white space", making it a breeze to learn and incredibly accessible. Introducing Olivero in Drupal 9.4, this theme is now the default front-end for Drupal 10. With an uncluttered modern design tailored specifically towards content creators, its high contrast color palette combined with WCAG AA compliance right out of the box makes this theme not only visually appealing but also easier on the eyes as well!
Novel Responsibilities
From the perspective of developers, Drupal 10 has some remarkable advancements like Symfony 6.2 and a new version of PHP which form its underlying technology stack.
PHP 8.1 is not only a prerequisite for Symfony 6.2, but it also guarantees prolonged support life for Drupal 10 and improved stability with respect to its dependency requirements.
On top of that, Drupal 10 will be even more secure and flexible with the integration of modern JavaScript components in lieu of jQuery UI & jQuery, plus a new version of Twig (3.x), which is purported to be faster than ever before. And let's not forget – Drupal 10 won't offer support for Internet Explorer 11 either.
Ready to Launch at the Touch of a Button! (HEADLESS)
Drupal has continually been a reliable CMS for hybrid or fully headless configurations, with its backing of REST, JSON & GraphQL APIs. To create decoupled design even simpler and smoother, the Drupal Decoupled Menus Initiative aimed to develop how JavaScript front ends can access configurable menus managed in Drupal. Furthermore, you can get more info on what's Headless all about here!
Streamlining the development process for front-end developers, Drupal 10.0's headless capacity is further enhanced with read-only menus for Drupal HTTP APIs as well. This addition will make it simpler to access menu information and construct navigation structures from that data.
Project Browser Feature For Site Builders
The upcoming versions of Drupal 10 will bring a helpful new addition - Project Browsing! This innovative feature allows users, particularly those brand-new to website building, to quickly and easily find the ideal modules for their projects without any difficulty. Moreover, it has an intuitive filtering system and visually appealing browser interface in Drupal's admin area with icons that convey critical quality metrics right away. With Project Browsing, constructing your desired project is easier than ever before.
Automatic Updates
The Automatic Updates module is a brilliant feature that makes life simpler for content creators without coding experience. Content managers responsible for Drupal websites who don't have an established system to check and run updates when they come out will benefit greatly from this resource.
The upcoming automatic update module will work on these three components:
Staying informed is of utmost importance when it comes to your public safety. Drupal.org alerts you on the most critical and highly important updates that could affect you, ensuring that your security remains a top priority.
Readiness checks, designed to alert you of any potential issues preventing your website from receiving automated updates, are essential for keeping it up-to-date and secure.
In-place updates from Drupal.org make updating your system safe and easy! First, the update is downloaded and checked for security. Then, a backup of files is created in case anything goes wrong during the update process. Afterward, these backups will be restored if any issues arise while performing the actual upgrade. With this secure method, you can enjoy peace of mind when keeping your website up to date!
Ready to Reach the Next Level? Get Support With Upgrading Now!
Upgrading to Drupal 10 from Drupal 9 is a straightforward process since the two share similar architectures. However, if you are still running an outdated version of Drupal, migrating your website over to the new product will be required - this entails replicating each application on the old system onto its equivalent in the new one.
Not to panic, whether you're already running Drupal, or looking to transition from a different CMS platform, we are here for you. Make it easy on yourself and let us take care of the hard work! Simply fill out our contact form to schedule your first FREE consultation with our certified Drupal expert - with us by your side, everything will be smooth sailing.