- READ TIME: 2 min, 20 sec
What's New With Drupal In April 2017?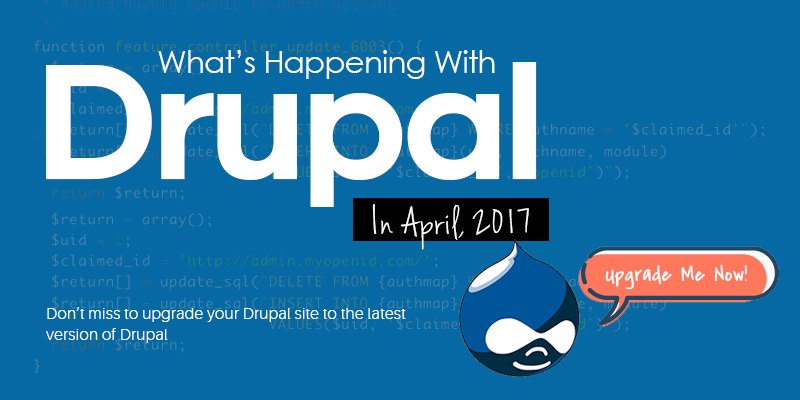 The Drupal community has come up with some interesting news this month. These most awaited advancements continue to make Drupal 8 a more robust and reliable platform.
Drupal Security Update Is Out: The consolidated security update resolves a number of issues that have been critical over the last six months since the previous Open Public release. We strongly recommend you to upgrade to the latest version of Drupal that fixes the unsupported Reference module issues. If the site is highly customizable, the modules need to be updated manually. If your site is running on Drupal 8.2.7 or earlier you need to Drupal 8.3.0 or Drupal 8.3.1.
Give A Better Look And Feel To Your Site: The latest version of Drupal introduces two experimental modules that are adopted from the Layout Plugin Module. These modules provide two basic layouts in addition to customization of new layouts that can be added from other modules.
Drupal 8.3.0 Is Now Available For Download: The third minor release of Drupal 8 is now ready with advancements in the release process and backward compatibility. This new version also includes improvements in site administration, authoring experience and stability of BigPipe module. Adding to these are workflow functionality, different content layouts and improvised general layout API for contributed modules.
Updates In The Technical Advisory Committee (TAC):To evaluate the Drupal developer tools, the TAC is considering GitLab with self hosted and SaaS options, GitHub with new features such as automated licensing, protected branches and review requests, and Custom tooling as three major options. TAC's internal evaluations are aimed at identifying and triaging gaps in areas such as migration, project management, code workflow, testing, and integrations. The TAC is also looking for recommendations from Drupal enthusiasts to enhance the reliability and usability of developer tools. The recommendations can be posted here.
Now that the internal evaluation is done, the TAC is now ready to take forward the recommendations to the Executive Director of Drupal Association, who will direct the staff to validate the recommendations after prototyping. However, Drupal.org members can login to their Drupal account and post their recommendations in the TAC page.
With all these updates and advancements, don't miss to upgrade your Drupal site to the latest version of Drupal. Our team of dedicated Drupal development professionals are waiting to help you out in any possible way. To know more about the latest happenings in the Drupal community stay tuned with us.