- READ TIME: 2 min, 56 sec
What's Happening With Drupal In March, 2017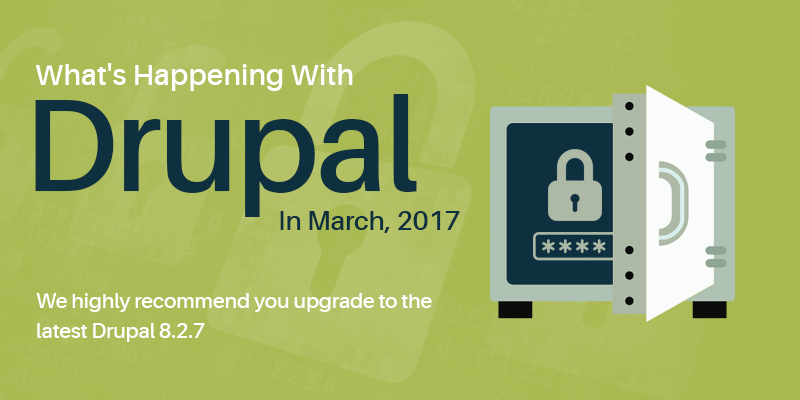 The Drupal community is out with some exciting news this March. These decisions are long pending and great to improve the number of Drupal contributions as well as taking advantage of the newest Drupal features faster.
Drupal Security Upgrade Is Out
It's purely a security related upgrade without any other features. We highly recommend you upgrade to the latest Drupal 8.2.7 which removes all traces of phpunit dev dependency. Moving forward, the Drupal 8 core package will not include the phpunit. Ensure you read the installation notes completely and delete the older files to maintain the security of your Drupal website.
Get Your Contributions Approved Faster
Drupal is one of the very few open source CMS which has 16 years of existence. It's mainly because of the utmost care they take in their contribution approval process. Drupal boasts to be the most secured CMS, mainly because all contributions that go into the full-time project status maintain Drupal's coding and security standards. But with the popularity of Drupal increasing, the number of contributions seems to be never ending to match the approval team.
If you are a Drupal contributor, it's not really surprising that you have to wait for up to 6 months to get the module out of the sandbox. But, with the recent Drupal development, all contributions will have to pass through an automated code review process called Paraview. They are also planning to incentivize peer review, after release review process and security opt-in services to get contributions published faster and get more contributors to Drupal. Learn more here!
Bid Goodbye To Future Drupal Migration
Migration is a tedious and time consuming process. The new post released by Dries promises to bring in new features as an upgrade every 6 months. If you are on Drupal 8, these frequent updates will ensure you can take advantage of the latest features without having the need to wait for years. This decision comes into play to avoid future concept of migration. The only migration Drupal users will have to go through is migrating out of Drupal 7, and once you land on Drupal 8, it's a smooth road going forward.
Drupal Community Board Election Update
Follow the Drupal Association twitter handle, @DrupalAssoc, to find the results of the Drupal Association Community Board Election. It's going to be an exhilarating time for the candidates and we wish them all the very best luck!
DrupalCon Baltimore Is Here
DrupalCon Baltimore is all set to happen between April 24th to 28th. They have planned various training sessions, Drupal sprints, summits and social events to engage participants. With the launch of open government initiatives, the highlight of the DrupalCon Baltimore is to provide refined feature enhancements needed for an amazing government experience on the web.
So, don't forget to upgrade your Drupal website to ensure you don't compromise its security. Our team is ALWAYS willing to help you out in case you hit a glitch. Stay tuned to learn more about what's happening with Drupal and its open source community.