- READ TIME: 2 min, 53 sec
Why Should You Migrate To Drupal 8 Now!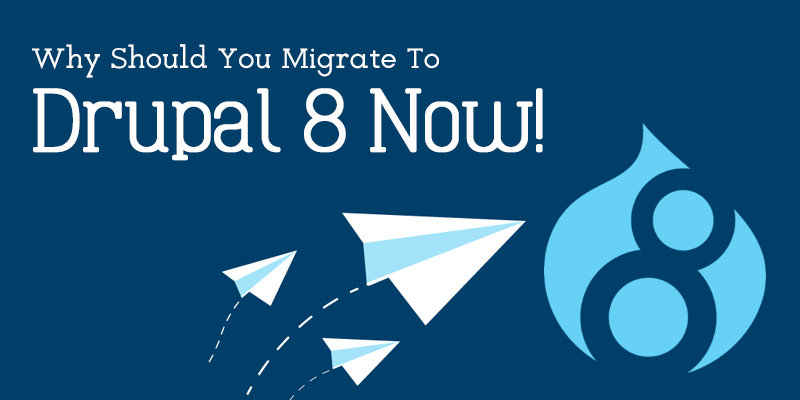 If you are running your site on Drupal 7 and thinking that your migration worries are over - You are wrong! Dries and the Drupal Association have completely changed the game with their new Drupal upgrade process which aims to eradicate future Drupal migrations.
Why Is There A Need To Terminate Migrations?
One of the biggest drawbacks of Drupal is the painful and lengthy migration process for moving from one version to another. The learning curve is huge and adapting to each version is difficult.
What Is The Process They Are Adapting?
The Drupal team has a futuristic vision but the implementation and release process took somewhere around 4 to 5 years. But, with the continuous improvement process,they are adapting, they can start incorporating the features they need in the existing version itself.
What Does IT Mean For The Drupal Website Owners?
If you are on Drupal 8, then you can take advantage of all the recent trends and important features with the new updates that Drupal has promised to release every six months. These updates will have any new features that are needed to take advantage of the latest technology and security trends and stay at the top of website administration and development.
Also, the Drupal team has committed to making the upgrade process simple. If you are currently upgrading your website from Drupal 8.2 to 8.3, then you can witness that it's designed to be as easy as applying a security update to your Drupal website. This ensures a zero downtime of your website and also less hours of Drupal developers to get your website updated.
Will Drupal 8 Be the Last Drupal Version
Nope! There will be a Drupal 9 but with the majority of the features included in the Drupal 8 version itself, the final migration process becomes extremely simple. The logic behind it is that as and when new features come on board in Drupal 8, the older irrelevant features get blocked but not removed. Once when the Drupal 9 releases, the irrelevant code is removed to have a clear core version.
What Does This Mean For Drupal 8 Developers:
It's great news as Drupal developers can just tweak the modules for every version upgrade. There is no longer any need to wait for the Drupal 9 version and get swamped with work to fix every single thing. The transition time is greatly reduced and the website owners can provide a seamless web experience for users.
Basically, it's a win-win situation for every Drupal site owner and developer. So, if you are still on Drupal 6, then it's time you took the leap to Drupal 8 as you know this is the only major migration you will be investing in. As for websites that are in Drupal 7, it's advisable that you migrate in the next one year to take advantage of all the new features that Drupal 8 will be pushing out every six months!