- READ TIME: 4 min, 10 sec
Enjoy the business benefits of the trendy and approachable Drupal 8 CMS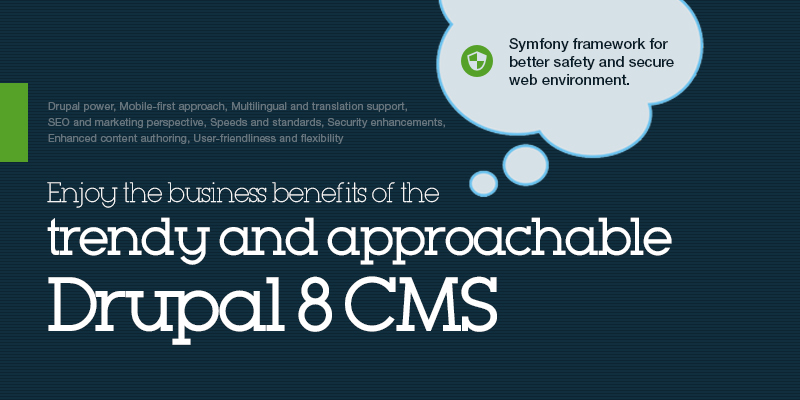 The digital revolution has changed every business and industry including education, health, entertainment, publishing and shopping. Enhancing customer experience in digital space is a 'must-have' strategy for business growth today.
Focusing on 'mobile-first' approach and delivering a delightful customer experience will accelerate your digital business. So, how can Drupal 8 help you in the current digital era? In this blog, let's understand the business benefits of Drupal 8
Drupal power
Drupal is an open-source community project with thousands of code contributors worldwide. There are about a million users on Drupal.org and many Fortune 50 firms use Drupal platform. Drupal is a different content management system for it allows your innovation to translate into faster and better websites that are scalable as per the changing requirements.
Mobile-first approach
Drupal 8 is fully responsive for mobile WCM (Web Content Marketing) using which you can manage content from any device and also preview and publish content from any device screen. Drupal 8 is flexible in delivering content to any channel with minimal coding. Whether it is back-end editing or front-end design and delivery, Drupal 8 can do it all.
Multilingual and translation support
If you are shipping products globally and have multiple sites specific to the local market, then language support is crucial. Drupal 8 supports 100 languages and has built-in capabilities for translations as well. And if you are planning to migrate from other platforms to Drupal 8, the good news is that Drupal 8 supports technical integration. You can integrate marketing tools like Google Analytics and other platforms like Magento.
SEO and marketing perspective
Drupal 8 is SEO-friendly, thanks to its mobile-first approach and ensuring faster loading time using the BigPipe technique. It has integrated REST (inspired from Drupal 7 RESTful) into its core platform. Users can now quickly change data on the website directly, from other applications. This helps in configuring campaign sites and integrating third-party apps and small plugins much are more accessible than before.
Speeds and standards
Drupal 8 loads JavaScript and keeps the rest in caches. This ensures faster loading of pages especially when the user accesses the same page for the second time. The BigPipe module flushes the page first and then stream placeholder replacements. Drupal 8 is also compliant with PHP 7 with useful libraries like Guzzle, Composer and object-oriented code, Symfony 2. For testing, Drupal 8.1 features front-end JavaScript (JS) automated testing.
Security enhancements
Security goes a notch above, in Drupal 8. Security advancements include a dedicated security team to look for bugs and provide fixes instantaneously. Drupal 8 uses Symfony framework for better safety and ensures a secure web environment.
When compared with proprietary-level security features, there are limitations like less testing and small support team whereas, in Drupal 8, there are about 3000 active developers and 650,000 active members who are vigilant and supportive in alerting the community in case of any security vulnerabilities.
Enhanced content authoring
Drupal 8 has new features that are tailor-made for business applications. In content authoring, Drupal 8 focuses on usability by providing in-line, in-context on page editing. Further, it includes WYSIWYG (what you see is what you get) editor support as well. If you are into publishing that requires frequent content updates, Drupal 8 is the best choice available. Quick Edit allows quick fixes and changes at the front-end.
User-friendliness and flexibility
Drupal 8 focuses on making websites user-friendly, thanks to the use of 'Block' system and 'Views' that are part of the core which enhances the visual appeal of the website. The new theming engine, Twig is based on PHP and allows easy creation of feature-rich and functional Drupal sites. The syntax used in Twig is secure, yet simpler than regular PHP template, adding to the developer's convenience. Support for HTML5 makes compatibility with handheld devices better than before.
Summary
Drupal 8 is powerful because it is feature-rich, ensures security, is flexible when it comes to migration and integration of different platform tools. Developers can enjoy coding in Drupal 8 for its compatibility with PHP 7, HTML 5, BigPipe, JS automated testing, Twig theming engine, WYSIWYG editor, enhanced Block and View systems and multilingual support.
Since 2009, DrupalPartners provides Drupal consulting services. We've built over 50 Drupal7 and Drupal8 websites and worked with various domains including education, retail, non-profits, government, eCommerce etc., If you are looking for a partner to develop Drupal8 websites at an affordable cost, contact us.