- READ TIME: 6 min, 13 sec
How to Create B2B Digital Commerce Strategy For Your Drupal Website?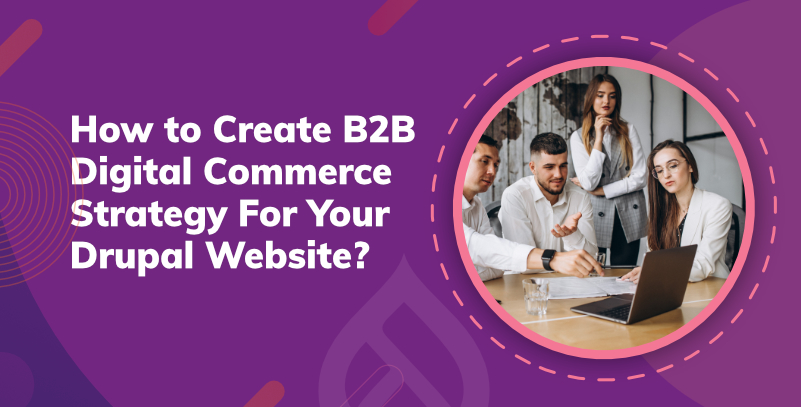 Are you looking to switch your B2B business online? Obviously, it is a brighter move to accelerate your business growth.
Whatever is the motive, like creating an online ordering system to assist current consumers or creating a direct-to-consumer sales channel going online is the right choice to crank up the volume and reach.
Devising your compelling B2B digital commerce strategy
B2B buyers do not think and react exactly like they did a couple of decades ago. Therefore, it is essential to evolve as the approach towards suppliers and partners has drastically altered over the years. Many concerns need to be addressed in decision-making and buying positions for B2B clients. On the other hand, the pandemic outbreak has also impacted the traditional face-to-face sales model.
Going Online: The Pedestal To Larger Marketing Podium
Merit study revealed the truth that the research phase of the B2B sales drive is mainly happening on digital channels. It is necessary for B2B businesses that aren't competing online to establish their online presence first.
If your business already has an online presence, it is ideal to go after omnichannel customer experience improvement plans. Similar to B2C consumers strategies, B2B businesses must provide the content, features, and experiences that their buyers will find resourceful. All that interests them is insightful training programs, demos on the latest software, industry news, product news, etc. Specific data-driven information goes around like hot-cup cakes as it helps decision-making.
Thus, it is essential to have an eCommerce website start there.
It is entirely feasible to begin selling online, even for companies with complicated products, complex legacy technology environments, operational processes, bulk buying options, information security concerns, and organizational structures. However, please don't get swept away in the non-essentials of it all.
Make sure you develop the best functioning product that is compact and fulfilling to your customers' needs. In order to create the complete product, stick to an Agile development process and stay focused on improvising the same over time. The pilot site can help to showcase your products and doesn't need an online ordering system. Your customers can place orders after you build out cart functionality in future site iterations.
After pilot development, you can scale with the help of a development process, proceeding to move swiftly in 2 or 3-week development cycles. This process supports your teams in optimizing scalable growth and endless revisions.
Improvements and pain points
Suppose you already have a website that is fully functional, excellent! It is time to ponder over improvements and consider enhancing the customer experience with your clients already using your digital commerce solution.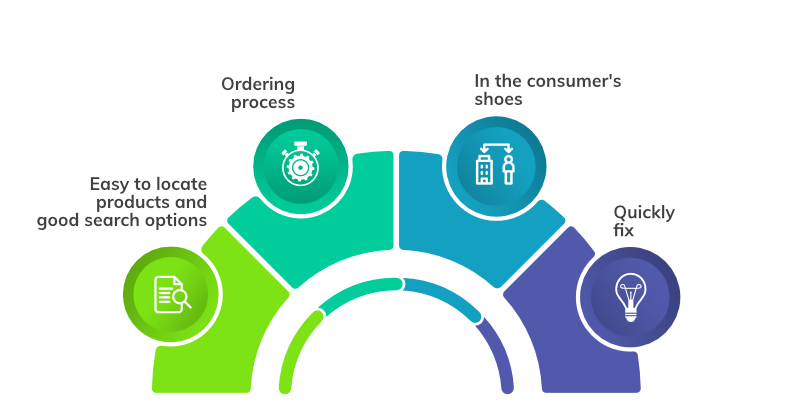 When you have had the digital commerce offerings set up, here are a few essential B2B or B2C pain points that you need to be aware of as they can derail the plans. So, there is a dire need to steer clear through the challenges and pain points and make plans to address them with a continuous improvement strategy.
Ordering process: Decision-makers never like lengthy ordering processes with confusing buyer journeys. Buyers tend to lose focus, and therefore, companies are likely to lose buyers if the process is spiraling.
In the consumer's shoes: Put yourself in the consumer's shoes so that your eCommerce channel provides the ultimate B2C-like experience for every product. Always offer the best experience to a new purchase or a repeat order.
Easy to locate products and good search options: Product pages should be easy to find and keep it that way. Add clear titles and specifications for catalogs and ensure that your on-page search functionality is an easy kill.
Quickly fix: Sometimes, websites or mobile apps keep running with the glitches forever. Look out for such minor or major technical issues and have them resolved immediately. Ensuring the website is functioning optimally could boost revenue incrementally and enhance the digital experience to promote high loyalty.
Assist customers to embrace your new digital commerce opportunities
Some customers find the traditional ways more reliable, and it is difficult to lure them away to the latest and instantaneous ones. When the clients are older, it is a real challenge and nuances to convince them to accept the changes. With the right approach, shifting customers away from face-to-face selling is accomplishable. The best process is to theorize about the best experience with a retail website and match your website to its standards.
Make sure your buyers can quickly obtain all the product information they need, compare and contrast, and make purchases. Set your goals to provide service for less complex needs without live support from sales reps. However, also be sure to provide complex purchasing the required live support at the right time.
Agility, clarity, and expertise are vital in providing a best-in-class customer experience. With those attributes applied in your sales channels, you will quickly obtain your customers' understanding. For example, Live Chat - is an option that delivers agility, clarity, and expertise—things that customers value most.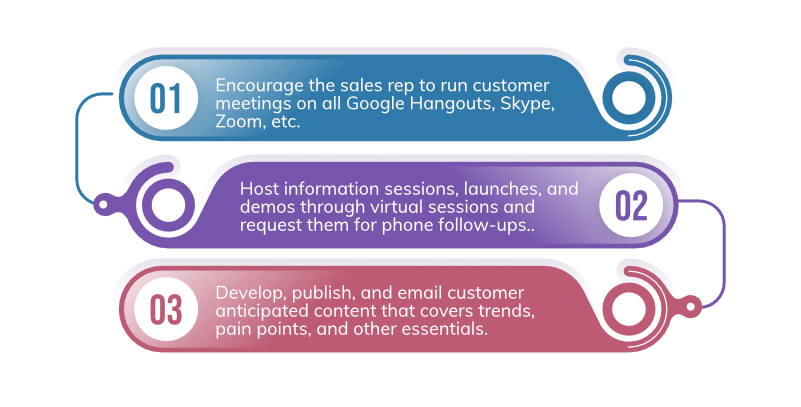 Here are a few more options that you might like to implement to elate your customer understanding and experience:
Encourage the sales rep to run customer meetings on all Google Hangouts, Skype, Zoom, etc.,
Host information sessions, launches, and demos through virtual sessions and request them for phone follow-ups.
Develop, publish, and email customer anticipated content that covers trends, pain points, and other essentials.
Measure your digital commerce strategy performance at regular intervals
Your goal doesn't end at implementing new digital strategies but continues monitoring, altering, and reinventing ideas to make more sales.
Having said that, it is essential to figure out a way to report on the effectiveness of the gains you have made. Insights provide light on where to use your time and energy subsequently.

Valuable areas to benchmark and track:
Customer loyalty, satisfaction, and churn rate
Show differences among digital and in-person sales channels
Map eCommerce sales goals to sales targets and incentive systems.
Wrapping Up
It requires multiple departments to stay in sync to develop a compelling digital commerce strategy. Omitting any of the departments in building the complete plan will end in complexities or outright failures. So inviting all your internal stakeholders is the key to attaining digital transformation. Therefore, never stop performing your research and ensure it is approached using data-driven reasoning.
Devising a digital commerce strategy is not an easy task that can be accomplished in a short time. Every B2B Drupal website has different work approaches, and all of them have their specific action plan. If you need help with this process, we are here to help. Drupal Partners has 11+ years of experience and experts to improve your digital commerce experience. Reach out today to speak with one of our B2B experts to increase sales and devise a better digital experience.