- READ TIME: 6 min, 59 sec
Migrating from Drupal 6/7 to Drupal 8/9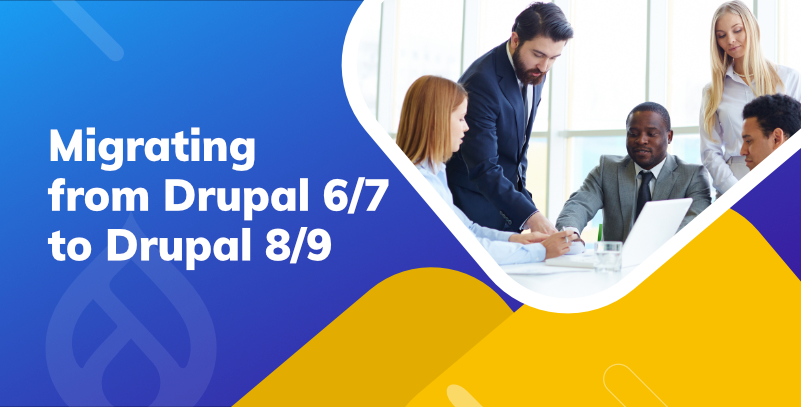 The webinar titled "Migrating from Drupal 6/7 to Drupal 8/9 platforms" was presented on June 30th, 2021, by expert speakers Karthik Kalimuthu and Hamad Zaffar. Both of them discussed the challenges, opportunities, and advantages surrounding the significant move to the latest Drupal platform in the webinar. The session turned out to be very helpful for the attendees as it deciphered the migration myths. This blog here paraphrases the presentation and the thoughts shared by the speakers for delighting users who wish to read about it.
The webinar took off with the first slide showing the presentation title, "Migrating from Drupal 6/7 to Drupal 8/9 platforms", the webinar date June 30th, 2021, and the tagline.
Our Speakers

Karthik Kalimuthu is the vice-president of Drupal Partners. With extensive experience in the Drupal platform, he has built custom modules and themes for all versions of Drupal. His accomplishments also include migrating Drupal 6/7 to Drupal 8/9 besides migrating different frameworks to Drupal. With 11+ years of experience, his skills are unparalleled.
Hamad Zafar has worked with CMS clients and has been the brain behind several successful Drupal migrations and developments. In his own words, "Drupal 9 is going to change open source digital, allowing websites to scale like never before". His migration ideas and strategies are impeccable that many Drupal websites can pivot to.
Introduction
The introduction slide talks about Drupal as a free and open-source content management framework that is currently used as a back-end framework for at least 4.5% of all websites worldwide.
Drupal has an extended community with over 3000+ active contributors. It is the most highly Secured CMS preferred by many Government and Higher Educational Websites in the USA. Simplicity for administrators and Editors. Accessibility for everyone. Large Enterprises with High complexity applications can be built on Drupal efficiently.
Drupal 6/7 to Drupal 8/9

This slide brings to light the deadlines surrounding each Drupal version.
In February 2016, Drupal 6 attained End of Life and is no longer community-supported. Therefore, it is evident that new releases of Drupal core and contributed projects can no longer distribute releases and the associated update information through Drupal.org.
Drupal 7's end-of-life has been moved to November 2023, and Drupal 8 will have its end of life in November 2021. Both the versions no longer share the same end-of-life dates, and users are required to plan the migration and up-gradation of their respective software. A long-term-support (LTS) Drupal 8.9 minor release was released alongside Drupal 9 and supported until November 2021. Drupal 8 will only receive patch releases following Drupal 9.0. Simply put,
2020 - June Drupal 9 Released
2021 - November Drupal 8 End of Life
2023 - November Drupal 7 End of Life
Why & How From Drupal 6/7 to Drupal 8?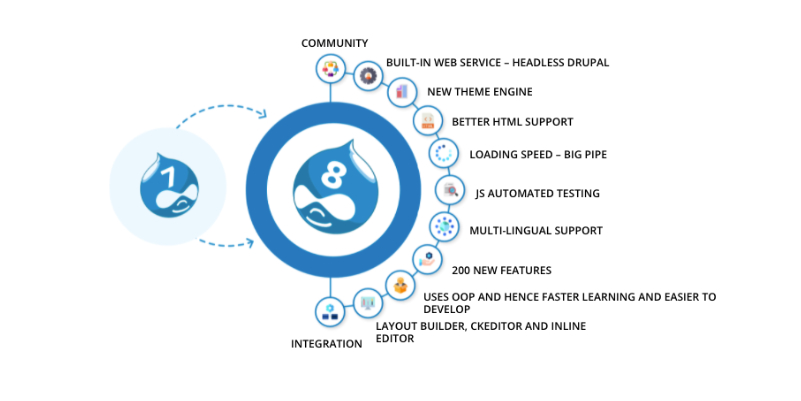 The benefits of moving from the sunset software version to Drupal 8 offer numerous advantages. Some of the many notable benefits are:
Community support
Built-in Web Service - Headless Drupal
New Theme Engine
Better HTML Support
Loading Speed- BIG PIPE
JS Automated testing
Multi-lingual Support
200 New Features
Uses OOP and hence faster learning and easier to develop
Layout builder, Ckeditot, and Inline Editor
Easy Integration
What's different in Drupal 9
Unlike previous versions, Drupal 9 is unique. The significant differences you'll find in the new Drupal 9 are:
Updates of dependencies to versions
Removal of the code that deprecated with removal before Drupal 9's release
The main benefit of Drupal 9 over Drupal 8 is the security fixes that will be available after November 2021
The unique feature is its ability to offer as easy an upgrade from Drupal 8
The Compelling New Features of Drupal 8/9
Drupal 9 is backward compatible with its predecessor, Drupal 8. You'll be able to use modules, configurations, and data created on D8 of the same software.
Layout Builder: Similar to panels, flexible page builder tool
WorkSpaces: Stage groups of pages
Media: Core support for media
Content Moderation: Core support for content workflow
Config Management: Core support for configuration management
Restful Web Services: Core support for web services
The Benefits of Drupal 8/9
High-Security Level
A secure platform
Regularly maintained by an active community.
Many governmental organizations vouch on Drupal - Nasa is the best example!
Scalable Environment
Capable of handling high traffic volume & a large amount of content.
Lush.com is one of the biggest eCommerce websites built on Drupal, handles high traffic volumes.
Microsites & Multilingual within one platform
Multi-language support
Get access to more than 110 languages.
Best example - Jysk.co.uk (Runs over 2,000 physical stores in 48 countries using Drupal 8)
SEO
As an enterprise solution, Drupal provides a number of SEO modules that don't require extra coding.
Ease of administration and customization
Drupal allows developers to do their work quickly.
Thanks to the modules & excellent community support.
Manage every corner of the web application by providing role-based access.
The Migration Process – Drupal Partners Approach

Drupal is a popular eCommerce platform and continues to grow in terms of choice across several websites in the US. With the approaching end of life of Drupal 6/7/8, brands must switch to Drupal 9 as soon as possible. Here is our approach in the Drupal Migration process:
Drupal 6/7 Database Backup
Drupal Module & Inventory preparation
Basic configuration, content type setup & Field Creation
Export Content, users, taxonomy, images using the 'Views Data Export' module
Import content using the core modules Migrate & Migrate_Drupal_UI
Theme Creation, Views, Blocks, Custom Logic
SEO and Performance Optimization
Quality Assurance
Final Content Migration
End Result: Drupal 8/9 Website
Drupal's Winning Strategies

The winning strategies are listed below. If you want to know how it is accomplished, please talk to our experts:
High Performing Site
Multi-Select Filter (Drupal Ecommerce)
Personalization
Mobile Responsive
Integrate with Social Media
A/B Testing
Predictive Search
Heat Maps
Integrate ABM platforms with ease
Mega Menu
Track Analytics
Strengthen your ABM campaigns with personalized experiences
FAQ's
1.Why Drupal 9 over other Drupal versions?
Drupal 9 depicts the pinnacle of all of the features developed over other versions and its immediate predecessor Drupal 8. Put simply; Drupal 9 is developed on a leaner, cleaner codebase. Migrating from Drupal 8 to Drupal 9 is easy as many Drupal 8 modules are already compatible with Drupal 9.
2. Is Drupal 9 user-friendly?
Drupal is a user-friendly platform and is likely to become more compatible with every upgrade. Drupal 9 is convenient and accessible to regular users through improved ease of use because it has improvements supporting usability. The Editorial workflows, Layout Builder, and Media management are some of the notable features.
3. What are the notable features that Drupal added in Drupal 9?
Layout Builder: Content editors can design pages without tech help
API-first architecture, including the JSON:API: enables building robust decoupled and headless applications
Media Library: Images, video, and other assets are more manageable in the new version
Why go for Drupal 9 over other CMS platforms?
Drupal 9 supports elated digital experiences. Often, CMS platforms converge on templates that are pre-defined or industry-specific solutions; Drupal uses the latest web technology. Drupal offers ready-to-go themes out of the box, and its real strength is its versatility and abundance.
What's the best way to migrate?
Drupal 6/7/8 to Drupal 9 can be considered migration or re-platforming, although not as severe as moving to a completely different platform. Drupal 9 is more straightforward than upgrading to 8 was a few years ago.
How is security handled in the latest version compared to the former?
Drupal 9 rolls out with procedural updates based on lessons over the years, making it a lot safer than the previous ones.
Conclusion
The time is near for you to migrate your site from Drupal 6/7/8 to Drupal 9. Talk to our experts for a proper migration plan, and you'll also get to work with experienced developers/migration experts from our team. The process of migration is going to be a lot safer and smoother than you believed.