- READ TIME: 3 min, 53 sec
How to Migrate from Drupal 6 to Drupal 9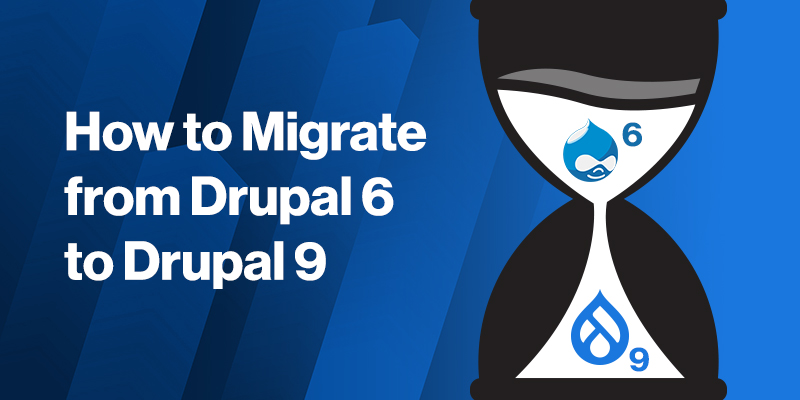 A lot of websites are still powered by Drupal 6. There is a dire need to migrate from Drupal 6 to Drupal 9 as the support for Drupal 6 is ended by Dec 31, 2020.
Migrating from Drupal 6 to Drupal 9 can seem daunting, but with the right tools and information, it can be a relatively easy process.
This blog post will walk you through the steps necessary to make the migration as smooth as possible. We'll cover everything from preparing your site for the move to setting up your new Drupal 9 installation. So whether you're an experienced Drupal user or just starting out, this article is for you! Stay tuned for more helpful tips on making the switch to Drupal 9.
Why You Should Migrate from Drupal 6 to Drupal 9
One of our clients wasn't comfortable migrating Drupal 6 to Drupal 9. They had their reasons but, it wasn't safe to run on much-outdated software. We explained and had them move to the latest version. Here are the same reasons that we displayed to them
Drupal 6 was released on February 13, 2008, and on February 24th, 2016, Drupal 6 attained end-of-life (EOL) - pretty old software now. If you are running the old Drupal version which is no longer supported now is the time. With the older version in control of your website, security and performance are at stake.
There are no security patches released for Drupal 6 now. So, with every new hacking technique, there is a high chance that your website may get hacked as the old Drupal version can't protect against the newer threats. Also, as per the CERT Coordination Center's Vulnerability Note VU#228519, "Drupal versions 6.x and 7.x prior to 7.32 are vulnerable to cross-site scripting".
The performance of your website running on Drupal 6 will also be an issue as the technology is quite old now and can't handle the load of today's websites which are generally very heavy in terms of content, videos, images, etc. So, if you are expecting a lot of traffic on your website, it is advisable to move to the latest Drupal version.
Drupal 9 is the latest and greatest release of Drupal. Migrating from Drupal 6 or 7 to Drupal 9 should be relatively painless - and you get the added benefit of all the new features!
If you need help migrating your website from Drupal 6 or 7 to Drupal 9, get in touch with us today. We're happy to help!
How to Migrate from Drupal 6 to Drupal 9
Now that we've gone over some of the reasons why you should migrate from Drupal 6 to Drupal 9, let's get into the nitty-gritty of how to do it.
The first step is to ensure that you have a backup of your Drupal 6 site. This is critical in case something goes wrong during the migration process. Once you have a backup, you can begin preparing your site for the move.
Next, you'll need to install the Drupal 9 migration module on your Drupal 6 site. This module will help you migrate your content, users, and settings to the new version. Once you've installed the module, you can begin the actual migration process.
The final step is to set up your new Drupal 9 installation. You'll need to create a new database and user, and then install Drupal 9. Once you've done that, you can begin importing your content from the old site.
That's it! You should now have a fully functional Drupal 9 site. If you run into any problems during the migration process, be sure to check out the Drupal 9 migration documentation. It's a great resource for troubleshooting any issues you may encounter.
Conclusion
We hope this blog post has been helpful in getting you started with migrating from Drupal 6 to Drupal 9. Thanks for reading! If you have any questions, feel free to reach out to us and we'll be happy to help.