- READ TIME: 4 min, 13 sec
Drupal 9 Is Here. Here's How To Prepare Your Site For Drupal 9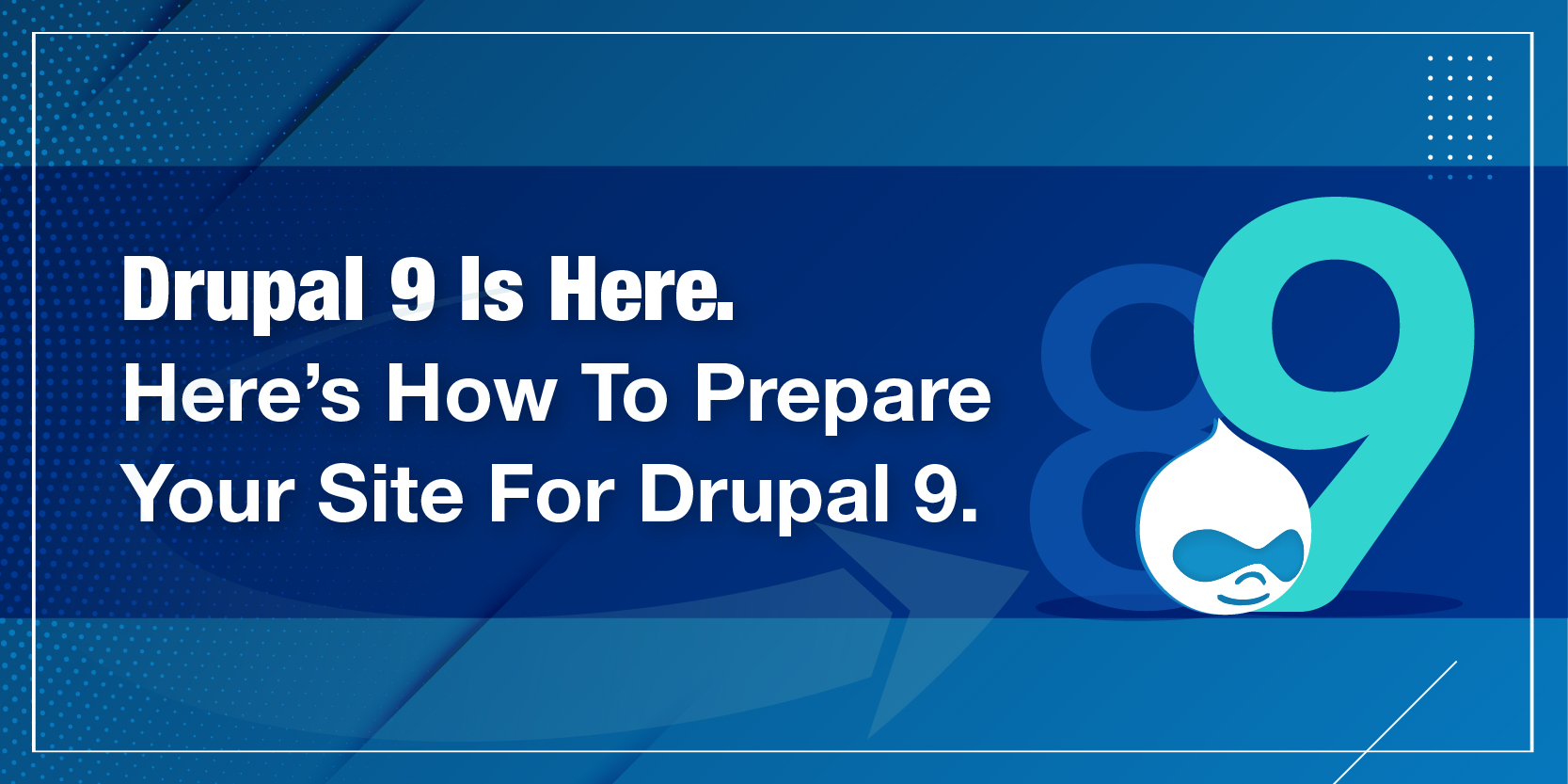 Are you snowboarded with information on Drupal's latest release? Drupal 9 is merely a month away. Are you prepared to upgrade your site? There are a few people still stuck in the "Do I need to migrate?" phase.
In this blog we'll tell you about the launch, the changes it brings to the table and how to prepare your site.
If you are already on Drupal 8, there's good news for you. Migrating to the coolest version of Drupal is not going to be a bumpy ride.
With every major update, upgrading has been a long and painful journey. We don't blame you if you flashback to the days of 404 errors. But the recent upgrade, industry experts reveal, overhauls the way Drupal releases upgrades.
It is built on top of the existing Drupal 8 architecture and there will be minor updates rolled out twice a year. So moving to the latest version of Drupal isn't going to be a major change.
Do I Need To Move My Website To Drupal 9?
Security patches are going to be discontinued and it is a healthy decision to upgrade to ensure optimal security and performance.
Upgrading results in enhanced usability and eliminates the need for third party integrations and dependence.
Drupal is powered by 30+ third party libraries. Some of these libraries will see the end of life soon. Upgrading to Drupal 9 ensures longer support coverage.
Moving to Drupal 9 is a necessity as a Drupal 8's Symphony will no longer be supported post 2021.
Major Changes To Take Note Of
Drupal 9 does not require complex rebuild or migration but is more of an incremental update. However there are a few major changes ahead.
Changes In Third Party Dependencies
There are going to be major dependency changes such as:
Symfony 3.4x to 4.4x
Twig 1.x to 2.x
Deprecated Code Removal
Drupal 9 removes all deprecated code built up during Drupal 8.
Platform Changes
Platform requirements have changed. You need a minimum version of:
PHP 7.3 and later versions
MYSQL 5.7 and later versions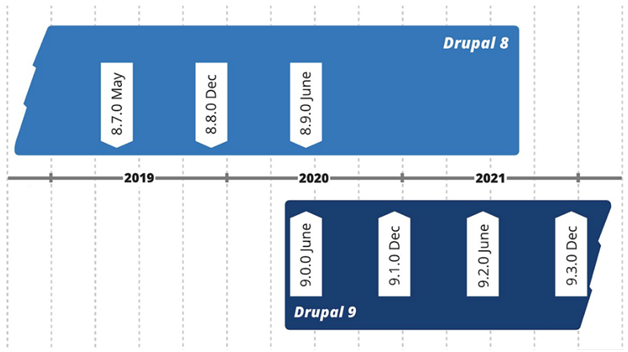 Here's How To Get Your Site Ready For Drupal 9
5 Step Drupal 9 Upgrade Plan Of Action
Step 1
Upgrade contributed modules to stay compatible. Though it doesn't require major rewrites, the current module version naming scheme is going to be replaced with a semantic versioning scheme. Updating modules is your best bet to stay compatible with the latest release.
Step 2
Eliminating deprecated API usage is another important step to take. Replace deprecated API usage and include Drupal 9 in the core version requirement.
To find and weed out deprecated API usage this tool Drupal Check .It can be of immense help.
Step 3
Specify your module code compatibility. You need to add a key to tell Drupal your site is compatible with both 8 and 9 versions.
Step 4
Review content field and site configuration to find out areas for improvement and optimization opportunities. Audit your site to remove deprecated features.
Step 5
Minimize technical debt. Conduct basic tests after the release. Try to automate your smoke testing to prevent hundreds of hours of time being spent on testing.
Drupal 9 Facts - Quick Checklist
Key Benefits Of Drupal 9:
It will have feature improvements every six months
Provides users with the latest in digital experiences
All components of Drupal 8 will work seamlessly
Previous Drupal Upgrades Meant…
Radical rewrite of core and modules
An entirely new theme engine
Complex upgrade process
Drupal 9 - A Different Game
It is an upgrade from Drupal 8
After upgrading to Drupal 9 future upgrades are going to be easy
Drupal 9 means replacing deprecated code. Simple.
Why Now Is The Best Time To Upgrade
Drupal 8 reaches end of life in 2021
Future upgrades after Drupal 9 are going to be seamless
It offers better features
Enhanced site security
Make Your Move To Drupal 9 Successful
Upgrade contributed modules
Eliminate deprecated codes
Specify module code compatibility
Test regularly
Thousands of sites are making the transition. Are you being left behind?
As the Drupal 9 release date nears it is important to make the change. Drupal 9 could mean a more secure, stable and beautiful tomorrow for your site.
"The big deal about Drupal 9 is…. That it should not be a big deal"
Dries Buytaert
Our Drupal experts would be happy to help you upgrade to Drupal 9.We guarantee a secure and seamless transition of your website.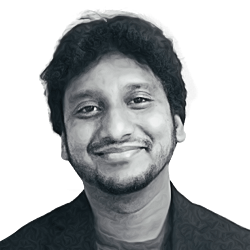 Meet Karthik Kalimuthu
Karthik is the head of delivery at Drupal partners. He has architected enterprise-grade Drupal websites and has over 10+ years of experience. A certified Drupal expert, he'd be happy to help you make the shift.